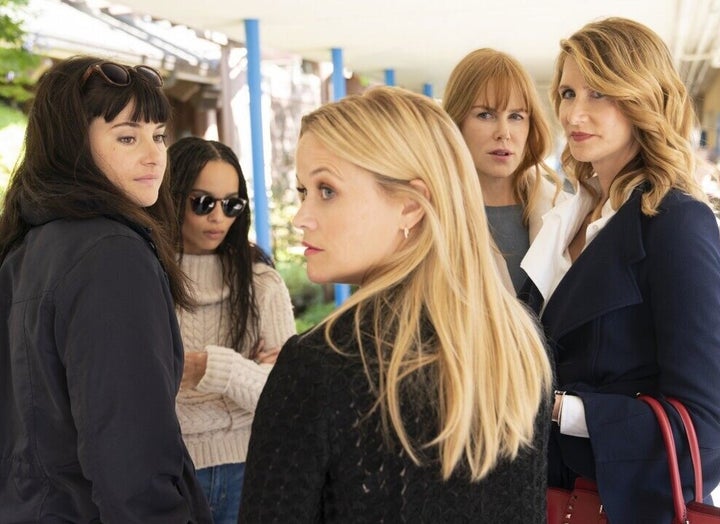 But who could resist the prospect of the critically acclaimed series returning to our TV screens with the addition of Meryl Streep, who we already know will face off against the Monterey Five and now, famously, an ice cream cone. 
The first full-length trailer for the second season, which arrives on HBO June 9, was released on Friday and it's already warmed our cold, little hearts with a whole new web of lies. 
In the clip, we get peeks at how an "unhinged" Madeline (Witherspoon) and company are dealing with the fallout of the season-ending murder, as each of their lives spin out in different, dangerous directions. 
"I can just see the damage that it's done and it's eroding every single one of us," Madeline says in the trailer. 
Yoga doesn't seem to be helping Bonnie (Zoe Kravitz) process her part in the crime, but Jane (Shailene Woodley) appears to be moving on romantically. Renata (Laura Dern), dubbed the "Medusa of Monterey" in the trailer, meanwhile, seems as ferocious as ever, while Celeste (Nicole Kidman) is struggling with moving on after her husband's death.
The arrival of her deceased spouse's mother played by Streep, of course, complicates matters, as the women face foes old and new in the ever-precarious beachside paradise. 
"I think with the success of the show, we feel the audience behind us," Witherspoon recently said about the second season. "That's what really matters: the people who took the show to heart and care deeply about these five very different women, their parenting styles, the way they think about relationships, and how they deal with trauma, violence and sexuality. I think it emboldened us to push those storylines even further and push the edges of what female friendship really is. Is it group hugs, or is it conflict that's very honest? We have some great fight scenes this season. We get mad at each other in the way you do with your friends."
Watch the full trailer below. 
Calling all HuffPost superfans!
Sign up for membership to become a founding member and help shape HuffPost's next chapter