As a working mom of three kids ranging from 2 to 15 years old, Reese Witherspoon has a lot of parenting experience under her belt.
In a new interview on the Cricket's Circle blog, the actress reflects on her role as a parent and shares some words of wisdom she's learned about motherhood -- from her own experiences, as well as iconic thinkers like Nelson Mandela.
Recalling the "disorienting" first few months with a new baby, Witherspoon said, "I felt like my brain was scrambled eggs, and I think it is, understandably, hard to get dressed or even get out of the house –- you have to go easy on yourself." She added that keeping prepared foods in the fridge and wearing a Belly Bandit to ease her back pain and regain strength were very helpful during those early months with a new baby.
Although the actress has a lot of great parenting advice to share, she doesn't always feel completely confident. She said: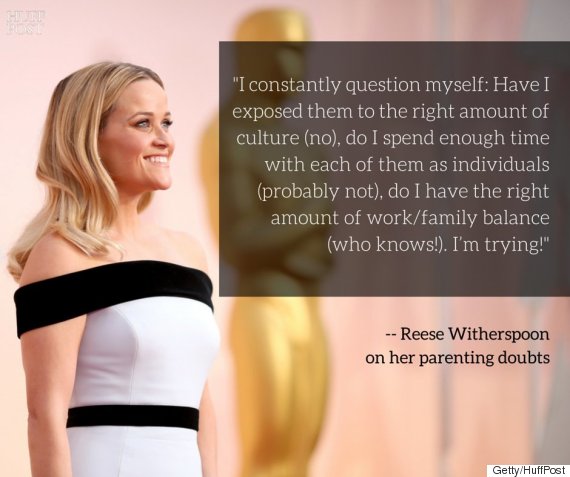 And when she doesn't feel confident as a mom, she can always reflect on some of the great parenting advice she received when she met Nelson Mandela in 2001. While her toddler daughter Ava sat in Mandela's lap, Witherspoon asked him, "What did your mother say to you when you were a little boy?" she recalled. "And he said, 'Every night, before I went to bed, she told me I was going to be a wonderful person when I grew up.' Your words are powerful and formative, so be gentle with your kids and talk to them with kindness and respect."
You can read more of what Reese Witherspoon had to say about parenting on Cricket's Circle.