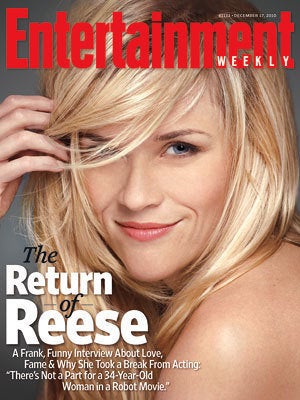 While her split from ex-husband Ryan Phillippe was difficult, Witherspoon maintained a positive attitude throughout.
"It definitely sometimes feels like a suit that I wish I could zip off," the 'How Do You Know' star said. "But I don't feel bad about any of the things I've gone through, whether it's divorce or breakups or anything like that, because that's all part of the life journey, and I have those experiences just like anyone else. And I think it deepens what you tap into creatively."
Phillippe also had a tough time, but said this past June that he's working to move on, as well.
"I still have sadness and complicated feelings about my divorce. But how beneficial is it to keep hanging onto those feelings?" he said. "If someone lives through an accident, his aim is to become better and healthy. My aim is always to progress --- to make better decisions and be a better father, a better boyfriend, a better husband if it happens again."
As for robots? They're not quite Witherspoon's speed.
"There are a lot of really, really, really big movies about robots and things -- and there's not a part for a 34-year-old woman in a robot movie."
REAL LIFE. REAL NEWS. REAL VOICES.
Help us tell more of the stories that matter from voices that too often remain unheard.