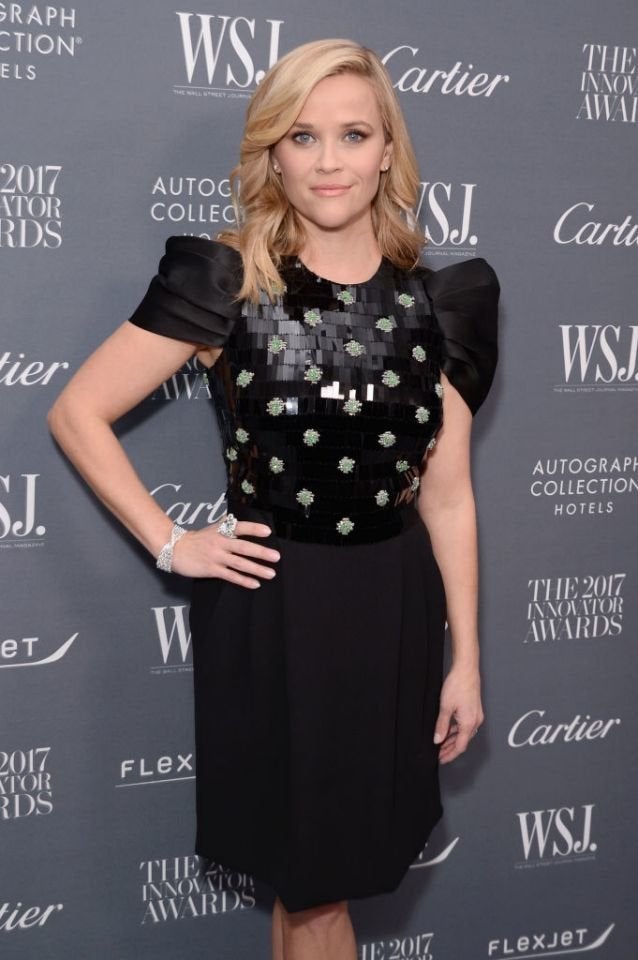 Reese Witherspoon is making moves, as well as movies. The actress, who has also racked up considerable producer credits in the last few years, says she's on a mission to make sure women are better represented in the historically male-dominated entertainment industry.
Witherspoon made the declaration Wednesday at WSJ Magazine's 2017 Innovator Awards in New York City, where she was recognized as the Entertainment Innovator of the Year, for, as the magazine put it, "changing Hollywood for women." Her production company, Hello Sunshine, is behind the Emmy-winning "Big Little Lies," as well as the movies "Gone Girl" and "Wild." The magazine also notes her "growing lifestyle brand," Draper James, and the fact that she has "become a force in female storytelling."
As she accepted her award, the 41-year-old actress — who made her screen debut as a teen in the touching 1991 movie "The Man in the Moon" — spoke directly about the sexual misconduct scandals rocking the industry.
"I don't know if you guys heard, but there has been a lot of stuff going on in Hollywood," Witherspoon said. "We've been dealing with some really ugly truth of sexism and sexual harassment, and it has been rampant for far longer than I have been an actress, and it's brought back a lot of painful memories for people. It's been a real time of reckoning for us, and there is a definitely a growing realization that we need to take the time to really examine the biases that exist in our industry and make much-needed change. Because this is not an issue about actors and actresses, this is a bigger issue about power. I think we have to turn a critical eye about female leadership in Hollywood and whether that's encouraged or even allowed, because you can't have accountability or awareness of different perspectives if women are not at the decision-making table."
Witherspoon noted that she understands how powerful movies can be, saying that women come up to her on the street and tell her that "Legally Blonde" is the reason they went to law school.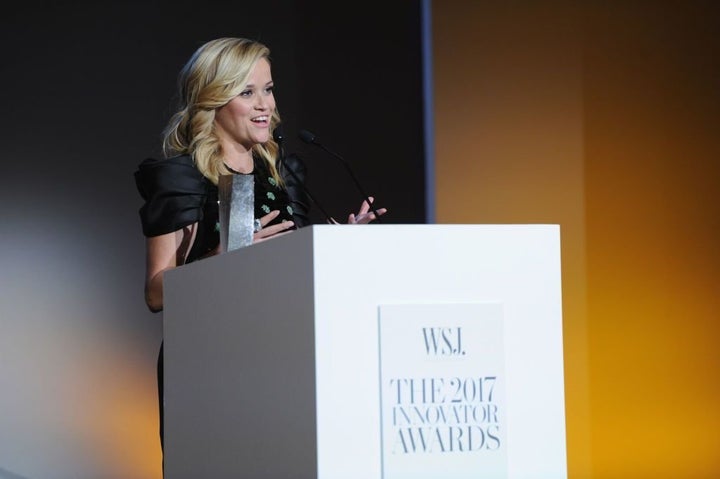 "I don't really believe that we've been seeing the full spectrum of the female experience, and that is simply because women's stories are not prioritized," she continued. "I also just think we need to think about women differently, because women are the largest captured consumer audience in the world."
Reaching women on multiple platforms with quality content is vital, she said, adding, "And I'm not talking about mommy blogs and 14 ways to cook a turkey."
"Women want real substance and premium thought-provoking, well-made content, and they want it now," she said. "Women want to be entertained where they are, running errands, going to the doctor, on their mobile phones, their laptops. We need to stop expecting them to come to us, and we need to go to them because they want to see themselves onscreen, and that's the most important thing. …
"I've had an incredible career as an actress, and it's my first love. I love being an actor, but now it's become abundantly clear to me that I have a new mission, and that's to do more for others in my industry," she said at the end of her nine-minute speech. "I'm determined to create more opportunity for other women and people of color. To help them tell their stories. To encourage CEOs to take chances on high-level female executives and champion new female voices on film, because the stories we tell have to got change. And sometimes change is about something small, sometimes change starts in a room like this with people like all of you."
Witherspoon, who brought her daughter, Ava Phillippe, along as her date for the evening, explained in her cover story for the magazine exactly what drove her to her new mission: "I wasn't being offered opportunities to grow my company until I got that third hit," she said. "A guy has one hit at Sundance, and he gets 'Jurassic World.'"
She also lamented the lack of roles for women, something that did not go unnoticed in the female-centered TV miniseries "Big Little Lies," which co-starred Laura Dern, Nicole Kidman, Woodley, and Zoe Kravitz. "Laura, Nicole and I kept looking around saying, 'We would never be on set together!'" Witherspoon recalled. "My part is equitable to her part, which is equitable to Laura's part, which is equitable to Shailene's and Zoe's."
For her next pair of projects, Witherspoon has teamed up with other powerful women. The film adaptation of "A Wrinkle in Time," co-starring Oprah and Mindy Kaling, comes out in March. Also in 2018, she and Jennifer Aniston, whose sister she played on "Friends," are to star in and executive produce a TV series.
Read more from Yahoo Lifestyle:
Popular in the Community