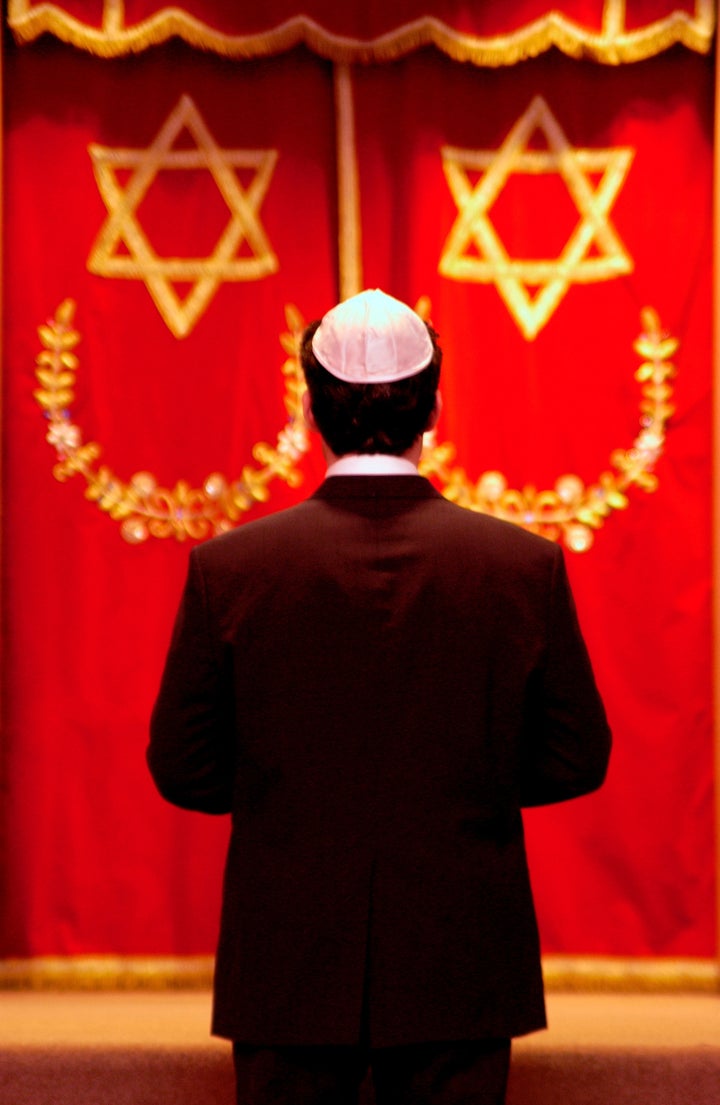 As anyone who has planned a wedding knows, there are many logistical details to even a small affair. One of the more difficult tasks for us was finding a rabbi who would perform a Saturday afternoon ceremony for a mixed-faith couple. As luck would have it, one of the caterers recommended a Reform rabbi from the Upper West Side of Manhattan. I called him, and one week later he regaled us with his archive of wedding stories over the course of a two-hour dinner. We walked away feeling that he understood our vision of things and would be able to follow our storyboard.
Our wedding weekend began on a beautiful Indian summer Friday as I drove up the Taconic State Parkway on my way to Stormville, New York. We are fortunate to have good friends with great houses. This one in particular was a one hundred year-old farmhouse planted on a lush and rustic six acre property. I intuited that the weather was going to turn colder over the weekend, so I contacted the tent rental company and ordered a heater just in case. This turned out to be one of my better decisions.
8:00 a.m., Saturday: we wake up to cold, rainy weather. The grounds are soaked, and I am filled with terror that the sun will not come out in time to dry the grass and warm the air. At 10:00 a.m. my husband is on the couch playing his guitar and I ask if he has finished writing his vows. He says that he hasn't. Sensing my irritation, he puts his guitar down, grabs a yellow legal pad and sits outside at the damp picnic table to compose his thoughts. In contrast, mine have been typed, printed, and slipped into clear acetate sheets in my three-ring planning binder.
12:00 p.m.: thankfully the sun came out and things were looking better all around. The hand-painted Chuppah (canopy) was erected and the chairs were assembled near the tennis court. The morning humidity had an unfortunate impact on my freshly blow-dried hair. It made it frizz, and in my rush to get ready, I grabbed hair-spray instead of hair-straightening lotion, and my mane became a giant clump of embattled curls. I finally gave up and made my way down to the cocktail reception. Because I was wearing a sleeveless dress, I was snapped into in a pre-Spanx onesie that kept riding up and poking out. The ill constructed under-wire made it look like I had two rotisserie chickens bobbing underneath my dress.
2:00 p.m.: the sun wasn't sure if it wanted to be there or not. It was finally time for the show to begin and the rabbi arrived in time for a quick run-through of the details. I made it clear that we had 30 minutes to get through it all, because the food preparation was timed in relation to its duration. Ignoring my instructions, the rabbi went on to pontificate about his opinion of U.S. foreign policy, the existential malaise enveloping our culture, and his frustration with narcissistic, self-absorbed people. This went on for one hour and fifteen minutes!
I was livid. The sun had now completely retreated, everyone was cold, and the caterers were in a frenzy. I finally turned to him and said, "this must end NOW!" He finally pronounced us man and wife and we ambled over to the heated tent, seething at his disregard of our explicit directions
After speaking with a friend about all of this a few weeks later, I learned something that made me even angrier. This friend had dated one of the catering staff and she told him about an exchange that took place between the rabbi and another staff member. Apparently while everyone was dining inside the tent, the rabbi had gone up to the staging area and requested that the remaining San Pellegrino mineral water and Diet Coke be brought to his car. The staff person was perplexed and said, "I can't do that without asking the bride and groom." To which he replied, "You are questioning the word of a rabbi? They told me it was fine, now pack it up."
Five years later I met a woman at a party and we got on the subject of mixed-faith weddings and the difficulty of finding the right rabbi. She began to tell me a story of her wedding, a decade earlier, which took place at the now defunct Tavern-on-the-Green in New York's Central Park.
She said that she had finally identified a Reform rabbi who turned out to be a huge disappointment. Apparently he spoke way over his allotted time, stole the favors and the flowers off of the tables, and was audacious enough to ask the buffet staff to pack up several trays of food for him to bring home.
As you might have guessed, it was the same rabbi! Let this be a gentle reminder to always ask for references--lots of them.