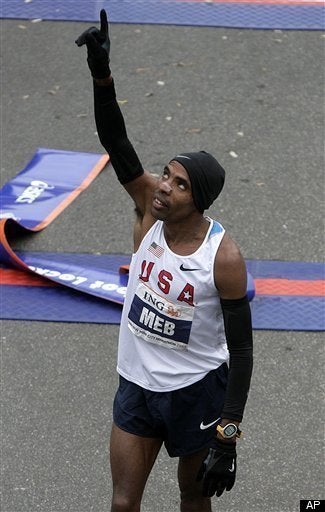 It really takes a special kind of irredeemable pigheadedness to read about American marathon runner Meb Keflezighi's victory in the New York City marathon and decide that the moment calls for a display of pissy, fact-free nationalism. But that's just what CNBC's Darren Rovell has done:
It's a stunning headline: American Wins Men's NYC Marathon For First Time Since '82.

Unfortunately, it's not as good as it sounds.

Meb Keflezighi, who won yesterday in New York, is technically American by virtue of him becoming a citizen in 1998, but the fact that he's not American-born takes away from the magnitude of the achievement the headline implies.
Keflezighi pointed to those U.S.A. letters as he neared the finish line, riding the roar of the Central Park crowd to become the first American man to win the race since Alberto Salazar in 1982. He did it by vanquishing two Kenyans considered the favorites, a rare feat for an American in any distance race.

And he played the lead in a huge United States resurgence: six Americans finished in the top 10, a number not seen since 1979.

"It was a great day for me and a great day for us American guys," Keflezighi said. "And I think we are only the start of it."

Keflezighi (pronounced ka-FLEZ-ghee) dropped to the ground, tears streaming down his face, when he won in his best time of 2 hours 9 minutes 15 seconds -- 41 seconds ahead of Kenya's Robert Cheruiyot, a four-time winner of the Boston Marathon and one of the most accomplished marathoners in history.
Now, Rovell is just one of many ridiculous fools who have decided to step out on this "this victory didn't really count" vanguard, but my question to him is the same to everyone forming a part of that brainless mini-movement:
Do you have any facts at your disposal to refute the premise that an American won the New York City marathon in 2:09:15? No? Then, hey, here's a hot sack of shut up for you!
Let's go back to some of the actual marathon story, just for a little perspective on Meb Keflezighi.
"U.S.A. gave me all the opportunities, education, sports, lifestyle," Keflezighi said. "When you dream, you dream. You don't give up."

His running career took off once his family settled here. He won four N.C.A.A. titles at U.C.L.A. and became an American citizen in 1998. He lives with his wife, Yordanos, and their two daughters in Mammoth Lakes, Calif., now, leading his fellow runners by example and inspiration.
Fun facts: Keflezighi won a silver medal -- for America -- in the 2004 Olympics, too. It counted! Old Glory flew behind him on the medal stand and everything. Also, his American teammates seem to love the guy:
"If there was one other guy in the race that I wanted to win, it was Meb," [U.S.A. marathoner Ryan] Hall said. "I've learned so much from him. I feel like he's an older brother to me, so it was really neat for him to win. Just seeing him go through those hard times and a lot of people were starting to write him off."
What Rovell seems to be struggling with here is just a guy with a name that he finds inconvenient to pronounce, something that Stephen Colbert ably parodied last night:
Whether or not you're of the opinion that Meb Keflezighi has done more for his country than, say, Darren Rovell, ridiculous fool, is, I suppose, a matter of opinion.
I said that Keflezighi's win, the first by an American since 1982, wasn't as big as it was being made out to be because there was a difference between being an American-born product and being an American citizen. Frankly I didn't account for the fact that virtually all of Keflezighi's running experience came as a US citizen. I never said he didn't deserve to be called American.

All I was saying was that we should celebrate an American marathon champion who has completely been brought up through the American system.

This is where, I must admit, my critics made their best point. It turns out, Keflezighi moved to the United States in time to develop at every level in America. So Meb is in fact an American trained athlete and an American citizen and he should be celebrated as the American winner of the NYC Marathon. That makes a difference and makes him different from the "ringer" I accused him of being. Meb didn't deserve that comparison and I apologize for that.
That's all well and good. But all the "facts" he now accounts for having turned him around weren't exactly highly guarded mysteries, they were widely available to anyone who cared to seek them out.
I'm also still terribly confused what bearing being "brought up through the American system" of marathon running has to do with the quantifying the "Americanness" of Meb Keflezighi. Yes, Keflezighi "moved to the United States in time to develop at every level in America." What if he hadn't? What if he had trained a little bit in Eritrea? What if he had only developed at "some" levels in America? This guy complained initially that Keflezighi was only "technically" American, but it seems to me that being deemed "officially" an American runner, in his eyes, rests on a whole ton of technicalities.
[Would you like to follow me on Twitter? Because why not? Also, please send tips to tv@huffingtonpost.com -- learn more about our media monitoring project here.]
Support HuffPost
The Stakes Have Never Been Higher
Related
Popular in the Community