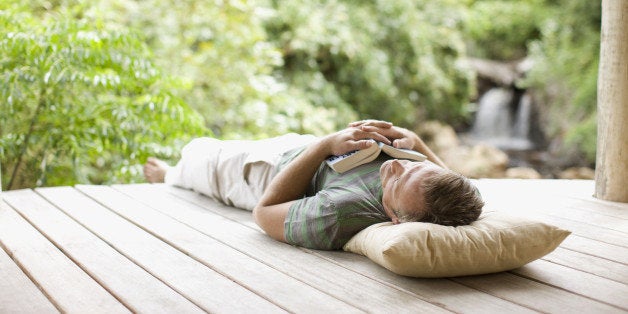 Last Thursday I took a day off for Rosh Hashanah, the Jewish new year. Although my schedule has been filled with on-campus events and meetings -- and upcoming travel will take me to China to open our new Yale Center Beijing, to Washington for a forum with other university presidents, and to New York to see alumni -- it was restorative to set aside a day for reflection and rest.

Not everyone shares in the celebration of this particular holiday, but I do think the value of a "pause" for reflection and rest is applicable to all of us. Yale College students and faculty will have a fall break in October. Others have taken time on the weekends to walk, kayak, or play a game of golf or softball during this exceptionally beautiful fall season.

As a psychologist, I know the value of "recovery" -- periods of rest such as a good night's sleep, a weekend of recreation, or a summer vacation -- to allow the mind to refocus and restore itself. After we rest, we think more clearly, we perform tasks better, and we are more patient with others and generally happier. What is not to love about that?

But we become so busy that we forget to rest: we are wrapped up in work, extracurriculars, projects. I hope you will take some time in the coming weeks -- whether you have holidays to celebrate or not -- and enjoy a bit of a break.

For Yale employees, I urge you to follow the "It's Your Yale" messages you will receive throughout the year. I recently received one urging me to "Explore" -- and I hope you will explore this campus, even during your breaks during the day. Everyone can pop into the Yale University Art Gallery or the Yale Center for British Art, if only for 15 minutes, to appreciate a painting or a floor mosaic. There are lunchtime lectures or concerts open to all. Or take a walk around Old Campus, or up Prospect Street to the beautiful quad at the Divinity School. Even short breaks have benefits, and leave you feeling a bit more rested, creative, and energetic -- and appreciative of all the wonderful resources and spaces you can find at Yale!
Lastly, although it was far too exciting for it to be restful, I do want to thank everyone who was involved in the visit this past week of our colleagues, band members, cadets, and fellow scholar-athletes from the U.S. Military Academy at West Point, culminating in Yale's thrilling, overtime victory out at the Yale Bowl on Saturday over Army's football team, 49-43. It was a wonderful way to celebrate the centennial of the Yale Bowl and it provided yet another opportunity to bask in reflected glory!