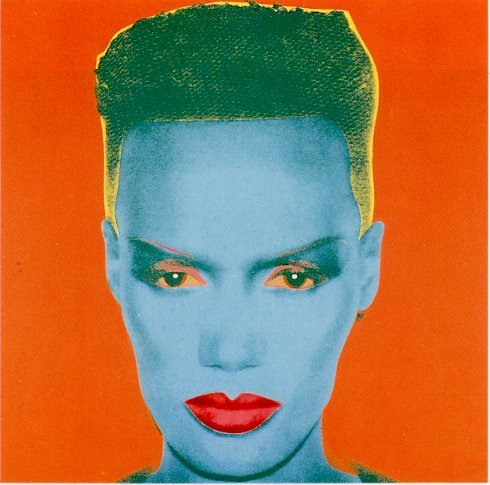 My friend and fellow writer, Pamela Sneed, invited me to meet Grace Jones last week at the Martin Lawrence Galleries in Manhattan, which describes itself as "America's premier gallery for fine art for four decades." This was to be an after party and second book-signing event following the recording artist and actress' appearance at Barnes and Noble Union Square, an invite-only soirée organized by publicist Chip Duckett -- who I finally met after hearing about for years. We arrived and it was clear -- by the bold signage on the street-facing windows -- that we'd be surrounded by Picassos, Basquiats and Warhols for the evening, not to mention a lively mix of queer downtown nightclub celebrities, veteran rock stars and young artists dreaming of gracing the surrounding walls one day.
I circulated the sprawling gallery to view rare Harings, Lichtensteins and Chagalls, circling around a second time to see them all again, as the growing crowd became more and more excited for the guest-of-honor's arrival. The soundtrack was a mix of Grace's hits mixed with Bryan Ferry and other giants of the 80s pop catalog (or the Nile Rodgers club), which melded with the art perfectly and brought to mind my childhood and adolescence of the 1970s and 1980s, when I first learned about downtown New York art culture as a curious Bronx teen exploring the streets and shops of the 1980s East Village. I thought of how energized and inspired I was to break in to the music scene of Portland, Oregon when I arrived there at age seventeen in 1988, how I'd choose writing over bands after a musical life in general.
Portland launched me into a different underground scene, one which would shape me as an artist for life. It was out West that I met my mentor Don Michael Cervenak, who would school me on Western art history and queer male culture, as the sole survivor of his peer group -- all of whom succumbed to AIDS. I immersed myself in the underground music and art scene of that time, bursting out of the shell I'd built around myself as a working-class Bronx Puerto Rican with a hunger for worldly knowledge -- something I wasn't encouraged to seek by the men in my family, who preferred reminding me of how unmanly I was. It was in Portland that I discovered my love of writing, after forming an electronica group called Factor Red and scribbling lyrics, a ritual that would evolve into fiction over many years.
New York City would change dramatically in the years while I was away, and once the terrors of AIDS and 911 unraveled their miseries there would be no turning back. The underground scene, queer and otherwise, would be economically dissolved in a new Age of Surveillance, and neighborhoods synonymous with underground art movements, such as the East Village, would be transformed into real estate oases for the wealthy. Artists would be forced to move -- to Brooklyn and elsewhere -- forever followed by the creeping shadow of gentrification, sparking the metamorphoses of neighborhoods and all the controversial racial and class politics involved in doing so, in their desperate attempts at securing cheaper rents that would make their creative ambitions possible.
I looked around at all the dazzling art as all of this came to mind -- as I studied Harings and Chagalls up close -- and realized that the young artists buzzing around in anticipation of the legend's arrival had been spared so much of that misery and suffering. While they can't be blamed for when they were born, it was hard not to wonder what came to mind for them as they viewed the exquisitely-framed Warhols and Basquiats. What would they be willing to sacrifice for that kind of fame -- which exalts a short and often decadent and tragic life over everything? Would they need to sacrifice anything at all? And what has the underground even become, in a city that cannot sustain a vibrant bohemian culture as it once was able to?
What did the elder statesmen in attendance, such as B-52s singer Fred Schneider, think about it all? I was surrounded by ghosts, I realized, their hallucinations and dreams hanging on the walls enclosing us, mingling in invisible silence around us as we sipped French champagne, perhaps not knowing they've been dead for too long. As for those of us still here, there's much work to do: let's help shape the artists of the future instead of shaming them in the shadows of the past. Let's inspire and encourage them to keep that immortal and magical flame alive; that spark of genius that comes to life brightly in the souls of the few and truly talented.
I never got to meet Grace Jones, but it was a wonderful evening nonetheless.
Calling all HuffPost superfans!
Sign up for membership to become a founding member and help shape HuffPost's next chapter