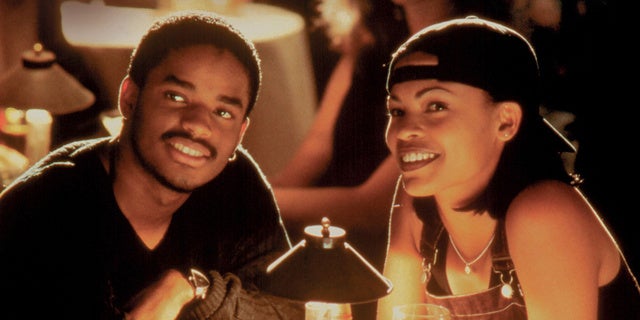 Though being rated is the destiny of all major motion pictures, being truly remembered and culturally cherished is the destiny of only a relative few. It's really hard to say exactly why some movies move us and strike a chord deep in our cultural psyche while most others barely rank as memorable. My guess is that it has something to do with timing and what speaks to where we are in culture and society at a given time. This is why some movies that have minimal box office success at the time of their release can go on to become cultural classics in later days.
One great example of this is the 1997 film, Love Jones. Released March 14, 1997, the romantic drama starring Nia Long and Larenz Tate that cost approximately 10 million dollars to make went on to gross an unimpressive $12,782,749 worldwide at the box office. Just meagerly surpassing the breakeven mark.
But where Love Jones fell short in box office success, it more than made up for in cultural appeal and significance. Now 20 years later, the film once thought to be a risk to make is now viewed as a black cinema classic with a cultish following of enduring fans from nearly every age group.
Love Jones, written and directed by Theodore Witcher, is the story of the complicated dating situation between suave poet Darius Lovehall (played by Larenz Tate) and alluring photographer Nina Mosley (played by Nia Long). The setting of the film is the young black bohemian--sophisticate scene of Chicago, Illinois where Darius meets Nina in a jazz club one night. After a brief exchange of words at the bar Darius attempts to impress Nina by reciting a poem called "A Blues for Nina" during the open mic session. The poem captures Nina's attention enough that it eventually leads to a first date which ends in a steamy sexual encounter. The next day Darius and Nina are unsure where to go with their obvious chemistry and attraction to each other. They end up continuing to see each other romantically having sexual relations repeatedly, meeting each other's friends and casually building a relationship on a common love for art.
Eventually, Darius and Nina's relationship takes a rocky turn when Nina's ex-boyfriend comes back into the picture. This leads to a couple relationship blow ups and break ups that threaten to end them forever. After some time a part to reflect and focus on their careers they reunite once more when Nina comes to the club where they met hoping to see Darius. It appears her plan is not going to work when she fails to see Darius sitting in the back of the club. In a surprise move she decides to go ahead and read a poem she wrote for Darius even though she doesn't think he'll hear it. When she exits the club Darius pursues her which results in them deciding to give their love another chance and then the film fades to black and we are left to assume that Nina and Darius go on to live happily ever after.
My Love Affair with Love Jones
I remember the first time I saw Love Jones. I was about 14 years old which means I was old enough to conceptually know something of romantic love but not old enough to have been caught up in the rapture of it. So I guess you could say that Love Jones was like relationship education for me as an adolescent. But if the truth be told the issues of "love" were not what made me fall in love with Love Jones. What captured me most was the film's style and spirit. Unlike any other film I had seen before, it had a unique blend of black soul and sophistication that I found intriguing and inspiring.
In the predominantly black urban community of Orlando, Florida where I grew up I was exposed to many different shades of black humanity. From a very young age I knew both drug addicts and US Congress reps, I knew preachers and gangsters and seemingly everything in between. Yet, despite my diverse exposure, somehow the bohemian lifestyle of the struggling and striving artist eluded me. To be sure, I knew a lot of well-educated people and even a few professional artistic types. But I didn't know the world of black jazz clubs and house parties filled with hip people talking about books and having deep conversation. This was a social world I wanted to know and I'm pretty sure this is why Love Jones stole my heart.
In addition to its bohemian flavor, I was also captivated by how damn cool and beautifully flawed the film's characters were. To this day, Darius Lovehall is still one of the coolest dudes I'd ever seen on the big screen. Not since seeing Marcus Graham played by Eddie Murphy in the 1993 movie Boomerang had my teenage-self wanted to be a movie character so badly. Though very different personalities what Marcus and Darius both shared was romantic charisma. A cinematic charm of sorts that made them irresistible to the women and even to some of the men that watched them. They also both possessed a borderline arrogant self-confidence and in control demeanor that was appealing to an adolescent African American male like me in the process of self-discovery and development.
In so many ways I found the character Nina Mosley to be equally captivating. From where I sat as a teenager coming of age in the 1990's she was the perfect love interest. Mostly because she was real in the sense that she was a film version of so many young African American women I actually knew. Effortlessly beautiful, comfortable in her own skin, highly intelligent, searching for love, complex and not beyond reading you if necessary. Nina was dope because she was the personification of African American womanhood as I knew it.
Then if Darius and Nina's hipness wasn't enough. They had the good fortune to be surrounded by a group of friends whose cups were overflowing with urban swag and flare as well.
Love Jones in Black Cinematic History
The significance of Love Jones in African American cinematic history is quite interesting. In many ways it signaled a much needed shift in how Hollywood films depicted black love. Keep in mind that 1997 is several years after the release of popular romantic dramas such as Poetic Justice (1993) and Jason's Lyric (1994). Both of which are films that display black romantic love in the context of urban violence and ghettoized activity. In fairness, this obviously doesn't tell the whole story of either of these films but it is the context nonetheless.
What made Love Jones so different was that it gave a compelling depiction of black life that wasn't saddled with tired cultural stereotypes and black pathology. Much to the contrary, Love Jones was a fresh story of urban black life in a context of cultural sophistication and civility. In fact, according to the film's producers, "they wanted to make a modern film about African-American life that did not use violence and recreational drugs as elements in the story."[1]
This intentional cinematic shift by the filmmakers of Love Jones made way for diverse new depictions of black romantic life that weren't about black people falling in love while ducking bullets and navigating drug life. In so many ways the beauty of Love Jones was that it was by and large a story of relatively average and serene black people just living life and doing everyday shit. No extremities, no super extra-ness, just black people living. Perhaps not since the 1972 film Lady Sing the Blues has a black romantic melodrama done this so well.
Love Jones is also significant because it was serious. Not serious like grave or somber but serious in the sense that it wasn't silly and/or flighty. Unlike films like Boomerang (released several years prior) and Sprung and Booty Call (both released in 1997 as well) Love Jones was not a romantic comedy. It was fun and entertaining without being over the top which also made it rare as a black romantic film in its time.
Since the release of Love Jones and it subsequent success among the culture films like Love and Basketball, The Best Man, Disappearing Act, Brown Sugar and others have provided similar serious depictions of African American romantic life. But one wonders what the history would be had Love Jones not started this trend? I'd like to think that the rise of urban cool, serious and sophisticated films geared toward the black buppy__young professional crowd would have still come about but we'll never know for sure.
Cinematic Delight for Aspiring Artists & Intellectuals
Love Jones was the first film that I saw that was centered on the lives of young black artists. Historically black films resort to the typical images of athletes, attorneys and doctors and well to do--corporate types when depicting black professional life. But Love Jones took a different path. Desiring to tell a different story of black life the main characters of Love Jones were young creatives who made a living by producing art. This made a huge impression on me as a teenager wrestling with my own artistic interests and sense of place in world. Just seeing images on the big screen of young adult black people striving to make an artistic contribution to the world through photography and poetry gave me life.
But it should be said that Love Jones was not a fairy tale or romanticized story of artistic life. Both Nina and Darius were careworn artists, one unemployed and the other struggling to finish a book manuscript. This makes Loves Jones as much a story of artistic persistence as it is a story of romantic love.
For young aspiring artists and creatives like me this is what made Love Jones' depiction of black life so real and seemingly attainable. It wasn't a story of high and lofty black excellence or someone being the first black this or that. It was basically a story of two educated black young adults living a life filled with personal struggles and strivings and professional dreams and disappointments, all in the pursuit of human fulfillment. Even to this day I find this depiction compelling especially as I have come to realize that Nina and Darius' struggles to thrive are not unique but the story of most young adult African Americans I know.
Love Jones also had an intellectual appeal that made it unique in its time and arguably still today. Commendably the filmmakers were able to give us characters that were able to play pool, do the latest line dances and have high quality intellectual conversation with ease. I mean, let's be honest, when was the last time we saw a major film centered on the romantic love connection of two African Americans who build their relationship on conversations about Mozart, George Bernard Shaw and Gordon Parks? The answer is probably not since Love Jones.
This is no small cinematic feat in a country notoriously not prone to celebrate or take much public interest in depictions of intellectual life. Much less, black intellectual life. Nevertheless, Love Loves finds a way to display the life of the mind in black romantic love without being corny, disinteresting or overbearing. This point is only accentuated by the film's soundtrack that features legendary jazz and soul artists such as Duke Ellington, John Coltrane, Lauryn Hill, Cassandra Wilson and Maxwell. All of whom provide the perfect musical accompaniment to a story of love, sex, art and intellectual creativity.
When the story of 1990's black cinema is written Love Jones will have to be mentioned with distinction. Almost without fail over the last 20 years whenever a list is made of the top black films of all time, Love Jones is listed as one of them. This abiding appreciation and fan craze has prompted many calls for a sequel. But unfortunately all calls for a sequel have gone unanswered to date. Perhaps one consolation for hardcore Love Jones fans who are craving for more is the Love Jones musical that is currently touring the country. The musical production featuring powerhouse soul singers Chrisette Michelle, Musiq Soulchild, Marsha Ambrosius, MC Ltye, Raheen Devaughn and Dave Hollister is an adaptation of the film.
But fans should be clear that this is no substitute for a sequel nor is it a musical retelling of the 1997 film. Many of the characters and storyline are different. And almost none of the classic quotes of the film are included. Mostly the production is a high quality musical tribute to Love Jones made for those who still love the film and good soul singing.
As much as I personally would love to see a Love Jones sequel parts of me thinks that it may be better for such a thing never to happen. Few things can scar a classic film or album like a lame follow up can. For this reason it's probably wise to leave well enough alone, as my grandmother would say.
Whatever the case, in our present moment with the black film scene being filled as it is with comedies and movies dealing in the business of identity politics, we desperately need more films like Love Jones. We need films that are neither overtly political nor crudely outlandish. We need stories that give us compelling depictions of what young adult African American life looks like today. We need films that tell the stories of black creatives struggling to make a contribution in the world. We need films that show the beauty, complexity and cultural seduction of black urban life. We need films that show both the beautiful mind and soulful spirit of black people. We need films that are smart enough to make us think but sexy enough, in the words of Darius Loverhall, to awaken the "blues in our left thigh and the funk in our right."
We need Love Jones. Still.
[1] Seavor, Jim. "'love jones' is a fresh look at an oft-told tale." The Providence Journal. March 14, 1997. E03. Retrieved on February 11, 2012.
Calling all HuffPost superfans!
Sign up for membership to become a founding member and help shape HuffPost's next chapter
This post was published on the now-closed HuffPost Contributor platform. Contributors control their own work and posted freely to our site. If you need to flag this entry as abusive,
send us an email
.