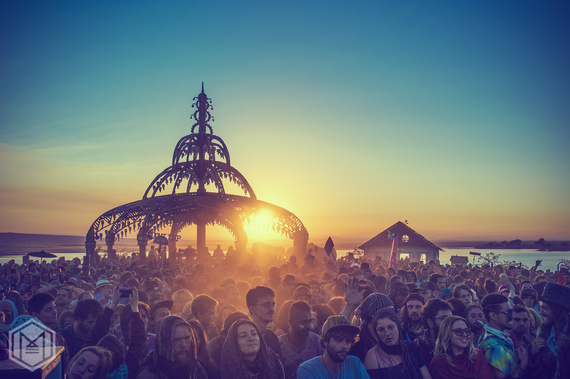 Though the dust at Woodward Reservoir in Oakdale, California is beginning to settle, the cosmic dust of my mind is aflutter with inspiration. Poking the sky with its palatial spires was Symbiosis Gathering, a five-day camping, transformational music festival whose aesthetics are likened to that of Burning Man. Celebrating its 10th year as well as welcoming the autumnal equinox, this celestial-based festival has grown to a monumental status, hosting around 14,000 attendees, a large increase from its last event in 2013. Having taken place in various locales from Santa Cruz to Australia and always following a celestial event, the next Symbiosis Gathering will occur in 2017 during a total solar eclipse in Oregon.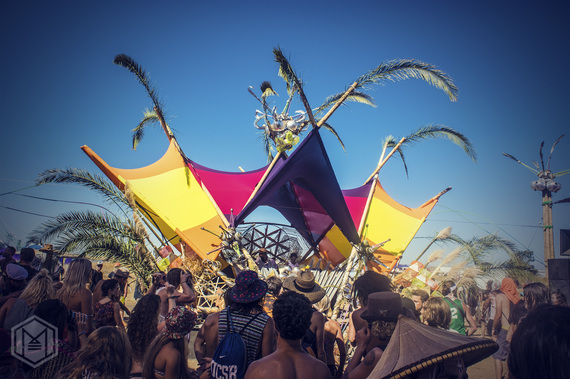 Boasting a lineup of underground superstars distributed among six stages - Big Island, The Spring, Swimbiosis, Juke Town, The Grotto, Silk Road, and even a custom Funktion One renegade stage just for Tipper, the music alone was enough to lure attendees from all over the world. In addition to its eclectic, yet bass-heavy lineup, many of the art installations that survived The Burn were on display, giving those who missed it a taste of its creations and those who attended a place to reminisce. With several live artists, including Chris Dyer the color wizard, Symbiosis was as much of a visual feast as it was an aural feast.
Though the lineup, art installations, and grandiose stages were surely main attractions of Symbiosis, the true gem of this festival was its landscape as it was situated on a peninsula in the sparkling Woodward Reservoir. Combining a desert-like climate with a freshwater oasis is what festival dreams are made of. Instead of spending hot mornings sweaty and hungover under an EZ up, patrons could soak and float in the rejuvenating waters of the lake. The Woodward Reservoir added an entirely new element (literally) to the usual festival dynamic.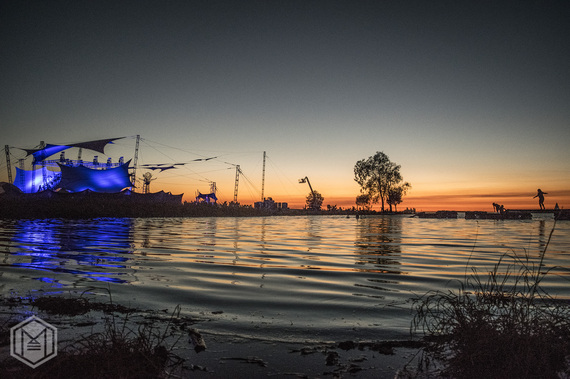 Many of the stages were set up near the shore so aquatic activities and dancefloor festivities could be combined. Art boats and floats bobbed and glided on the water, some acting as stages offering their own DJs and dancefloors. Even Doc made some alterations to his time-traveling DeLorean as he and McFly skimmed across the lake like an airboat in the Everglades, garnering crowds of tripped-out, awe-inspired onlookers.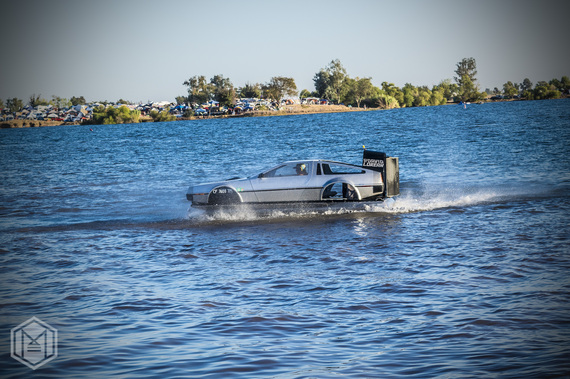 The Swimbiosis stage was the rowdiest water party at the festival as the music was set up facing the beach. A myriad of inflatable water toys decorated the shore and even the Ovaltine colored water didn't stop people from diving in. Whether swimsuit clad or completely nude, all forms of human were accepted. There were floating pyramids which felt like VIP lounges in comparison to the madness of Swimbiosis as people relaxed in the shade, puffing on various combustible substances and casually sipping libations. Quantic and Nickodemus played a spicy set at Swimbiosis, keeping the air dusty and the water muddy.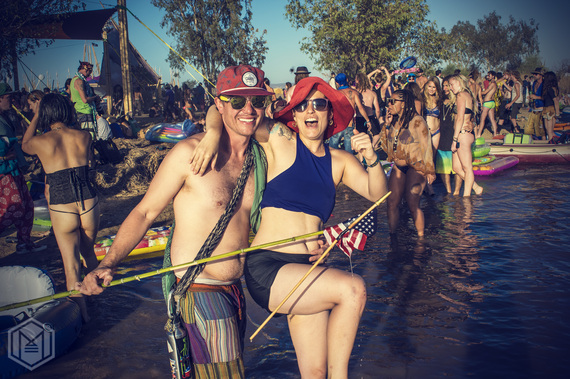 The Big Island Stage hosted headlining artists such as Nicholas Jaar who took the audience on a sonic journey through the anatomy of a sound wave, showing us the crests and troughs of the aural spectrum. He performed like a conductor where the music was his wand and our emotions were his orchestra. G Jones back-to-back with Minnesota slammed us with a whopping dose of bass and beats, though because of a local sound ordinance after midnight, was heard parallel to the conversations of surrounding people. This same ordinance affected all the stages, stirring up frustration from sound aficionados. Regardless of the lowered volume, some sound is far better than no sound and the Symbiosis team handled the circumstances with grace.
The Spring saw performers such as Dimond Saints, Thriftworks, Bumble, Kalya Scintilla, Desert Dwellers, Atyya and Andreilien and The Grotto showcased Eprom, Merkaba, and headliners Four Tet, just to name a few. Silk Road was not only a stage but also a realm from a bygone era filled with exotic wares, olfactory bliss and bizarre textures (like a mysterious box full of goopy, viscous sand that stretched and plopped, leaving no residue on your hands). Juke Town was another themed stage that made me feel as if I had just wandered into an acid western film where the bass was rattling my britches.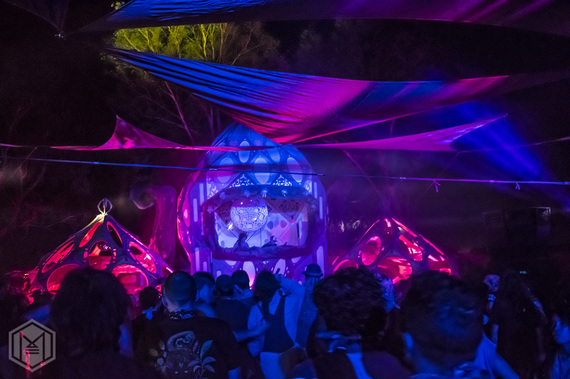 The crowning moment of musical alchemy was Tipper's sunrise set in front of the Shrine On temple. A mixture of his uptempo and downtempo tracks, the legendary Dave Tipper swathed us in beads of sound as they dripped and trickled out of the crisp Funktion One speakers. Eternally searching for Tipper, the only way to find him was to follow the whispers of his supposed set times. Because he was not listed on the schedule, to be at his set was to earn it.
For those who sought more than music during their festival experience, there was an entire schedule dedicated to workshops and presentations. With five areas/stages - The Hub, Alchemy Stage, Permaculture Action Hub, Nourishment Lab, Movement Shala, each offered a vast array of brain and body food. One could feed his or her mind with anything from the flowetry of Saul Williams, to the power of permaculture, or even global news and politics with Amy Goodman of Democracy Now! Various yoga, kirtan, hoop workshops and dance classes were also offered for those who desire some motion in their meditation. There was no shortage of physical, spiritual, emotional, and mental nourishment at Symbiosis Gathering.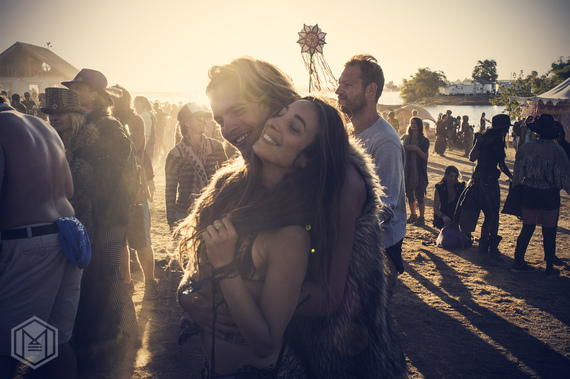 One of the most inspiring aspects of this event was the children of Symbiosis. As I spoke to several festival kids of many ages, I realized the true transformation comes through the minds of our youth. Transformational music festivals are shaping the futures of the adults in attendance who in turn are shaping the minds of their children. Articulate, eloquent, and profound, a young girl who camped next to me commented that "nature makes the best music." Parents are introducing their children to the freedom of self-expression and progressive thought that these festivals offer instead of the consumerism and materialism of many amusement parks. Each festival paints a brushstroke on their mind's canvas so that they may eventually transform into a masterpiece. Transformational festivals are not only about reveling in the present but also building a brighter future.
The more music festivals I attend, the more I realize how much blood, sweat and tears are poured into these events. Creating something as extravagant as Symbiosis with the intent to please 14,000 people is a feat that goes beyond monetary gain. It is a triumph of the human spirit to build a world that is free of inhibition, full of inspiration, overflowing with creation and exploding with adoration. Though imperfections are an unavoidable aspect of most music festivals, perfection is in the eye of the beholder. The more of us who choose to see a perfect world, the more perfect our world will become.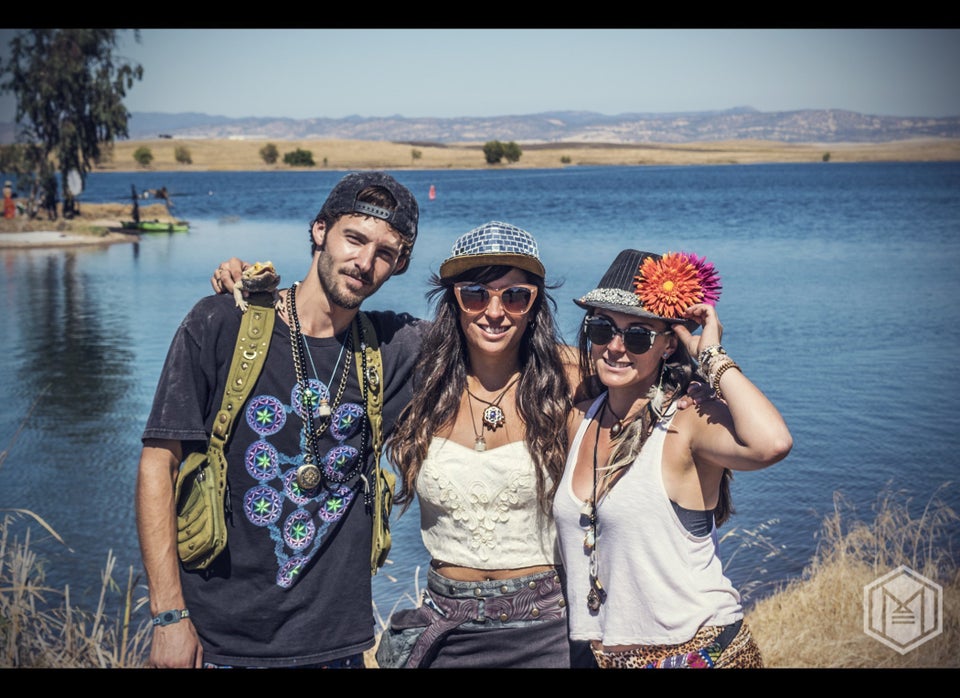 Symbiosis Gathering 2015 at the Woodward Reservoir
Related
Popular in the Community