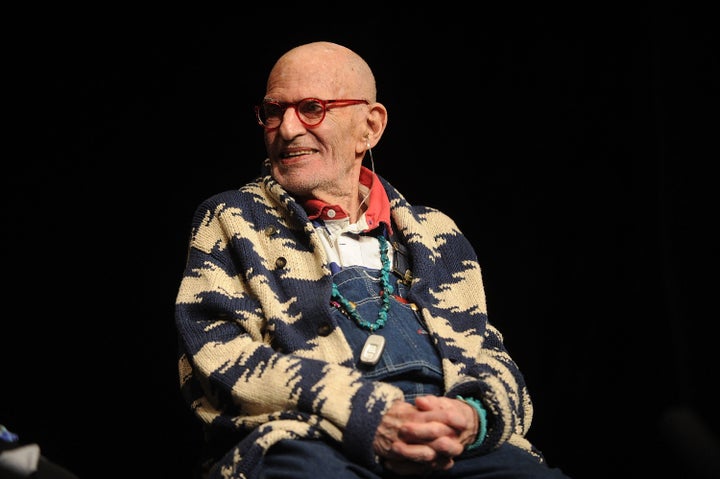 In 1981, I began showing symptoms of what would become known as HIV/AIDS.  It started with painful swollen lymph nodes larger than golf balls in my armpits and groin.  Tests for mononucleosis and a biopsy for Hodgkin's disease came back negative. Next came night sweats that soaked my sheets, exhaustion despite 12 hours of sleep, skin rashes, fungal and yeast infections in body creases, Harry Leukoplakia on my tongue, and reoccurring shingles. 
I was a petrified, 26-year-old, closeted, old, gay man when it began, living in an abandoned brownstone in Harlem with no heat or hot water that I had purchased to renovate. I was a varsity college wrestler with a Master's Degree working two jobs: a human resources professional for a Fortune 500 company by day, while working night and weekend shifts in a restaurant for extra cash to pay plumbing and electrical contractors. Soon I met my soulmate Scott, a Wall Street lawyer and varsity Ivy League tennis player.
Simultaneously, in a living room in lower Manhattan, Gay Men's Health Crisis, the first organization ever created to combat AIDS, was being formed. GHMC would change how the world reacted to HIV/AIDS. The effort to create GMHC was led by Larry Kramer, who I was lucky to meet shortly after I moved to New York in 1980.
From providing me with the names of gay doctors familiar with AIDS so I could seek treatment myself, to offering counsel when my boyfriend Scott came down with Kaposi's sarcoma, Larry and GMHC were there for me. After I reached out to thank him for his historic "Essay 1,112 and Counting" published in March of 1983 in the New York Native, Larry suggested I start attending The AIDS Network meetings in which a number of GMHC members participated.
When I called Larry to tell him that Scott had died on an airplane on his way home to visit his mother, he told me,
Go to GMHC's partner bereavement program, you'll be with other guys who have lost their partners, or close friends or family members of people who died of AIDS. They will know what you're going through. It will help. And when the bereavement group is done there are support groups and counseling sessions.
At that dark time, GMHC was a beacon of hope for me. It was a beacon of hope for so many people living with AIDS, living with partners and close friends with the illness, of gay or bisexual men who were afraid and facing discrimination and stigma ― being fired from their jobs, evicted from their apartments, or denied access to services like health insurance or government support. Unlike what we faced at every turn, at GMHC I was treated with human dignity.   
GMHC's hotline, numerous education and testing programs, volunteers, buddy programs and support groups and meals program and mental health services ― not to mention their work in public policy ― helped me and an immeasurable number of my friends with whom I shared Larry's advice to me: CALL GMHC.
Attending GMHC's Bereavement Group restored my will to live. When I lost Scott, I became deeply depressed and didn't think I could continue to live without him. The support I found at GMHC helped save my life.
The support I found at GMHC helped save my life.
When I was back on my feet in March of 1987, I reached out to Larry wanting to get involved using my housing development skills to create housing for the growing number of people with AIDS who were homeless or becoming homeless because of AIDS.  I was now renovating my second abandoned brownstone in Harlem and five of the seven people living with me in my first building had AIDS. This time Larry asked me to attend what became his famous speech at the LGBT Center, to be an ally in the audience, to stand up and volunteer to help organize the first civil disobedience demonstration and to encourage others to join his efforts to create an AIDS protest movement.
Attending Larry's historic speech that month changed my life. I joined Larry and others to create what became ACT UP, an activist movement to fight for an effective societal response to AIDS and for treatments to save lives. It gave me a vehicle to channel my grief (from losing Scott) and my rage (at society, drug companies and our government that did nothing to try to save Scott's life)― into action for social change. 
While AIDS has changed a great deal since the early 1980s with the advent of effective medications that make HIV a manageable chronic disease, GMHC is still here – continuing to save lives every day. GMHC still operates that hotline, still provides counseling and testing for HIV, sexually transmitted illnesses, Hep B and Hep C and links people who test positive to treatment. GMHC is still providing food security through a pantry and a hot meals program, advocacy for access to the public safety net, coordinating care, providing legal services, and now provides supportive housing and services to transgendered and gender fluid individuals. In addition, GMHC runs a a mental health clinic, is opening a substance use clinic, and operates a long term survivor's hub. We advocate for human rights, legal protections, adequate funding for services and access to healthcare through the Public Affairs and Policy Department – of which I am the current vice president.
I am so proud of GMHC's commitment to providing service, care and support ― and most importantly, hope ― to 12,000 people living with HIV and at risk of HIV infection each year.  I am also proud of the LGBTI community, which rose to the challenge of fighting a deadly disease when no one else would. I am proud to have joined the staff of GMHC and to salute GMHC on the 35th Anniversary of its founding in my friend Larry Kramer's living room.
Calling all HuffPost superfans!
Sign up for membership to become a founding member and help shape HuffPost's next chapter
BEFORE YOU GO