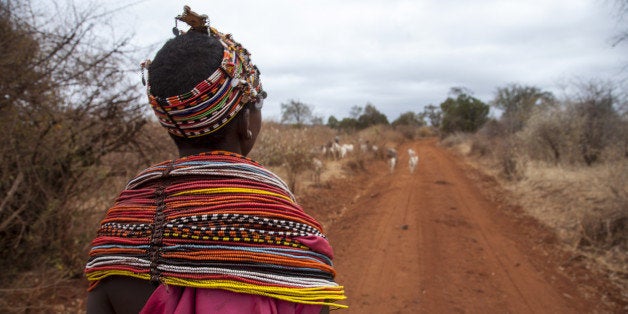 International Women's Day is a very special event. It is a time to reflect on the wonderful achievements and contributions women have made that have inspired and educated people around the world. We should be incredibly proud of how far we've come, but now is not the time to slow down. More so than ever, women should be empowered to flourish in the way I know they can.

This year, I have been privileged and humbled to celebrate International Women's Day with 'A World At School' youth ambassadors Shazia and Kainat, who are helping to launch the Girls Stand #UpForSchool campaign today. A lot of the things we take for granted, like access to an education, is sadly not a reality for all women around the world. This is something we cannot accept. The #UpForSchool campaign aims to raise awareness and help secure a future where every girl is educated and empowered to reach their potential - an incredibly important message, and one that really struck a chord with me.

I feel fortunate to work at Facebook, and be part of an open, progressive culture that champions talent, irrespective of gender - and this is a responsibility we take very seriously. Despite these efforts, science and technology as a whole remains a male-dominated profession. Rather alarmingly for 2015, women are still under-represented at all levels in STEM subjects, even though this is a space where there are very real opportunities for women at all levels. Girls can (and do!) perform just as well as boys in these subject areas, and it's about time we levelled the playing field to encourage the next generation of women to lean in and take their seats at the table.

On a recent visit to Kenya, I met an amazing group of women who are doing just this by teaching other females to code, giving them the power to seize control of their lives and make a better future for themselves and their families. Irene, a very bright young lady who was excelling at school and on her way to University, had to stay at home and look after her six siblings after her father sadly passed away. Without a father to support her and her family financially, Irene could no longer afford University. But she wasn't ready to give up. She applied for a one-year free coding course, knowing it would give her a better chance at a stimulating career, and is now going from strength to strength.

Role models like Irene are incredibly important, and can come into our lives at any time. They could be anybody, from women at the top of their career to those who are studying, volunteering or just starting out. I have had a number of female role models in my life -- both personally and professionally -- starting with my family. I was lucky to grow up in a home of ambitious, working women. Both my mother and grandmother worked, which was rare at the time, and I know now how lucky I was to have that kind of inspiration on my doorstep.

We all have a responsibility to do what we can to support others around us; across all sectors and at all levels. Women have already taken great strides forward by working together and momentum is building every day, propelling us onto greater things. As I reflect on our successes this International Women's Day, I am truly excited to see what the future has in store for the women of today, and for the generations to come.
This post is part of a series produced by The Huffington Post in partnership with A World At School's "Girls Stand #UpForSchool" petition launch on International Women's Day 2015 (March 8). There are currently 31 million girls out of school around the world. This launch is part of a wider petition that will be delivered to world leaders to ensure they keep a promise to get every girl and boy into school and learning by the end of 2015. Find out more -- and add your name -- at upforschool.org.
Calling all HuffPost superfans!
Sign up for membership to become a founding member and help shape HuffPost's next chapter