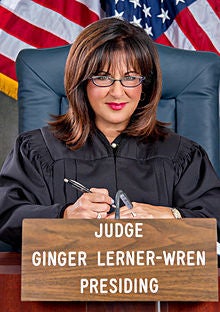 Last year was a wake-up call for me, as I read the New York Times. The rate of suicide in the U.S. has surged to a 30-Year High. As a member of the Executive Committee of the National Action Alliance for Suicide Prevention I realized the responsibility I had (as a Mental Health Court Judge) to break the silence surrounding suicide. In declaring Broward's Mental Health Court, a Zero Suicide Initiative Court, I integrated suicide prevention into the court process as a core fidelity. As stated by CEO and President of RI International, David W. Covington, "How big is your dream?" In this regard, the vision of Zero Suicide is aspirational. The goal aligns with the mission of a therapeutic problem-solving court dedicated to the decriminalization of people with mental illness and co-occurring disorders. In this regard, I understand my potential as a judge to influence and educate court participants and the community on the importance of seeking mental health care, the promotion of well-being and public safety.
The decision to prioritize suicide prevention in Broward's Mental Health Court has altered the culture of the courtroom in many ways. First, I continually message and boldly broadcast the fact this is a "Zero Suicide Court." The once taboo and stigmatized conversation about suicide, has been replaced with a clear recognition that everyone needs to know the facts about suicide prevention. Discussions about suicide are not easy. Yet, as with other difficult topics, I have found a way to discuss this matter (through clinical staff) with respect and sensitivity based upon the data. The Court's goal of suicide prevention has become a key part of recovery and a mental health promotion narrative.
For example, recently a defendant appeared in my regular criminal division. The young man, I will call him Jason, stood before the bench with his defense attorney. He appeared emotionally upset and anxious. He indicated that. 'there was a lot going-on and he was felt over-whelmed by life." I asked, "Whether he was receiving any mental health care in the community?" He responded, "he needed to go back." I was concerned. I told him that I care about his wellbeing and that we should take time to talk. He sat down in the front row, held his head in his hands and shared a bit about what he was experiencing. I encouraged Jason to go to Henderson Behavioral Health Center's crisis/walk-in Center. I provided him a resource guide of mental health crisis resources in the community, which included the number for the National Suicide Prevention Lifeline (1-800-273-8255). As Jason left the courtroom, he thanked me and said the words I had hoped to hear: "that he felt cared about."
To quote, one of our national leaders in the Zero Suicide Movement, "everyone has a role to play in suicide prevention." According to the American Association of Suicidology: 2015 Official Final Data of Suicide in the U.S. from 2014 to 2015, suicide ranked as the 2nd leading cause of death of persons 15-24 years of age. It is also the 10th leading cause of death, and ranks above homicide. Further, on average a person dies by suicide every 11.9 minutes, including a young person every 1 hour and 36 minutes. Moreover, a 2015 SAMHSA study found that more than 1.4 million adults had attempted suicide.
Whether as a Judge in a juvenile court, family court, collaborative or problem solving-solving court judges consider a wide-range of psycho-social and topics, such as substance use and addiction, domestic violence, mental illness, trauma and adverse childhood experiences. Through the application of the popular science of Therapeutic Jurisprudence, the evidence demonstrates that courts have the capacity to act as therapeutic agents, manage risk and save lives. In this regard, Judges have a long-tradition as serving as champions of public health from the prevention of drug use, child abuse and domestic violence to the decriminalization of people with mental illness, to the urgency of the opioid crisis.
In recognition of National Suicide Awareness and Prevention Month, I propose that juvenile, family law courts and courts of general jurisdiction consider joining the Zero Suicide Movement. The first step, is to become educated on suicide prevention and awareness. To do this, I recommend the following resources: The National Action Alliance for Suicide Prevention and the Suicide Prevention Resource Center-Juvenile Justice System. It is time to mobilize Suicide Prevention and Education in the court system - to dream big and save lives.
REAL LIFE. REAL NEWS. REAL VOICES.
Help us tell more of the stories that matter from voices that too often remain unheard.
This post was published on the now-closed HuffPost Contributor platform. Contributors control their own work and posted freely to our site. If you need to flag this entry as abusive,
send us an email
.