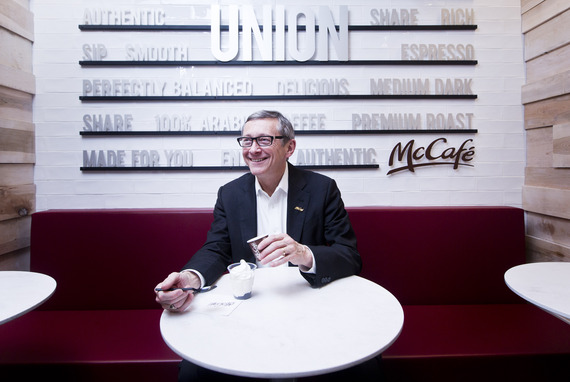 John Betts, President & Chief Executive Officer, McDonald's Restaurants of Canada Limited, began his career with McDonald's in 1970 as Crew in Southampton, New York. Throughout his career, Mr. Betts has been recognized as an outstanding contributor to the global McDonald's system, receiving numerous awards including the prestigious Presidents' Award, reserved for the top 1% of McDonald's employees globally.
In 2008, Mr. Betts took on the role of President and CEO for the Canadian business. Under his leadership, McDonald's Canada has achieved incredible business momentum, increased annual sales and guest counts, undertook a comprehensive restaurant re-imaging program, and introduced relevant menu enhancements like McCafé - making McDonald's a leading destination for premium coffee and specialty café occasions.
He recently spoke with Huffington Post blog contributor Craig Dowden (Ph.D.) about his lessons in leadership.
CRAIG: You have been with McDonald's for 45 years. Can you tell me about what it was like for you growing up in the company?
JOHN: I first worked at McDonald's as a part-time employee when I was 19 years old. I really liked the interactive parts, the teamwork, the people, and all of the fun you get when working in that environment.
In the early days, I was really motivated by what I could do. I worked on the front counter and I wanted to see how many customers I could take care of in an hour. Back then, you had to actually add up the orders and punch them into the registers. It is a little different than today where you can do it on your phone (laughs).
It was when I became a manager at 20 years old that I really appreciated the breadth of dealing with and engaging and motivating people. I loved getting my own results, but now I was doing that through people. To me, that was an important realization.
CRAIG: What lessons did you learn early on as a manager?
JOHN: In the beginning, I was not a good people manager. Back in those days, McDonald's still had the model from the 50's, very regimented and factory-based with mass production. As an example, customers essentially got exactly what was on the menu - no personalization. We did that pretty much with everything, including how we dealt with people.
Now you fast forward 40 years to today, and it is an entirely different world. Through coaching and feedback, I came to realize that it was a lot more fun to get everybody on board and let them be their unique selves. I also found out I could get better results that way.
CRAIG: What were some of the best strategies you used to engage people and ensure they were on the same page?
JOHN: The most important thing is to understand the environment you're in. If it is a restaurant, then what is important to the customers of that restaurant? Is it the drive-thru experience? Is it the neighborhood where we do business? What are the strengths and weaknesses of our restaurant and how do they play out in terms of meeting the needs of our guests? Also, to a lesser extent, what does the competitive marketplace look like? Asking these types of questions is key.
The big "A-Ha" for me in the last 20 years is putting guests and employees at the same level. I grew up with "The customer is always right" and then it became "guest-centric", but my own customized formula has the employees at the same level. You cannot deliver on brand engagement unless you have people that are passionate and want to deliver on it. So you have to be able to engage both groups of stakeholders and you have to understand that dynamic.
Internally, you have to make sure the employees and the franchisees of our restaurants are all on the same page. In order to do that successfully, you need to understand what their motivations are and whether or not they're passionate about delivering on the brand promise.
CRAIG: How do you do that?
JOHN: Some people believe that knowing the 'right strategy' is most important, but that's not it in my experience. It's more about whether there is ownership, alignment, and engagement to the strategy. The secret to our success here in Canada in the last 8 years is a result of our unwavering focus on collaboration, transparency, and the engagement of our franchisees. From the time we recognize a business opportunity that our guests are looking for, our franchisees are involved in shaping everything as we go, which includes the strategy as well as how we bring it to life. They know what's in it for them. They know we're going to have ongoing dialogue. These are the most crucial pieces to me.
CRAIG: How would you describe your leadership style?
JOHN: I believe I am very approachable. If you sat in on one of our franchisee meetings, you'd see that people can put something out there and not be worried about repercussions. I respect everyone's opinion. My view is that if this is what they are putting out there, then that's what they believe. So how do you get underneath that? Is the issue they are bringing up symptomatic of something bigger? Is it something that cuts across a number of markets or organizations? I never take the position that I am the smartest guy in the room. I am not. However, in my role I focus on creating an environment that encourages our team to work together because we are greater than the sum of our parts. We used to lag behind most of the major McDonald's markets, but over the last 8 years Canada has consistently been a leader in comparable sales and guest counts. What makes these results more exciting to us is that they are happening in a marketplace that's not growing. We're not building any new restaurants. We are getting these results exclusively from our existing footprint. The reason for this success is that our franchisees feel genuine ownership and believe in their staff. It works so well together. You learn something every single day in this business.
CRAIG: What is your favorite leadership practice?
JOHN: I always try to be engaging when I am talking to people. I have two questions I constantly ask people, "How are you doing?" and "What are you working on?" Every time I ask these questions, I am more knowledgeable than I was before I took the 2 minutes just to find out. It's such a short investment of time with a large ROI.
CRAIG: What is a key lesson you have learned?
JOHN: Don't chase the competition. Our greatest competitor is ourselves. I call it beating yesterday. You have to beat yesterday every year, in and out. The only way you can do that is by being better yourself. It is not about trying to be another coffee player or another burger place. It is about "what is McDonald's doing?"
Calling all HuffPost superfans!
Sign up for membership to become a founding member and help shape HuffPost's next chapter