I was always a 3M girl. I loved Mozart, martinis and macaroons. And then of course there's Mike.
I met Mike Abrams as a studious Cornell freshman in the Fall of 1970 -- the decade of Love Story and The Way We Were. I'd been propelled from my frenetic New York City home turf to a tranquil rural campus in upstate Ithaca.
A true Sagittarian, I loved variety...and Cornell was the epitome of potpourri. But the options were overwhelming. Suddenly I was faced with semester decisions, enrollment logistics, and Big Red tape of auditing, withdrawing, and switching courses. Not to mention dormitory etiquette and housing rules, roommates and R.A.'s (Resident Advisors). It was a strange new world of Ivy League-dom, not to mention the severe lack of subways.
Craving freedom from rigidity, I applied to the College Scholar program, which (Eureka!) waived all freshman requirements. Attempting to blend my passions for media and music, my advisor intuitively suggested I do two things:
1) contact WHCU-FM, the Cornell owned classical music radio station in downtown Ithaca; and
2) call up Professor Mike Abrams.
He nailed it on both counts. First, I ended up broadcasting my own weekly radio series (Music of the Renaissance) for college credit. Second, the phone call to Mike Abrams was a turning point in my extraordinary life friendships. Turns out "Mike" (officially H. Meyer Abrams) had this amazing thing going. He and several of his cronies, including Chemistry professor Jerry Meinwald, met regularly to play music, rotating homes, hosting monthly chamber music ensembles.
I telephoned Professor Abrams (unaware of his renowned Norton Anthology Editor background), and presto...I was "in." Immediately I was swooped up into an inner circle of Cornell professor/ musicians. Never mind that they were some of the top academicians on campus and in the world. Never mind that H. Meyer "Mike" Abrams was one of the leading experts in Romantic Theory, or that he worked at Harvard's Psycho-Acoustics Laboratory during World War II, developing military codes, or that he helped establish the A.D. White Center for the Humanities at Cornell.
All I knew was this: amidst the enormous anxiety of freshman finals, term papers, and caffeine filled all nighters, Mike Abrams allowed me to find a sacred breathing space. I played gorgeous baroque music in elegant homes; laughed about recorder fingering on the alto vs. the soprano recorders; contemplated the arrangements of Dowland English airs; and after all the music-making, gathered with the spouses for the most delectable cinnamon babka I'd ever tasted. At the end of the evening, I 'd always get escorted back to my North Campus dorm. I admit I did feel a bit like the babysitter driven home by the father. It was nirvana.
My one-on-one conversations with Mike evolved during those enchanting car rides home: the origin of a remarkable platonic friendship that lasted for 40+ years. Despite his academic position, Mike was humble and humanistic; free of arrogance, filled with accessibility. He listened to my artistic frustrations as I confided my struggles as a writer and performer. Specifically, I shared my proposal for a book about the non-sisterhood -- that bewildering subset of backstabbing, bullying women undermining the supportive, empowering ones. Scribbling down several literary and author references, he advised me to ignore all rejections, and, above all, to persevere.
Mike and I shared a love of that special "Paradise Found" spot on the Cornell campus. So one spring thaw day, we took a walk in the Plantations. It was no ordinary walk. It was more of a syncopated stroll, a melody interrupted by stunning suspensions. Mike meandered, pausing at a particular tree here or there so that he could explain the beauty of the branches, the leaves, and the blossoms.
As for his work on the Norton Anthology of Literature, Mike's vision was for it to be portable enough to be "read anywhere, in one's own private room, in the classroom, or under a tree." There were those beloved trees again. It seemed no coincidence that he died within days of Earth Day and Arbor Day.
On another occasion, Mike invited me to one of his favorite Ithaca Thai haunts. Here we were, old friends chatting over Massaman curry chicken -- not about Keats and Shelley, but rather about my first cherry wood recorder; our Russian-Jewish heritage and our childhoods -- his speaking Yiddish until age of 5, my learning Yiddish ("di Lerer lernt in di lerer") from my mother; our shared love of libraries and our parallel patterns of borrowing three books at a time; my getting a Master's in Library Science, and my having never become a librarian.
And then there was his legendary love of team sports. Mike took me to a Cornell-Harvard game with the enthusiasm of a 23-year old. He was out of his seat more than in it; his Cornell spirit was nothing if not contagious.
He spoke about his love for his wife and family, and his passion for teaching and reading (John Updike being one of his favorites). We shared a history of language, phonetics and mirrors -- my unique linguistic ability to talk backwards, reversing sounds and syllables, his work with voice communications and military codes in World War II. My own father had been a cryptographer in the Signal Intelligence Corps, so it resonated strongly with me. He'd also helped develop the Joint Army/Navy Phonetic Alphabet known as Able Baker.
Mike explained theories from his book The Mirror and the Lamp (images from a Yeats poem) in layman's terms: the Realists (who held a mirror up to nature) vs. the Romantics (who reflected the light of the poet's soul). Then one particularly gloomy January morning, I received a surprise package. It was a copy of The Mirror and The Lamp, inscribed by Mike.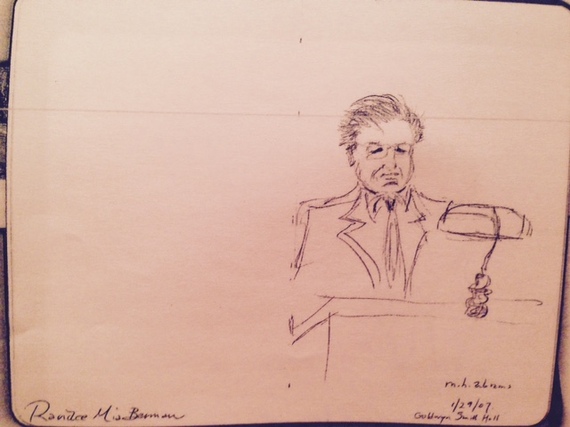 In January, 2007, I trekked up to Ithaca on the Greyhound bus to hear Mike do a guest lecture "On Reading Poetry Aloud." This time there was no conversation. I was a spectator, and I sketched his exuberance, which was priceless. It seemed the lamp was illuminating the light of his soul upon the rest of us.
Yup. Guess I'll always be a 3M girl... Mirrors, Massaman curry & Mike Abrams.
REAL LIFE. REAL NEWS. REAL VOICES.
Help us tell more of the stories that matter from voices that too often remain unheard.