The digital snapshot seen round the world depicted a brief handshake between U.S. President Barack Obama and Cuban President Raúl Castro. It became a fitting symbol of the historic nature of this year's Summit of the Americas held in Panama this past April and signaled the promise of a new era of cooperation among the nations of Central, South and North America.
Along with the first-ever participation of communist Cuba, the seventh summit hosted the first meeting of the Forum of University Rectors of the Americas -- an opportunity for university presidents from throughout the region to exchange ideas on how to strengthen and expand higher education in the Americas.
The theme of the forum was "Prosperity and Education: The Challenge of Co-operation in the Americas -- The Role of Universities."
I was fortunate to be invited to attend.
When U.S. Secretary of State John Kerry addressed the group, he asked the question, "How do we together best work to create jobs, to create opportunity, to build prosperity for our children and for generations to come?"
He made the case that there are three related answers: education, innovation, and conservation.
Most would likely agree that expanding educational opportunities is key to promoting regional and individual prosperity. Yet the university president's forum was held apart from the rest of the summit's proceedings, taking place in a completely different location. A disquieting and hopefully inadvertent undercutting of summit leaders' verbal assurances they understand the crucial role higher education needs to play in the region's future.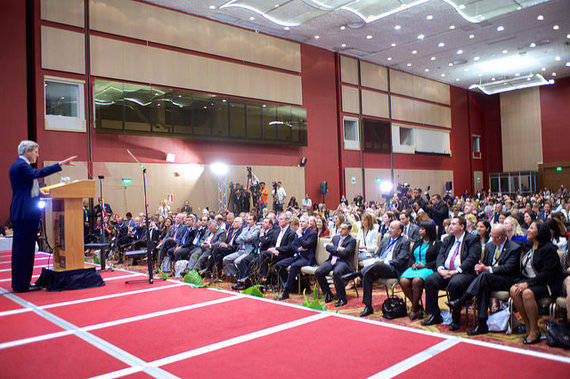 Nevertheless, Sec. Kerry used the occasion to announce $68 million in new Federal funding for programs that will expand education, training, and employment programs for youth throughout Central America and the Caribbean. This followed a March request to Congress for $1 billion to help ensure a secure and stable Central America.
These are important steps. But, in a later plenary session, international higher education expert Sir John Daniel (quoting from a paper he co-wrote with Stamenka Uvalić-Trumbić) cast doubts on whether our universities are ready to play our role in the process.
They asked the question, "Is Your University Fit for the 21st Century?" and suggest we are not as fit as we should be, both in our ability and willingness to cooperate and in what we currently contribute to prosperity.

In these educators' view, both North and South American universities fail the cooperation metric. Student mobility is an important indicator of international educational cooperation. Yet, as this UNESCO interactive map demonstrates, students -- from everywhere --largely bypass Central and South America when traveling and studying abroad.
As to the lack of cooperation among the universities of South and Central America, they conclude, "The diversity of systems and their marked national differences, which could be a stimulus for rich interaction, seems instead to reinforce the closed and rigid nature of each system."
So our universities do not seem to embrace the vaunted goal of cooperation. But what about their contributions to prosperity? Here, too, they see failure.
As evidence, they cite a widening gulf between what we teach in our universities and the lives graduates will lead, arguing that we're not preparing students for the jobs they need to fill. And fewer and fewer students -- particularly those from underserved populations -- can afford the costs of higher education, especially in the United States.
Finally, Daniel and Uvalić-Trumbić questioned whether we're appropriately and effectively employing new technological innovations to deliver better education outcomes. Are MOOCs really the answer we seem to believe they are?
Ironically, I am writing this blog while sitting in my hotel in Sao Paolo, Brazil, where I am spending one week as visiting faculty at the University of Sao Paolo (USP). Conversations and discussions have been rich, the audiences curious and interested, and the research of the unit innovative, thoughtful and provocative.
In fact, USP is one of the largest universities in the world, with 92,000 students and 6,000 faculty. Their medical complex is enormous, with high quality physical facilities and a rich tradition of research and discovery. While not all areas may be at the level we often believe the great American research universities are, USP is nonetheless a bright place in Latin America and very much worth the greater attention of the global academic community. It is opportunities like these that we, as institutions of higher learning in an increasingly global society, must seek out and partner with.
The Forum of University Rectors of the Americas was a tremendous opportunity to open discussion and foster cooperation throughout the region. But along with the hope and optimism, valuable food for thought and cautionary reasons for concern were also raised that higher education and government leaders must heed. Opportunities for more meaningful and measurable cooperation between North, Central and South American universities, improving the educational and economic prosperity outcome of all students, and the economic impact of innovation and discovery are readily at hand. Let's take them.
Related
Popular in the Community