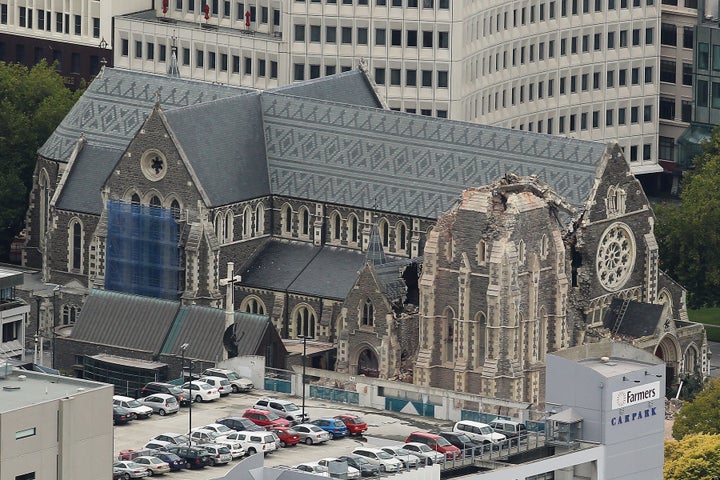 I am a New York Kiwi, as rare as the nocturnal flightless long-beaked bird that is the symbol of my husband's homeland. Since we married in 1999, I have lived between Manhattan and New Zealand, two places that are as different as my cultural urbanity is from my husband's adrenaline-rushing adventurousness. I never have enough shoes. My husband didn't wear shoes to school until he was 12. While I have spent most of my adult life analyzing my neuroses, my husband has no physical fear. When we met on an airplane flying from London to New York, he regaled me with tales of skydiving, bungee-jumping, cliff climbing, scuba diving and drag racing. I shared my knowledge of navigating the New York subway systems at rush hour, where to eat the best hot dog on Manhattan's Upper West Side and the jazz clubs that were open late and had no cover charge.
As I came to know my husband's family and country, I realized that it made absolute sense that the first White European to scale Mount Everest with the Nepalese sherpa, Tenzing Norgay, was a modest New Zealander, Sir Edmund Hillary, who remains to this day the quintessential Kiwi -- brave, compassionate, modest yet fearless -- contemplating even higher proverbial mountains to climb to the end of his days. Those Kiwis who have settled on what the original explorers deemed were 'these shaky isles' have always been aware of the natural dangers rumbling beneath the surface of their braided mountains and verdant fields. Living at the end of the world far from everyone but Australians, their ribbing athletic rivals, New Zealanders have been forced to develop an uncanny practicality and self-sufficiency, a curiosity and determination that has cultivated such original thinkers as the physicist Sir Ernest Rutherford and the filmmaker Peter Jackson. In order to go anywhere, Kiwis have to travel very long distances -- by airplane, catamaran, WAKA (as the Maoris came to AOTEAROA centuries ago) even racecar and the fastest Indian motorcycle. These long distances have created a sense that Kiwis can conquer any problem, any mountain, any dilemma, with a combination of logic, intelligence, gumption, perseverance and moxie. It has also manifested a reticence and reserve in all but the great national team of the nation's great national sport -- rugby's All-Blacks -- many of whom come from the nation's earthquake stricken region of Canterbury.
That self-sufficient reticence has often blurred the Kiwi image on the global stage. When I first moved here, many of my cosmopolitan New York friends urged me to look up their colleagues in Sydney or Melbourne, believing that New Zealand was a pastoral suburb of Australia. They had seen the iconic films Once Were Warriors and The Piano but still confused the indigenous Maori settlers with the Australian aborigines. Though many now realize that New Zealand is the home of the cinematic Lord of the Rings, Queenstown is the adventure capital of the world, WETA studios created many of the special effects on Avatar and sheep outnumber people 10 to one, few understand the unique nature of this fiercely proud and independent country which is now suffering the terrible loss of so many in the recent Christchurch earthquake.
I've been able to explain the character of my adopted homeland by making a joke about the order of stories on the New Zealand nightly news. The first is usually about a stranded sheep that has to be airlifted out of a swampy field. The second reports the latest mistake made by the Australians across the Tasman. The third will finally be about a revolution in Egypt or a terrorist attack in Afghanistan. But what I fail to mention is that every life lost in New Zealand through accidental tragedy -- every car crash, every lost mountaineer, every death by abuse or misadventure -- is a national headline. In this country of just over 4 million, equivalent to the population of Manhattan's Upper West Side, every life is precious, every animal cherished.
So imagine the devastation felt by New Zealand in the aftermath of the wreckage wrought by the latest Christchurch aftershock that felled its central business district six months after the miraculous 7.1 earthquake that created havoc and structural loss but killed not a single soul and the recent loss of 29 miners in the Pike River Mining Disaster. Christchurch with its population of 400,000 is the largest city in the South Island. The 'Garden City' renowned for its Victorian and Renaissance architecture is now virtually unrecognizable.
This nation of pioneers does not ask for pity or even assistance, but it is suffering. New Zealanders are often the first to volunteer to send reconnaissance to dangerous war zones. Its firemen invited many New York City firemen to have a free holiday in New Zealand following our national tragedy of 9/11. So as I watch the smoke clouds rising from the burning smolders of pancaked buildings felled not by terrorist bombs but by a natural disaster, I'm reminded of the preciousness of every lost life. Just as every New Yorker knew someone lost in the fall of the Twin Towers, every New Zealander will know someone lost in this unexpected, unpreventable national tragedy. As in those days immediately following our tragedy, New Zealanders and search and rescue teams from all over the world will race to recover the living and the dead from beneath the rubble. Holding hands, we will comfort one another and open our hearts, our purses and our homes to those in need. And with heavy hearts, we will rebuild. But we will never forget to remember.