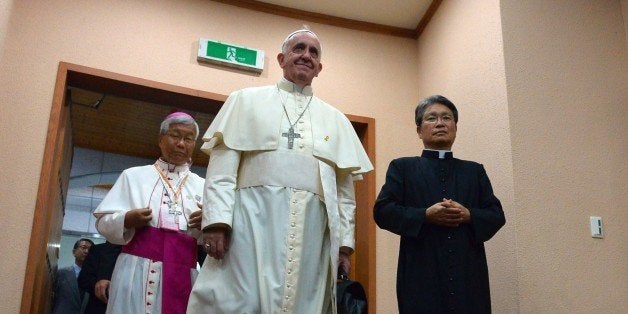 Watching Pope Francis and Chinese President Xi Jinping in the United States during the same week last month took me back to encounters long ago with an earlier Pope, an important Buddhist leader and a Chinese leader who got a lot less attention than he deserved.
For a brief period in 1988, I was the Papal Correspondent for ABC News. For a while, I got to fly around with Pope John Paul II on his Alitalia charter. I never rated very highly Alitalia among the airlines I have flown in 45 years of global travel. But on the Pope's Alitalia, I felt very good indeed. Just before every landing, 'JP 2' would come on the intercom and voice a little prayer. As an old but nervous flyer, I found that comforting. We always landed safely.
One memorable landing was on May 10, 1988 when the Papal delegation arrived at the world's highest airport. At more than 13,300 feet, El Alto serves the Bolivian capital of La Paz. As always on these occasions, the accompanying media scurried off the plane and lined up along the red carpet to await the Pope to exit the aircraft and kiss the ground - as was John Paul's custom. The wait this day was unusually long. As I stood there, breathing in the clear but rarified air, it occurred to me that I had a history of acute hypobaropathy: commonly known as altitude sickness. No sooner than John Paul descended the aircraft steps and kissed the ground, than I gasped for breath and nearly tumbled over. As the Pope walked by I could be seen falling to my knees, propping myself up with my suitcase. I will always wonder if John Paul asked himself whether the strange reporter in front of him was being terribly rude or unusually pious.
Seven years earlier, I was not so lucky with altitude. I was visiting Tibet. An hour after landing at Lhasa's airport (12,000 feet), I was filming at a small monastery. I raised my camera, peered through the viewfinder and framed beautifully a large head of Buddha. Then I collapsed. Buddha was the last image I remember seeing. I was rushed in a Korean War vintage Beijing jeep to Lhasa's People's Hospital.
Collapsing before Buddha and falling before the Pope, did not make me more religious, but in the years since it has caused me to reflect about religion - religion in China.
Most Chinese I meet and those I work with profess to have no religious beliefs. Since 1949 of course, China has rigorously controlled religion through the State Administration of Religious Affairs.
Evidence suggests, however, that even with controls, belief in both Christianity and Tibetan Buddhism has grown significantly since the 1980's.
On my last Tibet visit (many years after my collapse), I was struck by the ethnic Han Chinese I met who had come to Lhasa, become inspired, and turned to the practice of Tibetan Buddhism.
Even the Communist Party newspaper Global Times admits to rising religious fervor. In April 2014, the paper, in an unfortunate choice of words described Tibetan Buddhism as 'trendy.' It quoted a survey suggesting an estimated 300 million Chinese between 16 and 39 have turned to religion.
The State Religious Affairs administration admits nearly 100 million Chinese practice some kind of religion.
The problem of course is that religion; organized religion makes China's leaders nervous.
Officials approve of young ethnic Han Chinese who study at the Larung Gar Tibetan Buddhist Academy in western Sichuan Province. Yet, negotiations and contact with Tibetan Buddhism's most important figure, the Dalai Lama, have been stalled for 35 years.
The last time Tibetan exiles had any hope of a more open, enlightened Chinese policy was under the leadership of Communist Party Chief Hu Yaobang in the 1980's.
I met Hu briefly at Beijing's Great Hall of the People in 1981. At the time, we saw him as an unusual Chinese leader: outspoken, lively, energetic, we thought: a reformer. Tibetans saw in him hope.
In January 1987, I was in Beijing when buses gathered in front of the Great Hall of the People. Rumors spread that a major Party meeting was underway to discuss "bourgeois liberalism."
Less than a week later, Hu Yaobang was gone. Criticized for mishandling December 1986 student demonstrations, for defending 'reformists,' and Tibetans believed for seeking accommodation on Tibet and the Dalai Lama, Hu was ousted as Party leader.
Ever since, the Dalai Lama has been denounced as a "splittist:" Party talk for advocating Tibet as separate state. Little has changed since I went to Taiwan to interview the Dalai Lama in March 1997. He denied then as he has repeatedly since, any political role or desire to 'split' China. Chinese policy now appears to rest simply in waiting for the death of the now 80 year old leader.
For Catholicism in China, things seem more hopeful. Flexibility toward 'normalization' seems possible under the nearly 79 year old Francis.
More than half the 15 million Catholics in China practice their Christianity in secret; in repositories of worship loyal to the Pope. China's Catholic Patriotic Association says Chinese can practice Catholicism but only under state guidance.
The sticking point is that China insists that its religious council appoint Bishops, not the Pope.
Those who follow religious affairs closely say there is progress in developing Beijing-Vatican ties. Pope Francis has said he wants to meet Xi Jinping. The appointment by China of a Bishop in Anyang in August this year; a Bishop already approved by Rome is seen as a step forward. Some point to neighboring Communist Vietnam as a model for negotiation. There, over the past five years or so, the Hanoi government and Vatican representatives have developed a system to meet, discuss, and jointly approve clerical appointments.
On the other hand, China's state media has so far not prepared its public for relations with what one Chinese official recently called "the rock-star Pope." When Xi Jinping and Francis were in the United States at the same time, China's state propaganda bureau banned any news coverage of the Pope.
Whatever the politics, there is no question that religion is growing in China.
In addition to Buddhist ascendency and the 15 million Catholics, there are reliable estimates of as many as 60 million Protestants.
We don't really know the exact numbers because so many practice their faith 'underground' in unauthorized churches and religious centers.
In 2014, local governments cracked down harshly on "illegally" built churches; destroying some, removing crosses from many.
It is likely however that Chinese leaders will have to find accommodation with the rise of religious faith. The Communist Party Global Times writes: "Young people are stressed and uptight in their daily lives.... They are turning to religion to find a balance."
As one who has keeled over in front of both a Pope and a Buddha, I am all in favor of finding balance.
Popular in the Community