On Thursday, I had the pleasure of seeing Eddie Peake's Performa 13 Commission, Endymion, at the Swiss Institute. I had to duck past the strict box office manager since the show was sold out with a long waitlist. Nonetheless, I found a spot front and center to see a performance that made me think differently about the body as a conduit for the energetic mass of experience.
The performance consisted of seven nude dancers sauntering with a calculated pride cautiously through the white cube accompanied by a live minimal electro composition played by Gwilym Gold, Alexis Nuñez, and Tim Goalen. The dancers were painted head to toe in glitter, four in gold and three in black -- a pop of camp to brighten the minimalist production.
The audience experience was physically intense. For much of the performance, we all stood waiting for the dancers to break into more ensemble movement. We built and held tension in our bodies, which were further compressed by the penetratingly heavy bass.
Essentially, Eddie was applying the formula of minimalist sculpture to performance art. Minimalist sculpture communicates tension, which is created through a dichotomy between physical objects and the void they occupy. In this regard, I would say that Eddie turns his audience and his dancers into sculptures -- by creating that same polarity within our rumbling insides and focused stares.
Most of the performance we all stood, rapt in anticipation and manipulated by the music. Indeed for most of the 50-minute performance the dancers were still, or moved with suspenseful poise. The dancers bodies were elegant like Roman statues and their faces were upturned -- haughtily glaring at the audience.
I spoke to one of Eddie's dancers at the cast party about how she was affected by all the waiting. She said that her heart was beating rapidly and she screamed to herself "try to meditate." Her agitation must have been heightened by the layers of paint and glitter -- not to mention the many eyes on each rise and fall of her stomach as she breathed.
I would love to see Endymion staged at the Pantheon or Coliseum and see how this piece reacts to the richness of classical architecture. Eddie Peake's restrained aesthetic really captivated the audience in a space I typically associated with American pop- 18 Wooster is after all the former home of Deitch Projects. Last time I visited the Swiss Institute, I saw an exhibition called The Web by American sculptor Jon Kessler, who built a maze out of theoretical hypertext and other smart phone ephemera. The dancers clean gestures stood out against the history of 18 Wooster Street -- the home of brash, loud, and obvious. Given the history of performance art, where nudity is a common denominator and the nude body can feel titillating for titillating sake, Eddies uses the nude to convey other types of information- the anxiety of being expressed through durational contrapposto, mechanics of power, and sexuality free from gender binaries, to name a few.
The dramatic peak of ENDYIMON had three clusters of dynamic action, two groups of two dancers and one group of three dancers. Spread evenly across the stage, the dancers performed a deeply sensual choreography, their limbs rhythmically intermingling and coming apart like a polyamorous Les Demoiselle d'Avignon.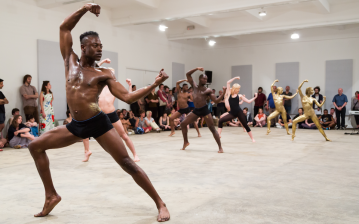 Photo credit: Eddie Peake, Amidst A Sea Of Flailing High Heels And Cooking Utensils, part 2, Chisenhale Art Gallery, London, 26th July 2012. Photo by Mark Blower.
REAL LIFE. REAL NEWS. REAL VOICES.
Help us tell more of the stories that matter from voices that too often remain unheard.