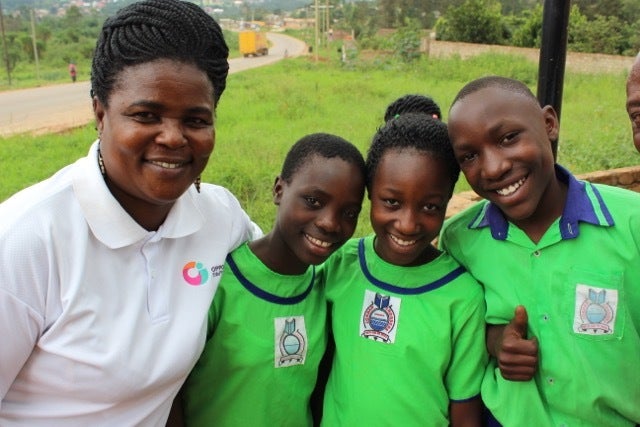 By Michele Sullivan and Vicki Escarra
Women are an incredible force.
Across every sector—private, public and nonprofit—women have demonstrated leadership: the power to create a vision and accomplish it by making difficult decisions. We have also gained insight, courage and compassion, in part, from reflecting on the lives and livelihoods of other successful women.
Women whose words and actions have changed our nation and the world – women like Eleanor Roosevelt, Rosa Parks, and Barbara Bush.
Mrs. Roosevelt transformed the office of the First Lady by advocating not only for her husband's policies and programs, but also her own causes, such as civil rights and empowering women. She was instrumental in developing and winning approval of the Declaration of Human Rights at the United Nations. At her memorial in 1962, former Illinois governor and two-time Democratic presidential nominee Adlai Stevenson remarked: "She would rather light a candle than curse the darkness, and her glow has warmed the world."
Seven years before Ms. Roosevelt's death, in December of 1955, Ms. Parks became the catalyst for the Civil Rights Movement by refusing to give up her seat on a public bus in Montgomery, Alabama. Four days later, following Ms. Parks' trial and a one-day boycott of the city's bus system, she and about 20 others organized the Montgomery Improvement Association to challenge racism and discrimination. The group elected a 26-year-old pastor who had recently arrived in the city, Martin Luther King, Jr. He later wrote, "No one can understand the action of Mrs. Parks unless he realizes that eventually the cup of endurance runs over, and the human personality cries out, 'I can take it no longer.'"
Another First Lady worthy of admiration is Barbara Bush. While in the White House between 1989 and 1993, she devoted substantial time to promoting literacy, a foundational element of education. She also promoted the need for volunteerism on such causes as homelessness, AIDS, the elderly, and in schools. One of her comments has been especially inspiring: "Believe in something larger than yourself... get involved in the big ideas of your time."
Indeed, Eleanor Roosevelt, Rosa Parks, and Barbara Bush were involved with the big issues of their time. They personify the phrase "be bold for change," the theme of the 2017 International Women's Day. For many people around the world, March 8 was just another day. But for us and our colleagues at the Caterpillar Foundation and Opportunity International, we reflected on our organizations' partnership of more than two decades and celebrated the social, economic and political achievements made by and for women we have served. These women, who live in 24 developing countries, are among the millions of women in the developing world, the Caterpillar Foundation and Opportunity have together empowered.
Together, we had the extraordinary opportunity to travel to Uganda and meet incredible leaders, like Violate Matovu, a teacher in Uganda, who, 10 years ago, was tired of seeing children uneducated, because either their parents could not afford fees, or the distance to the school was too far. Like many other successful women, she took matters into her own hands. Violate started a makeshift schoolhouse. Her first class had five students.
Ten years later, and with help from Opportunity International in the form of a loan and training funded by the Caterpillar Foundation, Violate's school has nine classrooms, 13 teachers and – most impressively – 300 students. Moreover, last year, she began meeting with other teachers also working with Opportunity International. The group shares insights on best practices in teacher training, coaching and assessments along with tools to improve their materials and curriculum.
Nothing comes close to the professional and personal fulfillment one has in witnessing such transformation in women's and children's lives. The inspiration of Violate's story is as powerful reminder in the wake of International Women's Day that, by investing in women with insight, courage, and compassion and who are willing to "be bold for change," we are building a better, stronger, and more secure world.
Michele Sullivan is President of the Caterpillar Foundation. She joined Caterpillar in 1988, and assumed the leadership of the foundation in late 2011, with a mission to alleviate poverty and place people on the path to prosperity. Follow the Caterpillar Foundation on Facebook and Twitter for real time updates on their work or visit http://www.togetherstronger.com/.
Vicki Escarra is Global CEO of Opportunity International, where she leads a network of 20,000 members that have helped 16 million clients in 24 countries work their way out of poverty, transform their lives and strengthen their families and communities. She also spent six years as president and CEO of Feeding America, the nation's largest hunger relief organization, and nearly 30 years at Delta Air Lines, where she rose to chief marketing officer. Discover more: http://opportunity.org/ or join the conversation on Facebook and Twitter.
Related
Popular in the Community