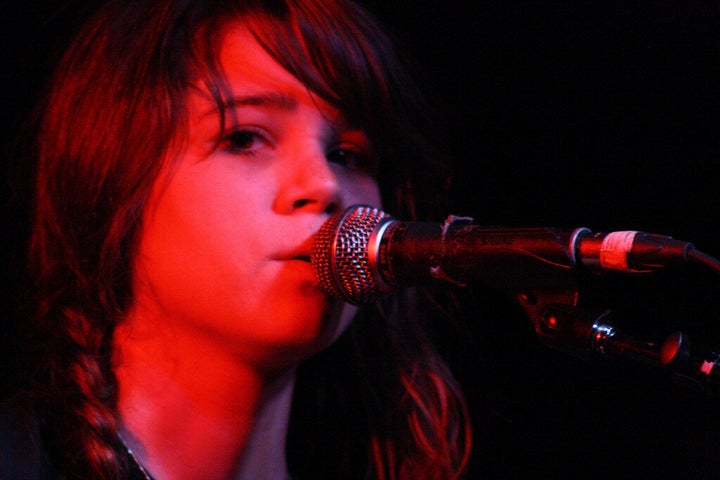 "I'm Lady Lamb the Beekeeper, and this is my band." She stood alone on the stage.
When she started to sing, I was spellbound. She sounded like a Motown songstress. But that does not describe her style: While mostly folk-rock, this versatile Maine artist plays bluegrass on the banjo, and has even rapped.
I had heard of Lady Lamb the Beekeeper from the chemist / guitarist Sasha Alcott. After performing with her own band, When Particles Collide, Ms. Alcott told the audience to stay, because Lady Lamb would "rip your heart in two, put it back together, and rip it apart again" (or words to that effect).
Amanda Palmer echoed this sentiment when she introduced Aly Spaltro in Brooklyn, recalling how she had heard Lady Lamb in Boston and "she destroyed the room."
She actually seems quite sensitive -- Ms. Spaltro writes that she "fell in love with the German language," a Liebe we share -- so it's amusing that people use violent imagery to describe her performances. But when you see her sing "Crane Your Neck," you'll see what they mean: Look at the way she twists her head when she says, I'm as blue as blood before the blood goes red. She's a master of singing -- of how her throat makes music -- as well as songwriting. When I first heard her cry, Bend your body back, I thought she was just showing off.
Live performances don't capture what Lady Lamb the Beekeeper does in the album, Mammoth Swoon -- for example, the cool beat in the last half of "Penny Licks," the amusing banter between Ms. Spaltro and a fellow musician, or the hilarious end of "By the Broadness."
Ms. Spaltro is a poet, sometimes obscure -- I want to love you like a monster loves a flower -- but good enough that I can excuse her mixed metaphors about lionesses being birds. Sometimes her poetry is beautiful in its simplicity, like a clear brook. I have played Mammoth Swoon a dozen times on my laptop while driving from Bangor to Portland, Maine, and I have found myself risking death on the highway to replay the simple line, You were my friend, 9 minutes and 20 seconds into "Up in the Rafters / Bird Balloons." (Just for reference, I played "Friday" about 50 times.) If I have any complaint about Mammoth Swoon, it is that the darkness of some of its music can wear one down; for example, consider her verse, I will bury you between two trees: not exactly Fun fun fun fun!
Almost all her songs have a section with a melody that you'll like. "Apple," which Ms. Spaltro co-wrote with Emily Hope Price, has the hit-quality of "Anyone Else but You" from the Juno soundtrack. I hope Ms. Spaltro and Ms. Price go on to write more and perform together.
It worries me that Lady Lamb the Beekeeper does not write down her songs, playing them from memory. I fear she may get into a car accident and forget them.
And my heart couldn't take being ripped apart a third time. Dr. Jonathan David Farley is a mathematician; therefore everything he has written is unassailably logical.
Calling all HuffPost superfans!
Sign up for membership to become a founding member and help shape HuffPost's next chapter