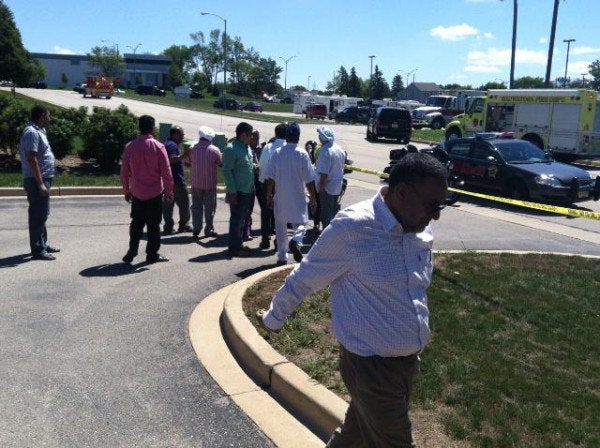 Just a few hours ago a Sikh (pronounced 'sick') gurdwara (Sikh house of worship) in Wisconsin was attacked by a white male who killed at least six people during today's Sunday service. While reasons are not yet known, I'll conjecture that this will soon be confirmed as one of the largest hate crimes in American history.
Immediately, my thoughts turned to what must have been going on inside at the time the gunmen entered the gurdwara (Sikh house of worship). Like most faiths, gurdwaras hold their primary religious service on Sundays. Kirtan (hymns from scripture) is sung, kids rally to begin Punjabi language school, langar (free meal for anyone who comes to the gurdwara) is prepared to be served later, and the sangat (community) sits on the floor (in a sign of humility). In smaller communities like my hometown of Cincinnati, or in Wisconsin, on Sunday the Gurdwara feels like a big family reunion -- the sangat is together.
For Sikhs, because we look different (identifiable because of our turbans and beards), often we become symbolic for whatever 'other' our country faces. Over ten years ago, on Sept. 15, 2001, Singh Sodhi, was shot and killed in Arizona, becoming the first hate crime victim after the 9/11 terrorist attacks. This spawned several in the community, including myself, to start the Sikh Coalition. Our initial goal was to help deal with 9/11 backlash like hate crimes, employment discrimination, and school bullying.
Over time, our focus has shifted to include educating broader society on who Sikhs are, and Sikhism's fundamental beliefs of honest living, giving back and remembering and living in the service of Waheguru (God). We have also made steps to help our country live up to its fullest potential by supporting the rights of all Americans. We've worked on things like the Workplace Religious Freedom Act, instituted broad anti-bullying programs for all students in New York City schools, and worked with hundreds of other organizations on similar programs.
Despite these proactive steps, we are still left to deal with the aftermath of violence. As recently as last March (2011), two Sikh men, aged 68 and 75, were shot in an alleged hate crime in the suburbs of Sacramento. Along with today's even more dramatic event, these are extreme manifestations of hatred that pervades too much of American society. The way in which our public discourse takes place -- vitriol in politics, the eagerness to demonize broad groups based on the actions of a few, and forgetting that people have far more in common than they ever will in conflict -- provides an environment that nurses extreme ideologies and enables unstable members to society to justify extreme actions.
Our responsibility as a society is to do more than just prevent lunacy on the fringes. Income, religion, appearance, sexual orientation, political affiliation, and ethnicity are parts of everyone, not sole characteristics that define us completely. Recognizing this and incorporating it into how we characterize one another helps us live up to the best principles of America. It cannot occur, however, unless we seek to understand those we perceive to be different from us.
My thoughts and prayers go out to the families and community involved and the first police officers on site whose heroic actions likely saved many more lives. Their bravery and grace in the face of extreme circumstances represent the best of us and the values we should all aspire to.
Calling all HuffPost superfans!
Sign up for membership to become a founding member and help shape HuffPost's next chapter