For years the night after the Tony Awards has always been a night for special events--benefits, unique for-profit shows.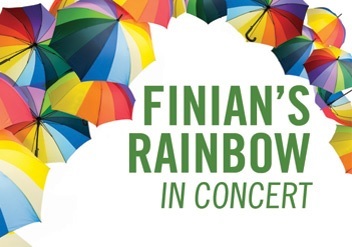 It used to be because it was the only time everyone was in town. In recent years the events have gotten less starry, but the tradition has continued. For me, all I want to do after the Tony Awards is sleep. So, while I used to go to one benefit every year, in the last few years, I've opted out. This year especially, it was such an emotionally exhausting weekend, I was depleted. But, with some convincing from press agent Matt Ross, I found myself last night at the Irish Repertory Theatre's gala performance of Finian's Rainbow, a show they produced off-Broadway in 2004.
It's hard to imagine this many years later, but I remember seeing the show back then, in the theater's space on 22nd street. It was lovely. There are so many classic songs from the show. The story behind it silly, but yet touching. Melissa Errico was so so good. Ben Brantley wrote in The New York Times at the time: "[Errico] reminds you of how valuable she is to the New York musical theater. Give her a song like ''Glocca Morra,'' ''Old Devil Moon'' or ''Look to the Rainbow,'' and her gleaming soprano effortlessly flies it into the stratosphere where such numbers belong.
This is the voice of enchantment, and it captures perfectly the musical soul of a production that is all the more bewitching for being so relaxed." The rest of the cast, including Malcom Gets and Max von Essen, was also winning. The company sounded so marvelous that Matthew Broderick (currently starring in the Irish Rep's Shining City) and Sarah Jessica Parker helped fund a cast recording.
We spend a lot of time hearing about non-profits with Broadway houses or that have produced successful Broadway transfers, but we often forget about smaller companies that still manage to sustain their own theater. The Irish Rep is far from the only one, but it's the one right near my apartment. It has never had a Broadway transfer. (Though I must say I always credit them with the later Broadway revival of Finian's Rainbow, which in fact was an unrelated transfer of an Encores! mounting.) It is in the midst of a $14 million capital campaign--$12 million of which they miraculously have raised--partially to support the renovation of the company's home in Chelsea, which was recently re-opened. Founded by, and still run by, Ciarán O'Reilly and Charlotte Moore, the company is 28 years old. And they've had to hustle, like many other theater companies. But they've stayed really true to their mission of presenting works by Irish and Irish-American writers. Though not everything has been a winner, they've done some superb work throughout the years. Last night, two-time Oscar nominee Saoirse Ronan, currently on Broadway in The Crucible, talked about how she may not be an actor if not for the Irish Rep. See her father, working as a bartender before she was born, earned his Equity card with the Irish Rep. So fans of hers should totally consider donating in honor of that story.
Sitting there last night at Town Hall, with some of the leads of the 2004 staging of Finian's Rainbow reunited, I was reminded of how happy I was to be in the theater in 2004 watching those folks sing this score. Of course, Town Hall is much larger than where I saw the show originally, but the sweetness of the show still came through. Errico is still so so good. Honestly. Last month I saw her in Do I Hear a Waltz? and I thought the same thing. There are a ton of actors out there that have a great voice, but Errico also has a presence. I get bored watching so many people, but I never get bored watching her. She's a marvelous talent. (Though it pains me to send anyone to cabaret, which is not generally my personal favorite art form, if you can't see her in a legit show, you should check out her cabaret at 54 Below in the fall.) Still performing eight times a week in An American in Paris, von Essen was even better than he was years ago. Last night he was a stronger, more confident Woody. I have to admit to not remembering anything about the performers who danced Susan the Silent in either the Irish Rep. or Broadway revivals, but Megan Fairchild (so brilliant in On the Town) was a welcome addition to the cast. The score sounded gorgeous.
And more than anything being there helped me remember the importance of theater of all shapes and sizes. I was exhausted yesterday, and I might have been the youngest person in the orchestra by about ten years (other than Ronan herself of course and maybe her guest), but I was still so happy to be there. Just like I was 12 years ago. The portions about prejudice had particular resonance, with a brief tribute made onstage to the victims of the Orlando massacre at the start of the evening. The feelings theater brings about aren't possible unless we all take time to truly enjoy the theater as a respite. And they aren't possible unless we go support the theater companies making it happen.
Related
Popular in the Community