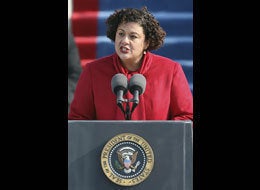 Elizabeth Alexander delivered an original poem, "Praise Song for the Day", at the inauguration ceremony. Hearing it, and later reading it, the poem reminded me of why so few of us pay much attention to contemporary poetry. I felt very little emotional impact or intellectual stimulation. It was a modest message with little rhythm and, of course, no rhyme. (I believe you get drummed out of the poets union if your poems rhyme.) To me, it sounded and read and looked more like a modest few paragraphs of prose (with a lot to be modest about).
In grammar school, we read (okay, we were forced to read) and recited poetry; I even remember some of those poems to this day. My guess is that little poetry is read or recited in schools today. I also suspect that Ms. Alexander's inauguration poem will do little to reverse that trend.
To get a flavor for it, here are the last seven lines of Elizabeth Alexander's "Praise Song for the Day":
"...Love beyond marital, filial, national,
love that casts a widening pool of light,
love with no need to preempt grievance.
In today's sharp sparkle, this winter air,
any thing can be made, any sentence begun.
On the brink, on the brim, on the cusp,
praise song for walking forward in that light."
Let's compare this with a poem written for an earlier president. I dug up the 77-line poem, "Dedication", that Robert Frost wrote for John Kennedy's 1961 inauguration. (Frost, when he got to the podium, was unable to read it because the sun reflected too brightly on his paper; instead, he delivered a different poem from memory. Try that one, Mr. Chief Justice.) The last eight lines of Dedication are:
" ...It makes the prophet in us all presage
The glory of a next Augustan age
Of a power leading from its strength and pride,
Of young ambition eager to be tried,
Firm in our free beliefs without dismay,
In any game the nations want to play.
A golden age of poetry and power
Of which this noonday's the beginning hour."
Perhaps a new golden age's beginning hour began noonday January 20.