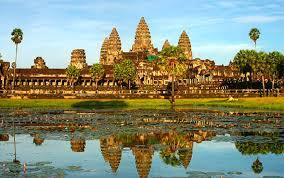 I: Three days in Thailand
It's not so good to have your international flight delayed out of LAX for three hours. Because we were connecting to Bangkok by going through Guangzhou in China, this caused the need for rebooking (line standing time: one hour), and sitting around at the airport for an extra three hours in the morning after getting up at five and driving two hours to get to the airport.
I used to go China a lot, but the flight to Guangzhou is 15 hours long. Maybe it was always this long, but it seemed like quite a bit of time in an airplane. The scenery didn't change much. The flight did confirm an important rule: few things in the world are really worth spending money on, but avoiding tourist class on overseas flights is one of them. Seats that recline into beds of a sort are a fine invention.
We really weren't going to China, we were going to Angkor Wat in Cambodia, but you cannot get there from here, here being the US, you have to go to somewhere else first and change planes and then fly to Siem Reap which is where the Angkor Wat temple complex is, Siem Reap being the associated city with an airport. The temple, although very large, did not think ahead to include an airport. Big mistake. But we're getting ahead of ourselves.
Since we were going to have to go through Bangkok anyway, we thought, why not take a couple of days, look at all the boats on the river, stay at a swell hotel and eat good Thai food? So, we did, the Mandarin Oriental which is surely one of the best hotels in the world. As a general rule, I stay at cheap places like Days Inn or Travelodge's, but I think Days Inn is bankrupt and Travelodge's don't appear to have made it to Thailand yet. Besides, occasionally you need something like this. Esp. after more than 24 hours of travelling.
The king of Thailand, His Majesty King Bhumibol Adulyadej, died in mid-October at the age of 89, after a rule of 70 years on the throne. Well loved by his people, a symbol of the country, he helped keep Thailand out of WWII, no mean feat given its location between India and Burma. A letter from the hotel management was placed in our room, noting that a year long period of mourning had been declared, and that most Thais are wearing black, especially if one were to visit the Grand Palace. And since one is indeed planning on visiting the Grand Palace complex, we read the hotel's directions carefully. In general, it urged that we "refrain from conducting any inappropriate or disrespectful behavior." Good overall advice. The Grand Palace itself is the venue for the funeral rites and for paying one's respects to the departed king. "The dress code for paying respects is as follows: Male: black long sleeve shirt, long dark colored trouser& covered black footwear." The female directions for attire are similar.
Mostly I don't travel with a long sleeved black shirt, ever since I got kicked out of the Mafia for being unable to break arms without mechanical assistance. But I had one with me, and black pants, and L. was similarly attired, so off we went. Most of the Thais we saw were wearing black. There were interesting combinations—a young woman wore a black t-shirt and black skirt. On the t-shirt was written, in increasingly large bright yellow letters as you read down the shirt: "Bang, Bang, Bang, BANG." An older Thai gentleman was wearing dark trousers, "black covered shoes," and a white t-shirt with the legend "Laissez le bonne temps roulez." Really. The tourists, I am sorry to report, were dressed pretty much as tourists dress everywhere in hot climates—t-shirts of all colors and messages, shorts, flip flops. "Nobody reads the documents," one of us grumbled, perspiring freely but respectfully. We felt virtuous.
If you wanted to enter the actual Grand Palace part of the complex, you needed to line up. The four-abreast line ran along a covered gallery inside the complex for probably a distance of at least a mile, and the line continued outside the palace walls, moving in slow fits and starts. Down one shut down street was a line of folding chairs, again four abreast, that stretched as far back as one could see. It was covered with a temporary tent, which was a good thing as it was quite hot and sweaty. And there were Thais in every seat, waiting their turn to get in line.
The images of the king coupled with words of sorrow and mourning were everywhere, and in every size imaginable. Although the official thirty-day intensive mourning period had ended November 13, the images were still omnipresent: on large billboards, wherever one saw billboards. On banners hanging from buildings. Black and white bunting was strung on the fences around parks and anywhere with an iron fence. There were altars to and images of the king in front of every government building, down to the level of post offices and police stations and fire houses. They were in front of large office building and stores, and hung in the windows of small stores. The daily Bangkok Post, each of the four days we were there, ran at least two full page respectful tributes. The pictures of the king never showed him either sitting on a throne or wearing a crown; instead the king with his large plastic glasses was seen in mostly candid shots. He looked intent and interested and honestly a little bit nerdy.
Just to depress myself, I tried to think of an American whose death would bring out this level of commitment or devotion or interest in the American population. No presidents I could think of; maybe Michael Jordan? Beyoncé? Not Angelina anymore since she split with Brad Pitt. The Beatles? All four or five or seven of the Kardashians dying in a plane crash?
The parts of the palace complex we could visit without standing in line for hours were wonderful. We christened it "Bling City" whose decorative imperative was "never use tile work when gold will do." The architecture is "oriental temple" with peaked roofs and pointed eaves, openings guarded by large and colorful demon figures, stupas held up not by diaphanously covered caryatids, but by varieties of apsaras, and did we mention that everything was covered in gold leaf? The temple of the Emerald Buddha is especially nice, although the Buddha itself seems somehow smaller than we expected. Given that (one assumes) it is made from a single emerald, perhaps this is a quibble. How the heck big could it be? We walked around with open mouths and clicking cameras. There is an advantage to being the king, as Mel Brooks so cagily remarked.
We came back to the hotel and treated ourselves to lunch, sitting on the hotel's veranda and watching the boats go up and down the river. Unlike a bunch of rivers, we have visited recently—the Loire, the Arno in Florence, even the Mekong in Burma—the Chao Phraya is a serious working river. Lots of small and medium size boats functioning as water busses and water taxis, boats with dredging machinery, boats with moving screens to clean up junk out of the river, and long barge tows, going both up and down river. The barges were covered so we couldn't tell what the cargoes were. Fun to watch and impressive to compare to other rivers.
In the evening, we were treated to a hotel cocktail party in the Author's Suite, a two-story side room off the lobby, where numerous authors have stayed while doing author-like things. Lots of elderly white folks in long pants or nice dresses showed up, there were great Chinese hors d'oeuvres, and excellent wine. The pictures of the authors festoon the walls of the very lovely suite. I wasn't so sure that I knew all the famous authors represented. Here is the list; try to match the authors with the title of the book each donated to the hotel's library; no fair using google.
Our Man in Havana by Somerset Maugham
The Orchid House by Barbara Cartland
East of Eden by Han SuYin
The River at the Center of the World by Noel Coward
Forbidden Colors by Ian Fleming
Finding Florida by John Le Carre
Seeds of Truth by Petra Eiko
The Spy Who Came in from the Cold by Timothy Allman
Chitty Chitty Bang Bang by Mishima Yukio
Blithe Spirit by Simon Winchester
Love is a Many Splendored Thing by John Steinbeck
Sapphires in Siam by Lucinda Reilly
Of Human Bondage by Graham Greene
I didn't know half these people, to be honest. Answer: match the books in reverse order with the author.
We implemented the Asian version of the Loire Valley rule, which we invented several years ago, in said location: No more than two castles a day. Only in this case it's no more than two temples a day. This leaves time for naps, eating, swimming in the beautiful Mandarin Oriental pool, sipping a glass of wine on the veranda, and watching the BBC news declaim about the discovery of sharks off the beaches of Australia. NO! And they bite people. Well.
We visited Wat Arun, probably the largest and most significant Wat (read "temple") in Bangkok—very tall, very covered with tiles (not gold), lots of statues and such around it, very white, and swathed with scaffolding. Workers were cleaning the white paint by hand. As they were very high up on a steep structure, the absence of safety harnesses was troubling to old fuddy duddies like us who have worried about industrial safety professionally. We didn't see anyone fall off but it was scary to watch.
We wandered around the beautiful grounds and found yet another temple, this one with the trademark gold leaf and gold everything we had seen at the Grand Palace. It was just slightly out of the way and I suspect that half the people who visit Wat Arun miss it, but it was spectacular, as good as the Grand Palace ones. Along the covered hallways surrounding this temple were rows of life size Buddha's, all in the same hands clasped in lap pose whose name escapes me. They resembled an impassive line of soldiers covered in gold leaf. Instead of crowds, there were very few people, the Thais still in black clothing, the tourists still in t-shirts, the Chinese still in loud voices, pushy elbows, and pointy toed shoes.
Another word about the river: there are a number of local and adequate but hardly cushy riverine "long boats" with two by two seating and a large center aisle between for standing and pushing. They run along a designated route, stopping at individual wharves on the river. One wharf is at the Mandarin Oriental, and one at the Wat Arun. There are two types of these boat: a "tourist" boat which has English commentary and costs 150 baht ($4.50) for an all-day pass, and the more frequent non-tourist boats ridden by ordinary people which cost 15 baht (45 cents). The former flies a blue flag at the stem, the latter an orange flag, but otherwise they are pretty much the same, especially as the English commentary amounts to, I think, "This is Rattapoupou wharf, flower market here, Chinatown, you get off go to back," all in a barely intelligible but piercingly loud voice. I am surprised more Thais haven't won the Euro pop song contest, they got voice. Could it be because they're not Europeans?
You wait for the boat, you get on and push into the middle, eventually somebody gets up and you snag a seat. You signal your intention to get off, not by pulling a little cord, but by shoving your way to the back and standing there looking expectant. The conductor standing beside you at the back makes a bunch of whistling noises and the pilot who is in the front then says to himself, ok we're stopping at wharf #7. If no one wants to get off, and there are no passengers waiting at wharf #7, you just blow on by. At first I thought this was odd, then I thought about busses, who don't stop when there are no passengers boarding or alighting. Same principal
Figuring out the correct stop has a frisson of uncertainty, so you do need to keep alert, as the boats don't move decorously. In fact, "decorous" is not a word I would use to describe anything in BK except the people walking in the Grand Palace to pay their respects to the king. But we mastered it, including the pushing. It helps that Thai's really aren't large yet, and they seem used to people pushing past them to get off the boat.
We sat at the bar on the veranda after dinner, and watched the boats on the river yet again. They were all lit up, like the parade of lighted boats in San Diego in Christmas, only I don't think that this was for the holiday, that's just how the boats are. Very wonderful.
Jim Thompson, the well-known American and probably CIA officer with the Thai house fetish, is not alive and well. He disappeared "without a trace," walking out of a friend's house in the Cameron Highlands of Malaysia in March of 1967 after a career first in the OSS during and after WWII, and then as a discoverer, savior and proponent of the handmade Thai silk industry. His large house, made up of six different traditional Thai houses linked together, is now a museum and art gallery and bar and restaurant and silk stuff store and major tourist attraction. We went there since after the Grand Palace and the Wat Arun, the Bangkok choices dwindle. Wait, what about the famous flower market, advertised as "fourth largest in the world?" Well, where are the other three, and oh, "best time to visit is between two and four am," which is surely just when I am likely to be looking for some other tourist attraction.
Thompson's is a nice place in the slightly strange sort of way of Thai's accepting old white guys. There are small and lovely houses made of teak. But since this was all put together in the early 50's, no air conditioning. One thing Thailand is, is hot, so the house(s) were not that swell to live in. However, the Asian art that Thompson collected is really wonderful and worth seeing. Too bad we don't know how to wear scarves, that's mostly the silk that was for sale in the store. You need to be French, and a woman of course, to do this successfully. Us Americans just don't get it. And besides, it's 90 degrees and 95 percent relative humidity—scarves?
The Wall Street Journal noted that of the five largest statues of Buddha in the world, #1 and #5 are in China, #2 is in Japan, #3 in Myanmar. Number four, the largest sitting Buddha, is in Thailand, so what better to do when in Bangkok than to leave for the countryside 100 Km north of the city. We got a car from the hotel and off we went. Sure enough, just west of the city of Ang Trong is Wat Muang. It has a very large seated Buddha, glowing all golden and smooth in the noon time sun, and clocking at 92 meters tall including pedestal. It also has Thailand's own version of the Tiger Balm Gardens. This is a set of garishly painted, slightly larger than life size sculptures that look like they're made of papier maché, arranged in a series of three dimensional dioramas for want of a better name, which illustrate bloodily what happens to sinners in hell when they die. Not nice things, by the way. People getting stabbed, sawed into pieces, having their tongues pulled out, made to climb giant plaster cactuses thirty feet high while dogs bite their feet, and so on. It was spread out over a couple of acres and for some reason, there were very few visitors. When folk art goes bad….
When we were in Paris last June we went to the Rodin museum, which is always a good thing to do. We saw the kiss and the burghers of Calais and the thinker and a particularly somber piece, a pair of large, really large bronze doors, probably 14 feet across by twenty-five feet high and commissioned for a museum that was never built. It is titled "The Gates of Hell"; it's full of people being beaten and strangled and slugged and otherwise treated rudely as they struggle to escape from hell and get to heaven, which they seem to have little chance of doing. It's full of such small grisly details and an amazing piece of work. I think that the large set of statutes/sculptures we examined at Wat Muang must be the Asian equivalent. And all under the benevolent gaze of this really large Buddha who we suppose was complicit in this. Wonderfully, wonderfully strange.
Some Laos stats: 6.6 million people, $1260 annual family income, 11% secondary school participation, two high schools, one in Vientiane and one in Luang Prabang, literacy rate of 72%, cell phones per 100 persons: 101.9.
I had never been to Laos before so this was a bit of a long shot, but Luang Prabang, a small city sitting in a bend of the Mekong river, has its downtown area designated as a world heritage site, which is usually more than enough for me. We survived a crappy flight on Bangkok airways where the seats were closer together than any airplane I can recall ever being in, including converted Russian bombers, and checked in to the Luang Say Residence, a beautiful, sort of faux colonial set of white stucco buildings, and wonderful gardens. High ceilings with ceiling fans, beds with white mosquito netting, bare polished teak floors, rattan furniture in the bar, great food at the dining room which is all glass walls and terraces, and the Lao equivalent of pho, the Vietnamese noodle soup with chicken that is eaten for breakfast. And it is wonderful to have chicken noodle soup first thing in the morning. McDonalds doesn't really need to extend the hours of their breakfast items into the afternoon, they need to make big macs available for breakfast. And noodle soup.
Roosters walking around the yards next door to the hotel, with some crowing at dawn and then, curiously, at around five-thirty in the afternoon. More than one it seems. Our guide tells us they are mostly kept for fighting, not for eating.
When you throw open the shutters in the morning so you can hear the roosters better, the odor of wood smoke is about. It is not strong nor annoying, just the standard smell of an Asian city in a less developed country. Within the World Heritage Site are thirty-three temples and one hundred eleven historical French/Lao buildings, all in a pretty small and walkable space. Not much traffic, lots of folks walking in the roads, no sidewalks, lots of motorcycles and motor bikes. The city is surrounded by green covered hills: no buildings are taller than two stories. Uncertain zoning, small building sites, open front markets, nice houses, not so nice houses, some piles of junk and trash on sidewalks or in vacant lots. Street food vendors next to what look like nice restaurants. Really different from Bangkok, but then that's what everyone said it was supposed to be.
We signed up for a walking tour of the world heritage sites of Luang Prabang, which is pretty much everything on the east side of the city. The city is on a small peninsula between the Mekong, and a tributary, the Nam Khan. The NK, a small green river, runs parallel to the Mekong for a while, then makes a bend and joins it. There is a village across the Nam Khan from Luang Prabang, and every year in the dry season, which is now, the villagers build a rickety bamboo foot bridge over the tributary and then charge tourists to use it to come over to visit their town. The economics of this seem flawed. A. You'd have to pay me to walk on this bridge. B. It's not clear what's so wonderful about the village, but if you want to sell things to tourists, charging them for the privilege isn't very welcoming. C. The river goes up and down quite a lot, apparently, and when the rains come the bamboo bridge is wiped out. Why not build a real bridge, high enough to avoid the high water? That was our first Western capitalist insensitive thought. Later we found that there is in fact a perfectly good concrete bridge about a quarter of a mile up the river.
The walking tour covers many of the 33 wats and 111 Lao or Lao/French buildings listed by UNESCO. We also got a small book detailing each of the buildings. The wats are more interesting than the colonial style architecture. We did spot a small guest house named "En Provence Residence." Hard to think of somewhere less likely to be en Provence.
Our favorite is the most important wat, Wat Xieng, a compound with a number of temple buildings including the carriage house which holds what amounts to a Rose Parade float. This is a low hung truck body topped by a boat looking barge thing, decorated with two golden nagas running down each side, and an additional three large naga heads sticking out of the front panel. On the deck are three large urns which held the remains of the king's father and carried him to the crematorium. And now the whole thing is a small temple with this big gold-covered truck/float/naga vehicle in the center and a bunch of Buddha images at the back. Sounds tacky, but it was beautiful in a gold-covered sort of way.
One of the recommended local sites consists of two caves in a limestone face on the river's edge, about 15 Km upstream from the city. The caves were discovered several centuries ago and like so many things, made into a Buddhist shrine. Only this one is a sort of "People's Temple" as there are no monks and no chanting and no central altar. What there are instead is somewhere over 4000 statues of the Buddha stuck in the niches and recesses and flat surfaces of the grotto walls. The largest are probably three feet tall and the smallest are the size of toy soldiers. All colors and all materials and all poses, although most are either wood or cast metal. If you have a wish or a need or a problem, you come here and place a Buddha and say a prayer and then go away. And perhaps this makes a difference, I am not able to determine, other than to note that praying to saints for assistance is a wide-spread human activity. Now many tourists come to the cave and wander around and take pictures and say in various languages, "Well, how about this?" Which we did as well. It was quite interesting and made more so by the two-hour trip up the Mekong in a "long tail" boat.
I have always wondered about the Mekong, ever since I sat by the side of the river in a "river view" restaurant in Myanmar and had lunch for a lazy hour and a half and saw none, zero, not one boat of any size or description—no barges, no single fisherman in a little tiny dingy, no tour boats, no nothing—go by in either direction. Our trip up the Mekong to the cave was made at the start of the dry season, with the river low but not as low as it will be in three more months. Here's what I now know or think I know:
--The Mekong starts in Tibet and passes through China, Myanmar, Thailand, Laos, and Cambodia before emptying into the sea in a large and complicated delta structure in Vietnam. Total length is 2700 miles and it is the seventh largest river in Asia. You can find all this out on Wikipedia.
--The boats which go upriver from Luang Prabang are almost uniformly long and skinny, seating two abreast, propelled by a modest diesel engine in back and driven by one guy in front. They are about half as wide as the boats in Bangkok, and those were pretty narrow. Usually they are made of teak, since there's still a lot of teak in Laos. You can take a boat from Luang Prabang all the way to the Thai border, and one presumes beyond, but it takes two days' from here and I don't think the boats have food or bathrooms. Pretty utilitarian, but better than the roads.
--In the wet season, the river can rise twenty feet or more from its current level. You can tell a bit of this from the banks, which are barren of trees for the first ten or fifteen feet up, and on which the riverside dwellers have established kitchen gardens, almost on every bank as far along as we went. Corn, peanuts, lettuce, coriander, tomatoes, all sorts of annual food crops.
--As far as I can tell, the river has never been dredged. We continually weaved back and forth to avoid rock outcroppings, ranging in size from one small barely visible boulder to small rocky islands. Some of the bigger rock piles have modest concrete markers on them, in the form of stair steps. I guess if you can only see the top marker, you can determine that there is a clearance of three "steps" and so either proceed or avoid as the size of your boat dictates.
--We were also told that there is a twenty-foot set of falls/rapids at the Cambodia/Vietnam border, which prevents traffic in either direction. It turns out that these are the Khone Phapheng Falls, a six mile stretch of the river in Laos near the Cambodian border that is very rough and rocky, and includes falls as high as 69 feet. This could be something of a deterrent to river traffic.
--No one goes out in a boat at night. I wouldn't either. There are no lights, there is no channel, hence there are no channel markers, no coast guard, etc.
This is a big, wide river with the potential to link a number of countries with the sea in a commercial way, rather than just hydrologically. In the US, a waterway of this size would have been dredged, channels marked and lit, a dam and locks built to get around the rapids, etc. I am not a big proponent of screwing up rivers, but the Chinese have already built several dams on their part of the Mekong. Making this a more useful commercial, navigable path would be of tremendous benefit, certainly to Laos and Burma. A little judicious use of dynamite would do the trick. Fixing the falls is another matter.
We took another boat trip, this time a shorter one, across the river to the local botanic garden called Pha Tad Ke. It is not listed in the guidebooks but then unless you're Kew Gardens in London, you gardens almost never are.
This garden was tropical and had only been open one month, although in development for eight years. We had a lovely conversation with a Dutch young woman who is a manager there. The site of eight acres was formerly owned by the king who used it for hunting and as a summer retreat. The latter is a bit curious, as it's right on the river so no cooler than the downtown location of his palace. It's divided into an ethnobotanical garden, a palm forest, a bamboo forest, and a lovely tea house overlooking a small, water lily studded lake. It needed more work on signs for the plants, and just more flowers in general. It is all a private enterprise put together by a guy who make a bunch of money in the publishing business in London and NY. Why he decided to do a garden from scratch cannot be determined, but he's well on the way to having a very nice facility once everything grows out. And he attracts more customers. There were perhaps five other tourists there when we visited.
We went to an all-day Lao cooking class. It was quite interesting, and convinced you of several things: Lao food is Thai lite—less heat and more sugar. Names matter if you have a sense of humor. The Lao morning noodle soup is called phob by some, feu or khar by others; in Vietnam, it is pho. We got to make several classic dishes, including larp (larb in Thailand, but still chopped chicken with spices and herbs) and Muk Goo (eggplant with stuff). The former is great, the latter lived up to its name. But they all went well with Lao beer.
We also got to watch the teacher make Jeowbong (chili paste), which is full of garlic and is deep red and slightly oily, only it is made using paprika not chilies or chili powder and is something of a disappointment. Anything that fierce looking really should set your mouth on fire.
As a part of the class, perhaps the most interesting part, our instructor took us to the Phosi Market, Luang Prabang's largest market, all under roof. And therefore, dark and crowded and a bit odoriferous but hey, it's Asia. Half food, and half household goods, not tourist stuff but the things real people need—drugs and cosmetics, clothes, household goods, hardware. There were lots of food stalls including "normal" things—catfish, chicken, duck, grains and beans and flour and sugar, and all manner of fresh vegetables. There was also buffalo skin and live frogs and dried lizards. I asked about snakes but was told that the Lao government had prohibited people from selling snakes. Whether they were allowed to catch and eat them was not clear. And why the prohibition was also not clear, but OK with me.
When the class was over, we had eaten everything we cooked and finished off several communal beers, we walked along the street for a while, walking through the area of the night market, which was beginning to be set up. Luang Prabang is known as much as anything for its "Night Market" which suitably takes place at night, when the main street is shut down for four blocks and people set out stalls or mats on the ground and westerners wander up and down the street in t-shirts, shorts and flip flops. Query: How do you tell the western tourists from the local Laos? The locals are better dressed.
The process began with the arrival of the many vendors, most pushing large two wheeled carts which they wrestled into place, then set up canopies, laid out ground cloths, and got out and hung, arrayed or otherwise arranged merchandise. Many of the carts were stored in the parking lot of the Lao Development Bank, where there were no cars parked. We wondered if there was some subtle message here.
The merchandise is 80 percent clothing and the remainder various souvenir items, including lots of small images of elephants. Lots and lots of clothing and fabrics -- t-shirts, fabrics with an elephant print made into shorts and harem pants and tops and dresses. Carved stuff, woven stuff, etc. After a block or two there is a certain sameness to it all. And in the morning, just like Brigadoon, everything is all gone and the street returns as before. Then it starts all over again at five that evening. It is an impressive feat of logistics if nothing else.
Many of the stalls with clothing have a small sign stating "All clothing made locally in Luang Prabang." This is to assuage the conscience of any tourist who has one, a small number I believe, by confirming that buying that pair of elephant shorts will benefit the nice Lao woman sitting impassively in front of you. Data is a horrible malady, but if all this stuff was milled and sewn in the city, then there would be several very large factories (sweatshops?) in the vicinity of this 56,000-person town, and there are not. They would show, and they don't. And let's also be clear—there are no street lights or traffic lights here. There is no movie theater in Luang Prabang. In fact, our lovely hotel runs a "Movie Night" twice a week, one of the nights devoted to a 1927 silent movie called Chang, about "a poor farmer and his daily struggle for survival in the jungle." Angelina Jolie apparently skipped Laos and only went to Cambodia to make "Tomb Raider." I am pretty sure there's not a disco as we would have seen it advertised. Although there was a bar covered with "Merry Christmas" in neon lights which could qualify.
While we're on the subject of data, all I could find indicates that there are fewer than 1500 wild elephants still in Laos, but the three elephants butting heads symbol is the insignia of the royal family. There are lots of storefronts offering trips to an elephant preserve where you can ride the beasts and let them squirt water on you. How fun is that? Doesn't anyone know how large the damn things are? They can squish you.
We got tired of wandering through the stalls and hailed a "motorcycle taxi." Small truck body, very small, with benches on each side of the bed, a motorcycle in front. The locals call them "tuk-tuk's" a name that is the same across Asia. L called them tic-tacs, although we were not offered candy dispensers.
On the way back we passed, for the fourth time in four days, a very large cleared area. This was, we were told, the site for a new super market which was "under construction." We never saw any people there working or even walking around looking professionally at the dirt. Nor was there any construction equipment on the site—no fork lifts, earth moving equipment, etc., not even shovels—and not any construction material. Development in Laos is proceeding at a breakneck pace, if you are a giraffe.
The Dutch girl from the botanic garden told us that she spent 2010 here working and living with a Lao family, then left for several years and only returned recently. In 2010 there was one flight a week to Luang Prabang, and now there are four a day. There was one ATM and now there are 23. Her host family, when she returned, was glad to see her, but asked her to get them one of the cards that you stick in the machines and get money out. She had to explain carefully about the need for an account, a balance, etc. Things do seem to be changing.
One of the popular tourist attractions in Luang Prabang is to get up quite early and stand on the appropriate street, Sisavangvong, the only real main street in the town, while the monks from all the temples walk down the street with their bowls, asking for rice. You give them some rice, and take their picture. There are a fair number of monks although estimates of the total number vary, and a monk can leave the monastery any time he wants, as well as return when he feels the need to, spending days or months. Defining "monk" is thus a little tricky.
We decided not to do this since we would not have been doing it for spiritual reasons or to improve our Karma. Plus I don't like to get up early, and then you have to find some rice, etc.
The rice part is interesting. This is all you are allowed to give the monks, and one presumes all they are allowed to accept. It's not very efficient economically and raises other questions about where do they get the money for their lovely orange colored robes, the materials to maintain the wats, etc. But it keeps the religion from amassing lots of wealth and becoming more worldly than necessary. Pretty clever arrangement.
III: Five Days in Cambodia
Siem Reap is now the second largest city in Cambodia, a country of 15.7 million people, and the city has, counting the suburbs, a population of 1 million. The capital, Phnom Penh, has 2 million. Siem Reap has lots of hotels, including the old French classic where we stayed, Le Grand Hotel d'Angkor, built in the 1920's and taken over by the Vietnamese army in the war against the Khmer Rouge in the late seventies and early eighties. Truly an awful period for Cambodia, as the Khmer Rouge managed to kill or starve to death 25 percent of the then population of 8 million. Let us not focus on this.
So why is Siem Reap second in size only to the capital? Angkor Wat is the name for a UNESCO world heritage site just north of Siem Reap. It covers 400 square kilometers and contains 56 temples including the temple of Angkor Wat itself, usually referred to as the largest religious structure in the world. Angkor Wat is larger than St Peters in Rome, which is generally cited as the largest church in the world.
The construction of all these edifices, many of astounding beauty and design, took place during the ascendency of the Khmer empire (nothing to do with the Khmer Rouge) in the 9th through the 13th century. The Khmer empire held sway over most all of Indochina as well as most of Thailand and Myanmar. And to prove they were rulers of all they surveyed, they built increasingly large and ornate temples. These functioned as locations for high level worship, although only the royal family and the Brahmin elites were admitted, and as sites for coronation and funerary services. The royal palace might be in the same area, and usually was, but it was built of wood, not stone and had other useful rooms, both for governance and the daily needs of living. All of these have disappeared, as after 1400 the empire fell to the Thai's who conquered the area and burned everything made of wood. But the temples were made of lava rock and sandstone, quarried from the Gulen mountains forty kilometers away.
It is said that when King Suryavarman II had Angkor Wat built, he employed 500,000 workers, it took 37 years, it contains three billion tons of stone and required 400 elephants for transport. This is "guide talk" and is thus subject to some skepticism, but whatever the numbers really are, they're big. The site covers approximately 500 acres; St Peters covers about 5 and a half acres for the Basilica, and another 19 acres for the square.
Let us add a note about ornamentation. The Khmer's appeared to detest a flat surface that was not covered with designs, abstract or realistic. The galleries surrounding the Angkor Wat temple have several internal walls with bas relief of armies of soldiers marching to and engaging in combat. This would be the Khmers and their Chinese mercenaries vs. the Thais who they defeated. Then to celebrate the victorious Cambodians changed the name of the city to Siem Reap, which means "defeat of Siam." Not only to the victors write the history, they write the geography.
None of the images in the bas reliefs, other than that of the rows of marching soldiers, are repeated. People get shot with arrows, run over by chariots, thrown in the air by elephants, stuck in the behind with swords, have their heads separated from their bodies, and so on. There's a lot going on, all of it creative and most of it gruesome except that it's not in technicolor. On other walls are scenes from the Ramayana or Hindu mythology. I have tried to understand, never mind remember the plot of, the Ramayana. Each time someone describes it to me, I think I get it. But then all I can remember is Humana, the monkey king and his army bailing out Rama, who I believe is the hero. No, wait, Humana is my health insurance company, the monkey king is named something else similar--Hanuman. But this story is also represented in all its incomprehensible complexity on two of the galleries.
Not only that, but all the lintels and the pediments have religious figures in deep bas relief, as well as more abstract ornamentation. The walls are grooved or lined. The columns are decorated, false windows are cut into the walls and given window posts, which themselves are ornamented as if they have been turned on a lathe. But they're not, they were carved in place from blocks of stone. Stone elephants guard the four corners of a temple, garudas (monstrous birds) and nagas (water serpents) guard the walls, singhas (lions) are in front of the entryways, and just for good measure many temple entrances have large guardian figures, one on each side. The guy on the right as you face the door is an Asura (demon) armed with a sword. The figure on the left is a Deva (god or angel) armed with a trident.
The repetitive crests along the tops of the walls which look a little like pointed teeth have in their bodies an image of the Buddha, so you get a long line of small Buddha's embedded in the tops of wall crests. Except that the religion of the day changed regularly, and the new religions' devotees, especially if they were Hindu, went around and chiseled out all the images of the Buddha they could find. Apsaras, the beautiful and full breasted angelic dancers, also grace every doorway, sometimes in multiples, and for some reason were not chiseled out by either side. Suffice it to say, you could literally spend days figuring out or researching the iconography of just one site.
Take Buddha's hand positions, for example, called "murthas." I have now been to enough Buddhist temples that I think I know some of them:
--Standing Buddha, both arms down, hands down at sides but away from robe: praying for rain.
--Sitting Buddha, palms together in lap, fingers folded and tops of folded fingers touching: meditation
--Sitting Buddha, right hand extended forward and downward, fingers extended, other hand in lap: "touching the earth." Well, yes, but so?
--Standing Buddha, left arm and hand down at side, right upper arm down, fore arm extended horizontally, palm flattened but facing outward, fingers up: blessing, or maybe teaching, sources disagree
--Standing Buddha, both upper arms down at side, both forearms extended horizontally, palms flattened but facing forward, fingers up: stop fighting
--Standing Buddha, arms crossed and held together in front of chest, both hands flat: gesture of welcome
I think I have these right but maybe not. There are many more. We were informed that in Laos there are sixty-five hand/arm positions, but in Thailand more than one hundred. I asked if there was one for "forget these hand signals, just go back to studying the sutras" but did not get a positive response. There appears to be nothing for "walk/don't walk" or "roughing the passer." I need more study.
Largely because of Angkor, tourism is now 50% of the Cambodian economy. At 8:20 in the morning as we drove to Angkor Thom, there were 65 large tour busses in the Angkor Wat parking lot. Driving in from the airport you are on a road that should be called "Hotel Row." It's literally miles of side by side medium size hotels, generally built by Chinese investors. Naming wasn't their strong suit; the designations are generally some variant of "X Angkor Hotel" with X being such things as royal, king, prince, princess, empress, apsara, grand and city. No Holiday Inns, no Sheratons or Hiltons. And yes, there is a plain old "Angkor Hotel." My two favorites: Golf Angkor Hotel (located on a very busy street downtown, nowhere near a golf course) and Angkor Howard Hotel. I'm staying there next time.
We went out into the country side to see a site that I found in our guidebook, called Banteay Chmer. It took about two and a half hours to get there on good enough roads, weaving at pretty high speed among motorcycles and some cars. There was a certain cavalier disregard for which side of the road to be on, by all drivers. What else did we see? Rice, rice, rice, rice. It's harvest time for the long grain kind, so there were people out in the fields with sickles, bending over and harvesting the sheaves. This is not a good job. There were also a few mechanical harvesters, looking like miniature John Deere's. Driving one of these is a better job. There were heaps of rice in front of most houses, drying on the ground on blue ground cloths. There were small threshing machines separating the dried rice from the chaff. Somehow there was a way to get the rice into reddish maroon bags with lateral blue stripes. Bags were everywhere, on trucks and the backs of motorcycles, in open front small warehouses, by the side of the road waiting to be picked up by someone. The short grain variety is beginning to be harvested as well, but it goes into bags with multicolor stripes of blue, yellow and green.
I did a windshield census and counted the motorcycles vs passenger cars that we passed. To my surprise, when I got to 100 cycles, I had counted 67 cars. More cars than I had expected. There were some pickup trucks around, but many more "deng-deng's", a small motor mounted above and powering two wheels, with long control handles leading back to the cart where the driver sits. The cart and the prime mover are connected by a long steel rod, but you can connect anything to this rod, so you can also have a thresher as the payload end, or a plow, or anything that can be engineered to fit. The engine/wheel/throttle and brake combo comes from Thailand, but the back ends tend to be made in Cambodia, which explains why they don't all look the same.
We passed a few fields of cassava, which is harvested, dried, bagged in I don't know what color of bags and sent off to Thailand where it's made into cassava flour. And this in turn is the thickener in Tapioca. So that's where the dreaded pudding of my childhood comes from. Other than that, rice and rice and rice.
In the several small towns we passed through there were no sidewalks, just road edges of red dirt, and small shops open to the street. No air conditioning was in evidence, but a fair number of satellite dishes. Although it's still a poor country, there are 1.66 cell phones per customer in use. The US number is 1.03.
The temple was wonderful, in a Raiders of the Lost Ark sort of way. As big as Ta Prohm, built by Jayavarman 7, the default temple builder in this empire, and dedicated to his father in law. The temple was not fully completed when he died and the next guy took over. Apparently, the heir didn't care as much about the former king's relatives by marriage, so the workers were pulled off and put to work on the new king's temples. The area is north west of Siem Reap and near the Thai border. Unfortunately for the temple, this was among the last areas where the Khmer Rouge hung out, and they occupied the site. When not fighting the government, they spent their time stripping the place of sculpture and selling it to Thai collectors. A whole wall of bas reliefs, probably 12 feet tall by 60 feet long, was knocked down and sold. Other stuff as well—statues of lions, nagas, Buddha's. Very saddening. The temple has never been repaired or rebuilt in any way, and is not even a world heritage site, although the towers are similar to those of Bayon and there is even one large Buddha face still intact on one of them. It is on the World Monuments Fund's list of most endangered places, for good reason. It is hard to estimate, but somewhere around 60 percent of the stones are no longer standing, and mostly they lie next to the walls from which they have fallen. Which means much clambering over piles of large square or not so square blocks of lava rock or sandstone, many the size of cinder blocks or larger. There are some dirt paths but to really see things clambering is necessary. Enough of the temple is still intact to be fascinating, including several long bas reliefs not looted, and two dramatic carvings of a 32 armed Vishnu, holding a small Buddha in one of the hands of one of the arms. It has been decided that Buddha is the tenth incarnation of Vishnu, so it's ok to worship him, which seems convenient. The place is wonderful and well worth the drive. It is also unvisited. There were five other people there, four westerners and a guide, during the hour and a half we spent on the site.
We had some spare time, and honestly a bit of temple fatigue, so we went to the T Galleria up the street from the hotel. When you stepped out of the dirt parking lot, through the brass doors and into the elegant building, you could have been in the Galleria in Houston or Fashion Island in Newport Beach or the best shopping mall in Hong Kong. "What do you mean?" you ask. Kate Spade, Hugo Boss, Ralph Lauren, Michael Kors, Tory Burch, Lanvin, Chanel, Estee Lauder, St Laurent, Dior, Maui Jim, Coach, Michael Kors, Burberry, Bottega Veneta, Prada, Oakley, Gucci—need one say more? Customers were almost entirely Asian, primarily Chinese and Japanese. Well, those 4.7 million people can't be expected to just spend all their time looking at broken down old temples, can they?
We wandered around inside, bemused, especially as the Christmas decorations were in full effect in this 95% Buddhist country. A small crowd had gathered at the end of the gallery. They were intrigued by an ensemble of eight small young girls in blue school t-shirts doing Thai dancing, each holding a small brass dish of white stuff that looked like popcorn. At the end of this "native touristic dancing" the girls all kneeled, reached into their dishes, and threw the white things, which were some sort of hard, round flower bud, at the gathered audience. Fortunately, they didn't throw well so none of the shopper/tourists needed first aid.
We also spent several hours in the National Museum which was quite nice, and whose gift shop was very good. Then we decided we had to visit the local market. It was hot, crowded, full of just exactly what you would expect—lots and lots of cheap t-shirts and elephant pants. Who can buy all this stuff, there's tons of it? Enough harem pants for all the harems in the world, if every woman over 25 had signed up for harem duty.
We wandered into the food section, not always a good choice on a hot day, especially the meat part. There was a small stall with grilled lizard and grilled snake, curled on its satay stick in little snaky curves. L. focused her camera, and the operator said "no, no" and pointed to a sign that said "Photo for tourists US $.50." Time to go home.