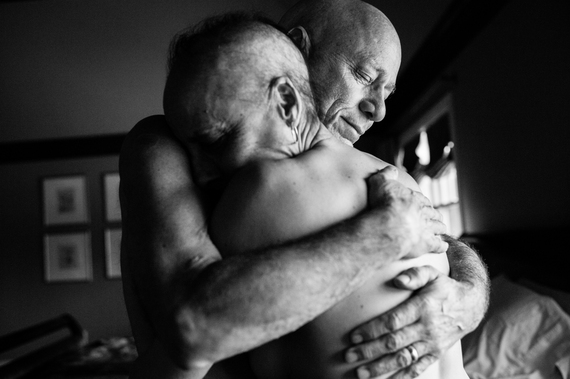 Journalism is about reality today...
And today's reality is not about happy or
superficial moments that entertain.
There are real stories that need to be told and seen.
That is why Visa exists.
--Jean Francois Leroy, Founder

Visa Pour L'image celebrates photojournalism. Founded and led by Jean-Francois Leroy, it is the most prestigious annual photography festival dedicated to photojournalism today. Whether the Festival and its presentation are interesting, relevant, important, significant or to the level of what each defines as excellence -- is the wonderful continuous debate which sparks the important philosophical and pragmatical conversations that need to take place in photography, especially during an international festival.
The fact that this festival sparks these debates and conversations -- one way or the other and at times in between -- is the spirit and ritual that makes Visa Pour L'image memorable, in my opinion, in addition to the fact that it attracts hundreds of freelance photographers seeking direction and opportunity. For this accomplishment, I commend Jean Francois: it is extraordinary to unite this industry in one place, for weeks, to celebrate photojournalism and discuss all of the above, plus some. The experience left me wanting to defend and protect its existence.
One of the main highlights of Visa Pour L'image was seeing and meeting dozens of freelance photojournalists roaming the streets of Perpignan during the professional week hoping for an opportunity to connect and share with other photographers and editors. Of the work I saw and the dozens I met with, I want to highlight three freelance photojournalists, whose work moved me to the core.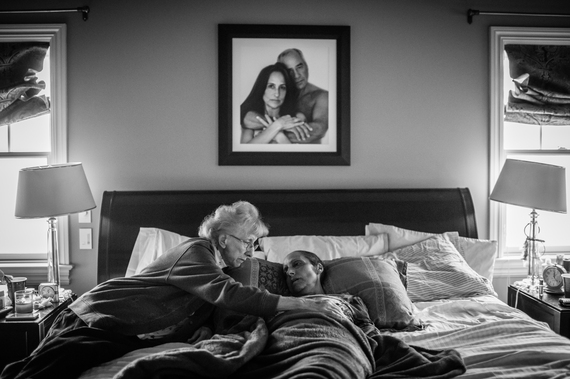 Nancy Borowick's most personal project titled Cancer Family, _Ongoing_ -- now a tribute to her parents who both fought stage-4 cancer until their last days -- is a must see, heartwarming story about life, love, family, death and the aftermath. A reminder of our fragility, Nancy's inside look to her parents' lives and deaths depicted with so much love and compassion is an example of the fact that an image can touch a universal truth and, in doing so, reach the layered core of our most inner selves. The image above was taken just minutes after Nancy's mother passed away. After the family said their final goodbyes, her mother's mother, Marion, laid on the bed beside her to say a few final words.
Nancy Borowick is a humanitarian photographer, currently based in New York City. A graduate of the Documentary Photography and Photojournalism program at the International Center of Photography, she also holds a degree in Anthropology from Union College. Borowick is a regular contributor to The New York Times, Newsday, and Corbis and her work has also been featured in the International Herald Tribune, The New York Times Lens Blog, CNN, Time Magazine, Photo District News, The Washington Post, Newsweek Japan and Feature Shoot. She was awarded the Arnold Newman Prize in New Directions in Photographic Portraiture and received the Eddie Adams Workshop Award in Innovation in Visual Storytelling.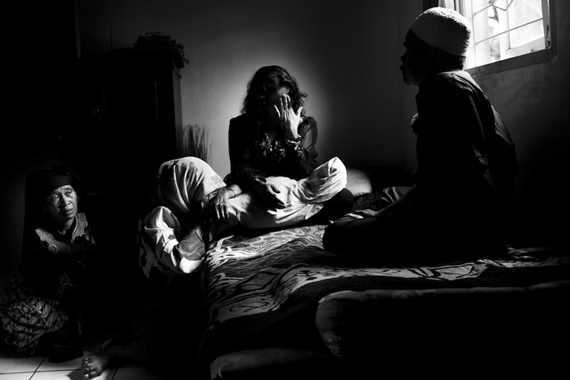 Rahman Roslan's project titled Nur: A Journey Home follows Nur, an Indonesian woman, as she returns to freedom after five years of forced servitude in Malaysia. A victim of human trafficking, Nur went missing for seven years without seeing or having any contact with her family.The image above captures Nur sitting on a bed surrounded by her mother, aunt, and brother as she explains to them for the first time what happened, including the abuse and suffering she endured while in Malaysia. The photographer was the only person from Malaysia at this moment that could validate her story.
Rahman Roslan is a Malaysian photojournalist based in Kuala Lumpur, whose main interests are social and humanitarian photography. His work has been published extensively, including in Reuters, Agence France Presse, European Pressphoto Agency, TIME magazine, New York Times, International Herald Tribune, Ojo de Pez, The National UAE, Sutra Magazine, The New Internationalist, Berita Harian Singapore and Strait Times Singapore. One of his main focus is investigating the relationships between Islam and its impact on cultures around South East Asia.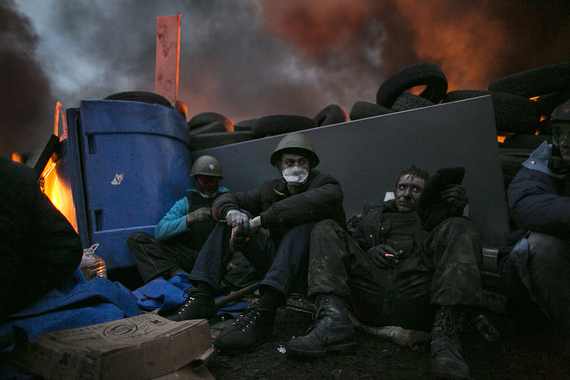 Photo by Agata Grzybowska
Agata Grzybowska, who was introduced by Polish Photo Editor Maciek Jazwiecki, is a young Polish female photojournalist. She works for the newspaper Gazeta Wyborcza for whom she covered the Ukraine revolution. The image above is of a group of exhausted protestors gathering their strength under the barricades on the Instytutska Street in Kiev, Ukraine on February 20, 2014, also known as the Black Thursday. On this day, severe fights between protesters and Ukrainian Berkut forces took place on the streets of Kiev; as a result, more than 70 people were killed by snipers. The image won the most prestigious photojournalism award in Poland.
Industry, I say this kindly -- know their work.
At Visa Pour L'image, I met extraordinary freelance photojournalists seeking for direction and opportunity. The industry needs to connect with this growing international community. If you cannot travel, start through Visura.co -- and if you can, definitely attend this festival.
I agree, there are stories that need to be told. It is up to us to listen, observe and reflect on how one can make a difference. Ultimately, it all starts within.
Related
Popular in the Community