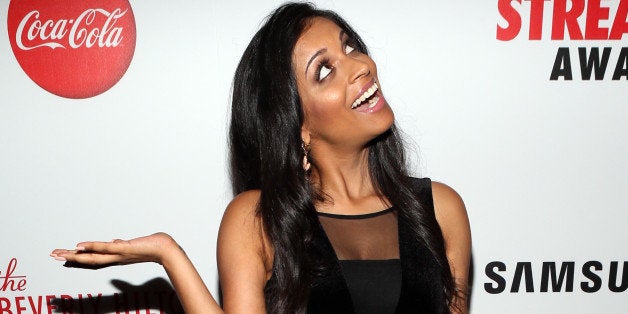 Part rock concert, part comedy routine, and part motivational speech, Lilly Singh's show "A Trip To Unicorn Island" was an absolute blast, even for a 22-year-old man such as myself. Lilly Singh a.k.a Superwoman is a Canadian YouTube comedian of South Asian background who has been making videos for the past five years and boasts well over 5 million subscribers.
You may be wondering why a 22-year-old would enjoy a show that seems targeted towards teenage girls. I was most impressed by the fact that she used her signature wit and charm to address potentially difficult topics such as body image, sexism, and mental health. While the title of the show first appeared to be childish, I was surprised to learn that it came from Singh's personal struggles with depression, and her desire to find happiness by reflecting internally on her dreams. Singh was amazingly candid about her personal journey, and her closing address to the audience was one of the most heartfelt and motivational speeches I have ever heard from a celebrity. Her work boils down to simple, yet powerful theme: everyone deserves to find happiness, and it is up to each person to discover what true happiness means to them.
Through this show (and much of her work on YouTube), Singh has provided millions of adolescents with simple, straightforward advice for combating depression, reflecting on their goals, and finding happiness. Such conversations are sorely needed; as a medical student, I have learned that a staggering 1 in 7 female adolescents in the United States have suffered a major depressive episode in the last 12 months. I know several close friends who struggled with depression and were unable to find someone to confide in; indeed, speaking from my own experience within the South Asian community, there is still significant stigma attached to discussing any form of mental health issues.
On a lighter note, I was also impressed how Singh struck a balance between catering to her desi and non-desi fans. As a child of South Asian immigrants myself, it was refreshing to hear Singh seamlessly transition between desi cultural references and Western pop culture without resorting to the same tired stereotypes. I won't spoil anything for would-be attendees, but suffice it to say that her trademark routine about her parents did not disappoint. Also, by making herself the "butt" (pun intended) of many jokes, Singh subtly demonstrated how far she had come in her own journey from initially lacking any self-esteem to finally having enough confidence to poke fun at herself in front of millions of people. It was nothing short of inspiring.
I urge anyone interested in a mixture of comedy, social satire, and motivation to see Superwoman's show, and/or check out her work on YouTube. Also, to Superwoman herself: Thank you for all the laughs, positive vibes, and inspiration you have given me and so many of your fans. Never stop doing what you do!
Calling all HuffPost superfans!
Sign up for membership to become a founding member and help shape HuffPost's next chapter