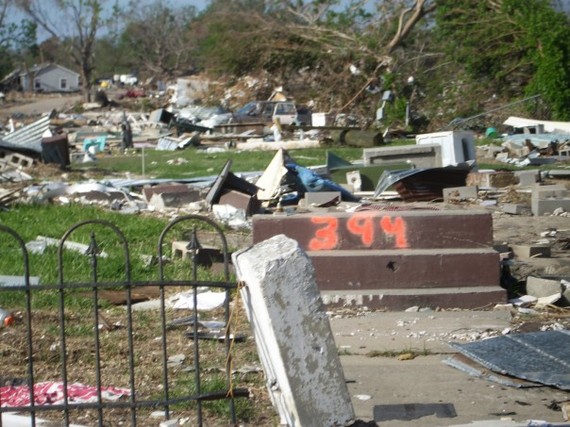 I watched the world shake and tumble on TV.
Exactly 10 years ago today, as the people of New Orleans and Biloxi sought safety from Hurricane Katrina, I sat watching their plight, transfixed.
Sometimes we get ideas. Crazy ideas. Ideas that make us want to do interesting things, things that help others. And too many times we end up doing nothing. We push those ideas away, relegate them to that place where all our dreams languish.
I got an idea like that ten years ago. I felt that watching another disaster unfold wasn't right.
And for once, I decided to act on that idea.
When I packed for my trip from LA to Biloxi, I didn't know who I was going to help, or who I'd end up working with. Like so many others who ended up traveling to Louisiana and Mississippi in the aftermath of Katrina, we only knew that we wanted to help.
In Biloxi, I was stunned to find doorsteps that lead to nowhere, houses torn asunder, roads that couldn't be traversed and families without water, shelter or food. The casinos lining the shoreline were some of the first to get help, a few were already back in business when I arrived.
I remember that one night, somehow me and a few other volunteers were able to snag an invitation to a casino buffet. It was a sumptuous meal, no different from what you'd find today in a Las Vegas casino hotel. Except that the city outside was devastated. I remember some of us were unable to eat. Not because we weren't hungry, but because of the sheer disparity between the feast in front of us and the dehydrated meals being eaten down below by the people of Biloxi.
This kind of inequity was pervasive, even in the wake of such a massive disaster. We bought heaters for families, stripped sodden furniture and pilings from a church, put together mold kits and set up a small legal clinic. And we did all this work in the poorest parts of Biloxi, where those who had the least and worked the hardest had also suffered the most. A fifth of Biloxi was destroyed by the hurricane, but a far larger portion of the poorer part of the city was decimated.
It's no coincidence that I now work at the government department that includes FEMA. What I learned during my time in Louisiana and Mississippi stuck with me. It changed my life. It set me down a path of service, whether that was working with post-disaster communities, those fighting for their right to practice their faith abroad or students struggling to finish school with astounding debt and family obligations.
There's still a lot of work to be done in Biloxi. A few years after Hurricane Katrina the city was devastated again in the aftermath of the BP oil spill. Drive down parts of Biloxi today and you'll find empty lots overgrown with trees, foundations covered by scrub, scars of Katrina on a city that's still recovering.
There's no lesson in my story except this: unjust inequality exists all around us, even in the midst of a natural disaster. Don't wait for another a terrible moment like Katrina to take action, to do good, to follow that nudge that takes you somewhere different. Many of us millennials go overseas to help when there is so much to be done right here at home. If you're looking for a place to start, you can start right here, at home, with Biloxi.
REAL LIFE. REAL NEWS. REAL VOICES.
Help us tell more of the stories that matter from voices that too often remain unheard.