Don Sebastian was on a roll, trying to explain to the large group gathered at his tree nursery business the depth of his transformation: "We always thought trees were a problem, only to be cut for corn crops and firewood--but now look!" He waved his arms proudly at the large tree nursery behind him containing almost 35,000 fast-growing native alder seedlings, as well as pine seedlings, avocado and peach tree "whips," and even a section for the delicate and endangered pinabete tree.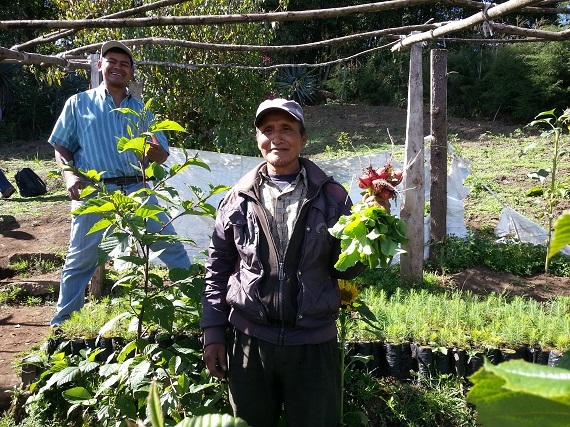 I asked him how many seedlings he had left over from the previous year of sales, and he pointed to a small stack of larger seedlings: "Only those are left," he answered, smiling. In fact, his tree nursery had been so successful in 2015 farmers traveled from three neighboring states in Guatemala to buy from him, and Don Sebastian had sufficient profit to install an irrigation system and expand the nursery. Now the children of his extended family can pay the small tuition for high school, and the older sons no longer talk about immigrating to the US--they're too busy in the new family business.
The reasons for this transformation were not workshops about reforestation, nor farmer manuals, nor "experts" from other countries paying farmers to plant trees. Rather, the change to a tree-planting culture occurred over a five-year relationship between Don Sebastian's family and the Guatemalan technicians from the Alliance for International Reforestation, Inc. (AIR) or as it is known in Guatemala, "AIRES". Furthermore, Don Sebastian's story is not unique in the 22-year experience of AIRES. In the third-year of training farmers, the AIRES technician will intentionally shift the focus to turning the AIRES tree-nursery into a microbusiness that the participants will own, to sell tree seedlings to their curious neighbors. The AIRES technician also teach participants to make natural products to sell in microbusinesses, such as aloe Vera shampoo or fruit jams. The technicians train and implement Sustainable Agriculture so that families have larger and more diverse food crops by terracing and farming with beneficial trees. Finally, AIRES technicians establish tree nurseries in the rural schools to reinforce all of the training with local youth.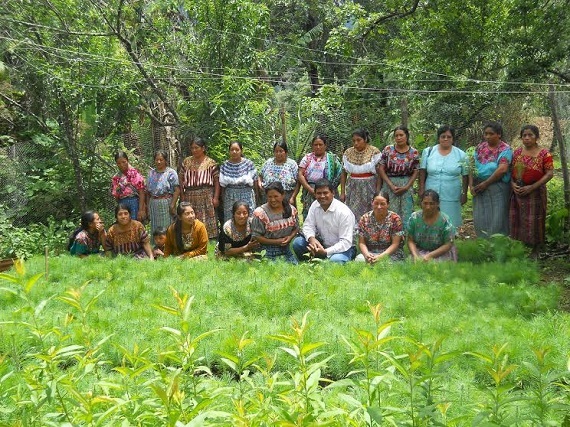 The six technicians working for AIRES, with headquarters in Chimaltenango, Guatemala, have now trained groups of subsistence farmers--including many women farmers--and established tree nurseries in over 130 communities reaching over 2,800 families. Many of the community groups created micro-businesses to continue planting after the AIRES technician leaves. The technicians keep careful records and have calculated that over 4.4 million trees have been planted by hand during the training--mostly on steep mountain slopes to prevent erosion and deadly mudslides. However, because of the spin-off microbusinesses such as Don Sebastian's, the number of trees growing from the tree nurseries far exceeds 4.4 million.
AIRES' success seems to be one of the best-kept secrets among the numerous reforestation efforts throughout Latin America and the Caribbean. Billions of dollars have been poured into reforesting Haiti, for instance, with little success; well-funded efforts to protect the quickly-disappearing rainforest in northern Guatemala have also been thwarted by subsistence farmers using slash-and-burn methods because they know they must plant corn to survive but are skeptical or do not know Sustainable Agriculture methods. In contrast, it is worth examining just three key lessons from AIRES' 22-year track record:
•AIRES technicians are themselves indigenous Guatemalans, educated in agro-forestry and/or environmental engineering, so they are trusted and know the area intimately;
•AIRES uses a five-year model, recognizing that it takes time to see the benefits of specific trees. The microbusinesses then succeed because neighbors have had time to observe the positive impact of growing trees that prevent mudslides and replenish soil.
•AIRES reinforces the farmer training with a conservation curriculum and campus tree nurseries at the local schools so reforestation touches the entire community.
The scale of deforestation around the world often seems overwhelming, and a five-year training program may seem too slow given the urgency of combating climate change. The point is, however, that trees planted without years of training will most likely be cut within two or three years without re-planting, and the resulting devastation continues. Farmers must truly experience the benefits from the growing trees in order to change to sustainable agriculture--one of those benefits can be tree nursery businesses and even more trees planted.
Anne Hallum is the volunteer US liaison for The Alliance for International Reforestation, Inc. (AIR) working in Atlanta, Georgia when she is not in Guatemala.
Related
Popular in the Community