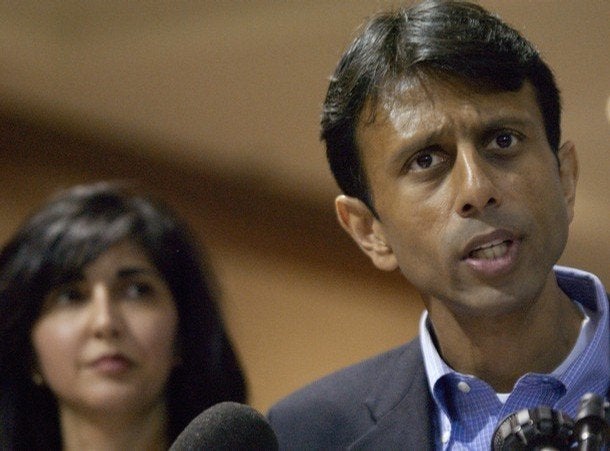 We may be on the brink of inaugurating a Black president, but the
miscarriage of justice unfolding in Louisiana with the case of the
Angola 3 tells a different story about race, power and accountability
in our criminal justice system. At the top of the food chain is
self-styled reformer and the GOP's supposed answer to Obama, href="http://www.washingtonpost.com/wp-dyn/content/article/2008/11/29/AR2008112901777.html">Governor
Bobby Jindal.
Albert Woodfox has spent the last 36 years in solitary confinement -- 23
out of 24 hours each day in a 6×9 cell -- for the murder of a white
prison guard, a crime href="http://www.npr.org/templates/story/story.php?storyId=96030547">he
didn't commit.
Despite increasing evidence of Woodfox's innocence, the State of
Louisiana is digging in its heels. They've pushed back against a
federal judge who has overturned Woodfox's conviction and ordered his
release. The reason is becoming crystal clear: It's not because they
believe that Woodfox or the other two people referred to as the
"Angola 3" murdered anyone. It's because the three men were organizing
within the prison for better conditions, an end to sexual abuses, and
the fair treatment of inmates. Apparently, in Louisiana, seeking
justice means you deserve to be framed for murder and locked away
forever.
James "Buddy" Caldwell, the state's Attorney General, has led the
state's fight and Burl Cain, the warden at Angola, is acting as
Caldwell's henchman. Ultimately, it's Governor Bobby Jindal who is
giving them cover despite being presented with all the facts and being
asked repeatedly to intervene. So much for the promise of Jindal and
his self-description as a "reformer."
A look at recent proceedings shows that the desire to keep Woodfox
behind bars has nothing to do with whether Woodfox is guilty or
innocent. Cain has made it clear that he doesn't care. Cain wants him
behind bars for no reason other than the fact that Woodfox has been a
force for reform from within the prison walls. Says Cain, "The thing
about him is that he wants to demonstrate. He wants to organize. He
wants to be defiant." Cain has said that even if he knew Woodfox
hadn't killed the guard, href="http://www.angola3.org/uploads/Annual%20Appeal%2008.pdf">he would
still want the man isolated. "I still would not want him walking
around my prison because he would organize the young new inmates,"
Cain said. It's not that Woodfox is dangerous. It's that he is
unrepentant in organizing inmates to achieve a basic sense of decency
and livable conditions.
Several months before Judge James Brady overturned Woodfox's
conviction, more than 25,000 ColorOfChange.org members href="http://www.colorofchange.org/angola3/">appealed to Governor
Jindal to get involved. The head of the state legislature's
judiciary committee, Cedric Richmond, href="http://www.youtube.com/watch?v=CQxBiDGg8cM">delivered the
petitions to Governor Jindal and requested he intervene. Around
the same time, Congressman John Conyers, chair of the House of
Representatives Judiciary Committee, met with both Woodfox and Herman
Wallace (one of the other Angola 3) and has href="http://www.youtube.com/watch?v=az-eDrk9HKY">publicly called for
intervention. Jindal's response has been utter silence.
In recent weeks, as pressure has mounted for Woodfox to be released,
Caldwell, the Attorney General, has gone deeper in attempting to
demonize Woodfox. He has taken to href="http://www.2theadvocate.com/news/33679104.html">publicly
referring to Woodfox as a "serial rapist," a completely
unsubstantiated claim. Once bail was ordered and it was expected that
Woodfox would be released, Caldwell's office clandestinely href="http://www.wdsu.com/news/17861599/detail.html">contacted members
of the gated community where Woodfox was supposed to live, telling
them that a murderer would soon be living among them. Woodfox had been
planning to live with his niece. She and her family have now been
subject to harassment, and the option of Woodfox living with her has
been made virtually impossible.
We've seen unequal and unfair justice before in Louisiana. We can just
look back at href="http://www.colorofchange.org/jena/message.html">the case of the
Jena 6 a year and a half ago. In that case, six black boys were
charged with attempted murder at the hands of a District Attorney
who threatened that he could "take away [the students'] lives with a
stroke of [his] pen." The threat followed black students protesting
the hanging of a noose above a "white tree" at their school, with the
charges coming after a racially-charged fight characterized by some as
a school-yard fight, where the victim was white.
In the case of the Jena 6, there was an outcry from across the
country, culminating in a march of more than 20,000 in the town of
Jena. While leaders across the country decried the injustice in Jena,
surprisingly, Jindal called those protesting href="http://www.progressive.org/mp_prashad011608">"outside
agitators" -- a phrase that echoed racist Southerners' response to
Civil Rights-era organizing efforts.
While Governor Jindal claims to be a reformer and has his eyes on the
White House, his silence in the Angola 3 case and his language around
the case of the Jena 6 tell href="http://www.thenation.com/doc/20080721/fernandes">a different
story. His idea of "reform" seems more like an empty slogan and
catchy rhetoric than something he's willing to put into practice.
Perhaps it's time to confront Jindal and ask him what his idea of
reform looks like.
Popular in the Community