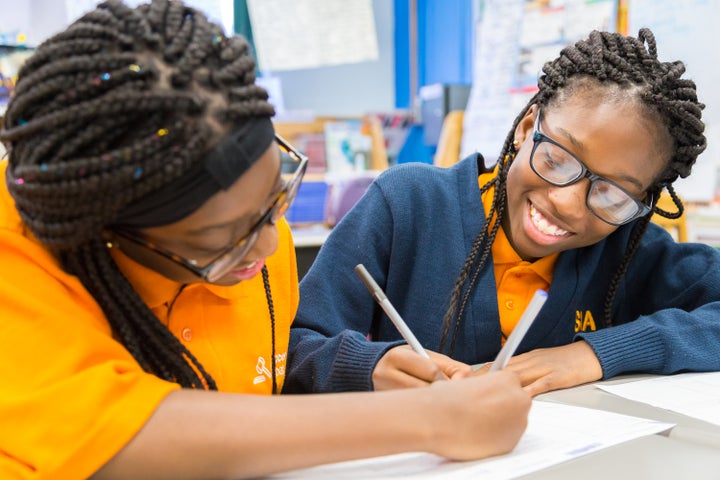 If you're lucky, at some point in your educational experience you encountered at least a few teachers so knowledgeable, passionate, and skilled, that they managed to pass on their love of a subject to you. These are the teachers who inspire learners to become leaders — who are so effective at what they do that they leave a lasting impression.
We cannot hope to fix our current education crisis without developing many more innovative, dynamic, and knowledgeable teachers. Imagine classrooms filled with educators who are not only passionate about their subject, but who also have the opportunity to both continuously deepen their expertise and refine their approach to teaching and learning.
This vision — the Success Academy approach — stands at odds with current professional development practices, which are strangely disconnected from the content teachers teach and their actual needs in the classroom. As advocates urge Congress to maintain funding for programs supporting professional learning for educators, it's critical that we pay close attention to the quality of these programs: we need to use every dollar as effectively as possible.
On this topic, we believe we have important lessons to share. At Success Academy, we expect our teachers to push themselves and constantly improve, but for this to happen, they must have professional development opportunities that are deeply relevant to their classroom experiences. They must feel — and see evidence in their own practice — that what they are learning will help them change outcomes for students. The best way to achieve this is to embed their learning in the content and curriculum they are teaching. We provide opportunities for teachers to deeply explore their subjects, fostering knowledge and sparking passion, while ultimately helping them identify innovative ways to engage students.
For Natasha Venner, who spent ten years in traditional public schools before joining Success Academy Harlem East Middle School last year, PD at Success has been a revelation. She shared the following thoughts before heading to Oxford University this summer to attend a seminar on teaching about Abraham Lincoln from a global perspective, part of professional development that Success Academy, in partnership with the Summer Teaching Institute, provided her.
There is a tendency in education to approach professional development with what I call the terrible trio: slides, handouts, and talking. Most of the time professional development is scripted and bland, more like an afterthought than an investment in talent. I know this all too well because before coming to Success Academy, I was a district public school teacher for ten years, teaching in four different states.
Professional development sessions were usually an hour and a half long each week, a standard set by the teacher's union, city, and district. It would take us 45 minutes to engage with and complete the topic of the day, and then we would socialize to fill up the time. Professional development took teachers away from one-on-one sessions with struggling students, from lesson planning, and from providing feedback to student work. Many of us found this frustrating — one thing a teacher can't afford to do is waste time! — and once we even tried to insert a union addendum to change the time requirements, but to no avail.
I knew in theory that professional development was a worthwhile investment. But in reality, I didn't see how the trade-off, which required us to divest from actually teaching, was helping my students. I wondered why training had to be treated as a once-a-week, disconnected obligation, rather than an ongoing and embedded experience that helped us each day to be better versions of ourselves. It seemed no one bothered to ask the question: "If I was a teacher, what would make me want to attend professional development?"
When I started at Success Academy, I realized that they prioritized answering this question and left the "one-size-fits-all" approach far behind — they were committed to sparking the curiosity of both students and teachers. We had content-specific video conferences, and graduate classes at partnering universities. We were given substantial online resources, including web workshops, and daily opportunities to watch videos of exemplary lessons and to examine student work. They even offered human resource meetings to help us explore other career avenues in education.
Most importantly, they found unique ways to support our content knowledge development. I remember sitting down in a "college lecture" with Professor Charles McKinney, from Rhodes College, to discuss the Civil Rights Movement. Professor McKinney asked us to revisit one of the most widely used African American history books, and ask ourselves, what voices were missing from the text? We discussed the lack of grassroots voices, of women, of the every-day fighters who resisted injustice. Then we turned right around and asked our students the same question — and went to work updating that history text!
Professor McKinney also disclosed that an upcoming book would reveal the truth about Emmett Till, the 14-year-old black boy lynched for supposedly assaulting a white woman. The book would share a deathbed confession from the woman involved, he told us, and would offer new evidence as to whether Till had actually committed the crime.
When I taught the Emmett Till lesson, I told my students to keep an eye out for this new book. Who knows how it would change history? Then Vanity Fair broke the story: the book revealed that that the woman involved had fabricated her testimony. My students were so excited and proud to have heard about this bestseller before it even hit the shelves. It's the content that gets the kids invested, and it's on the teachers to take what we learn from experts and bring it back into our lessons.
This kind of teacher learning, focused on improving our topical knowledge so that we can use that knowledge to engage and inspire our students, should really be a fundamental objective of teacher training. Unfortunately, it never was in my district schools.
At Success Academy, my curiosity continues to be ignited: this summer, my school, in partnership with the Summer Teacher Institute, is sending me to a seminar at Oxford University, London, to learn about teaching global perspectives on Abe Lincoln; and next year, thanks to a partnership our History leaders formed with the Gilder Lehrman Institute of American History, my colleagues and I will continue to learn from professional historians at our training sessions throughout the year. Ultimately, the SA approach works: I am inspired to teach because I have extraordinary opportunities to learn.
Success Academy manages to answer — emphatically and effectively — that question about what makes a teacher actually excited for professional development. Teachers are passionate learners! I can only imagine what public education will look like when all schools take teacher training as seriously.
Natasha Venner has been a teacher for the past 12 years, working in both DOE and charter schools. This fall, she will be joining the Success Academy High School of the Liberal Arts as a world history teacher, and will design a special college-style class based on her experience at Oxford University.