Recently, in Jersey City at Mayor Steven Fulop's Reentry Conference organized by former Governor Jim McGreevey, people from all walks of life got together--from Reverend Al Sharpton to Governor Chris Christie; from women just getting out of prison to representatives of Koch Industries. We all shared a common stance on a pressing issue: the challenge of prisoner reentry into society.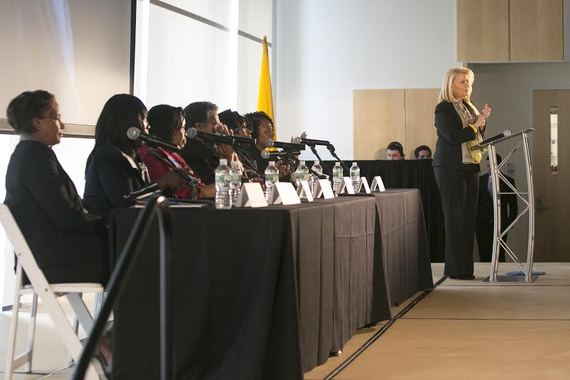 Before getting into specifics, I want to highlight just how important this issue is. The U.S. is 5 percent of the global population, but we have 25 percent of the world's prison population. We are by far the largest jailer among industrialized nations, and mass incarceration costs the government $80 billion a year, which is 3-4 times more than we spend on education. The prison system is the biggest business in the United States.
While Hollywood loves a good redemption story, and as a society we say we believe in second chances, our behavior towards ex-offenders tends to be contradictory. Barriers like the criminal felon box on job applications and the inability to get a basic bank loan or a driver's license make a smooth re-entry back into society nearly impossible.
In the end, people are coming out of prison but they aren't really coming out of prison. Ex-offenders now refer to the stigma as The Scarlet F, meaning that the act of committing a felony nearly becomes embedded in their DNA. The Scarlet F is what contributes to our country's 75 percent recidivism rate... yes 75 percent of former inmates in America wind up back in prison!
As declared by Attorney General Loretta Lynch, this week is National Reentry Week. Because of my passion for giving women second chances, and the HBO film I produced called Prison Stories: Women On The Inside, I came up with a different strategy to give women ex-offenders the dignity of work. Same Sky America's women, all of whom were recently released from Hudson County Jail, work with a flexible schedule in the comfort of their Transitional House to make Same Sky Benefit bracelets. We trust the women to log their own hours and to work with expensive jewelry materials; with that trust they have built their own self-esteem and self-confidence.
Same Sky's methods are rooted in respect and opportunity, which has proven to be extraordinarily successful. After almost 4 years, we have a 0 percent recidivism rate, which is unheard of in this country. My partner, Reverend Gloria Walton of the Most Excellent Way Transitional House in Jersey City, said the Same Sky women now have the tools to rewrite the narratives of their own future. What Same Sky hopes to convey is that respect is contagious. In fact, the women are now working to open their own Same Sky storefront.
Mark Holden, a featured speaker at the Reentry Conference, a prisoner reentry activist and Koch Industries representative shares this sentiment. He says, "Jobs are the best way to stop a bullet." At Koch Industries, giving second chances through employment is an integral part of their corporate model. Holden said that they have found their previously incarcerated employees to be "humble, hardworking, and hungry."
But as we discussed at the conference, time after time, ex-offenders are not only denied employment opportunities, they are denied basic necessities like an ID card. Life without an ID is basically equivalent to pulling a "Go To Jail" card. If not back to jail, life without an ID card almost certainly results in living in a homeless shelter. Ex-offenders who can't get an ID card cannot even get into the building where their children go to school.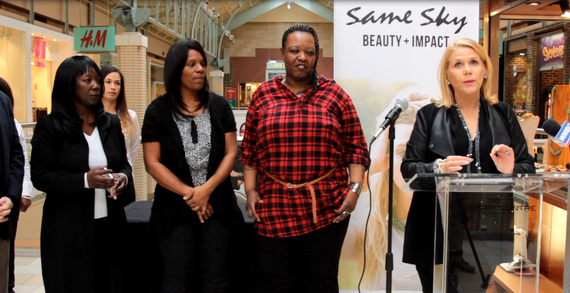 There are up to 6,000 criminal laws in Congress, and one in three Americans have a criminal record. One in 14 children in this country have a parent in prison. With this many people in prison, we need to start the reentry process early, perhaps while some are still in prison. We can break the recidivism cycle by getting the logistics sorted for an ID card early on, which leads ex-offenders to have access to a bank loan, and a housing sublet, all of which lead to family reunification.
Nelson Mandela said if you want to really get to know a nation, visit its prisons. As of now, people would judge our nation as an institution that doesn't believe people have the capacity to learn and change; a nation that doesn't believe in second chances. It comes down to a lack of hope--not that the offenders won't get out of prison--but that they will never get out of the confines of being a "prisoner."
But here's the good news that was brought to light at the conference. For the 34 states that have implemented progressive criminal reform legislations, they now have statistically safer communities, violent crime rates decreased, federal money spent on incarceration went down, communities are thriving and families are reunited. We can break free from this cycle of hopelessness, but we have to do it together in a national shift of consciousness. We all need to contribute our time, ideas, and insights to mend the statistics and maybe we can become 5 percent of the global population and just 5 percent of the world's prison population.
Calling all HuffPost superfans!
Sign up for membership to become a founding member and help shape HuffPost's next chapter