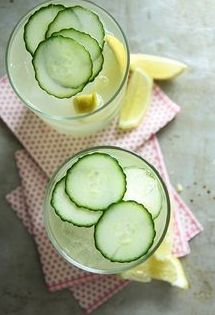 I'm embarking on an exciting new journey! I've been in the studio filming 20 episodes of my new healthy baking show, My Sweet & Skinny Life. Yay! It's an exciting process. I'll be sure to update you all further as this project progresses. For now, I'm trying to find time to write, to tweet, to bake, to go to the gym, to film the show, and stay healthy while I'm at it!
One simple way I'm helping to keep myself healthy is by staying hydrated. I'm trying my best to drink plenty of water while on the set. I decided to make it easier on myself by making large containers of cucumber lemonade. That's sort of like drinking water, isn't it?
With this cucumber lemonade in the studio fridge I find it easier to remember to quench my thirst. I'm not only hydrating, but I'm also getting vitamin C from the lemons! As an added bonus, fresh cucumber extracts have recently been show to have both antioxidant and anti-inflammatory properties, making this lemonade an extra healthy choice.

So keep an eye out for my new healthy baking show. It will appear on Alpha channel in Greece starting in February, and will appear on ifood.tv in the U.S., and on YouTube, sometime in March. I'll be sure to keep you posted!
Cucumber Lemonade
Serves 4

2 ½ cups purified or bottled water
1 cup fresh squeezed lemon juice
1/2-2/3 cup light agave syrup (I don't like my lemonade to be very sweet. If you want a slightly tart lemonade add only 1/2 cup agave. Add more for a sweeter lemonade)
1 cucumber, rinsed and sliced
½ lemon, rinsed and sliced

Combine the water, lemon juice and agave syrup in a pitcher. Stir to thoroughly combine. Add in the cucumber and ¼ of the lemon slices. Chill the mixture in the refrigerator for at least 4 hours or up to 48, stirring occasionally to help infuse all the flavors. Pour the lemonade into 4 glasses and garnish with the remaining lemon slices.