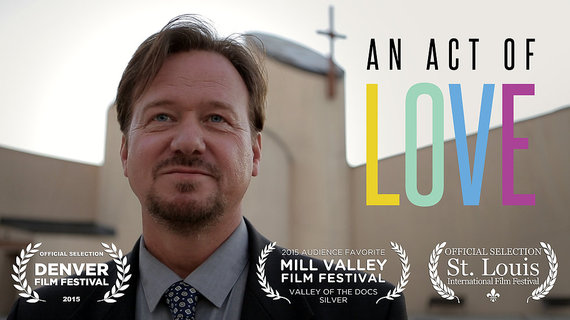 This is the second entry in the LGBTQ Faith Heroes series.
In 2013 Methodist Pastor Frank Schaeffer was removed from ministry for performing his gay son's wedding six years prior. His book Defrocked was published in 2014. The story is also told in the film An Act of Love, which began screening this month. Frank's story has particular significance for me as my wife and I celebrated our first anniversary in October. Without ministers who dare to make a difference as he did, Rumplepimple's two moms couldn't be married.
Why did you decide to celebrate your son's wedding, knowing the risk it posed?
After years of affirming him with statements like "You were made in the image of God, gay and all," I knew that, when my son asked me, I had to perform his wedding as the ultimate proof of my love and affirmation of him--even at the risk of losing my job and career. But I didn't do it publicly; I performed the wedding in private at a restaurant in Cohasset MA, 300 miles away from my church in PA.
What was the most memorable moment from your son's wedding?
The cheers and applause that erupted when I declared Tim and Bobby married in the eyes of God. At that moment I realized that ministry is not defined by doctrine, but by relationships. The discussion of marriage equality in religion is not really about theology, it's about the life of people.

Why did it take so long for a complaint to be filed?
I was facing a theologically conservative group in my local church. Apparently, their goal was to get rid of me as a pastor. I suspect that some of these folks had long known about the wedding and my involvement in it, but suddenly realized that successful charges could lead to my defrocking. They obtained a copy of my son's marriage license from the courthouse in Boston. Charges were filed, a church trial followed, and I was subsequently defrocked, losing my church and my ministerial credentials.
Do you see God's hand in the events as you look back?
When I first learned about the complaint, knowing that it came only 26 days before I would have been above prosecution, I was devastated. Looking back, I can see that God's hand was involved because it led to a new calling for me. I feel like I was passed a baton of advocacy, to speak against the discrimination and exclusive policies in our denomination. I think my trial consolidated support for the LGBTQ cause in our church. It is significant that there has been no further gay-marriage related church trial since. There is a good chance that it will become known as the trial that ended all such trials.

How has God used you since you were reinstated?
I was appointed pastor of the University United Methodist Church in Isla Vista CA. Because my position is well known, I am now able to preach progressive messages I never felt I could in the conservative setting of my former churches. I have continued LGBT advocacy ministry in the local community and nationwide; I share my story and lend my voice on discussion panels. I also became a board member of PFLAG Santa Barbara and help organize local LTBTQ events.
I am happy to be working as a minister again. On the other hand, I am still associated with a denomination that discriminates against LGBTQ people. Originally, I took the decision to uphold my reinstatement by the judicial council as a sign that change is coming. I now see a lot of signs pointing to the possibility that there won't be a change coming out of our General Conference in 2016. I honestly don't know what I will do if there is no change.

Tell us about your experience in developing Defrocked, and the response that you've received from it.
In the 6 months following my defrocking, I went through 22 states speaking at more than 50 venues. Chalice Press sent author Sherri Wood Emmons, to my house. She recorded a five-hour interview, transcribed it, and organized it in chapters and sub-chapters. When I got the rough draft, all I had to do was edit it which only took me 11 days.
I get such encouraging feedback about the difference it is making. The story is compelling even to people who are on the fence about marriage equality. Even conservatives believe in supporting their children, especially when they are driven into suicidal thoughts as was the case for my son Tim.

Tell us about the film.
An Act of Love had its world debut on October 9th at the Mill Valley Film Festival and received the silver audience reward in the documentary category. Film-makers Scott Sheppard and Kate Logan as well as producers Pauley Perrette and Mike Manning did a phenomenal job, but did run into a brick wall at times, mostly because many of my accusers and prosecutors refused on-camera interviews.
We all hope that it will have an impact on the United Methodist Church as we are hoping for a change in the church laws at our General Conference in the spring of 2016.
What advice would you give to ministers in denominations that do not support LGBTQ rights?

Do not allow fear to rule your life. I lived under this fear and my only regret is that I allowed it to squelch my voice. Take a stand for what you believe is right and just, stand up for people that are discriminated against even if it has consequences. Or else consider a change in denominations.
Do you have any advice for lay people?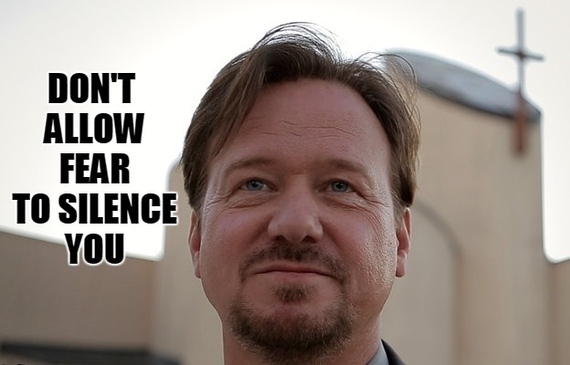 The same is true for lay people. Don't allow fear to silence you. If you are a member of a conservative church, try to bring change. If it starts feeling unsafe consider switching to another, supportive, church. If your congregation is open and affirming, consider making strong statements in your community and to your denomination.
Popular in the Community