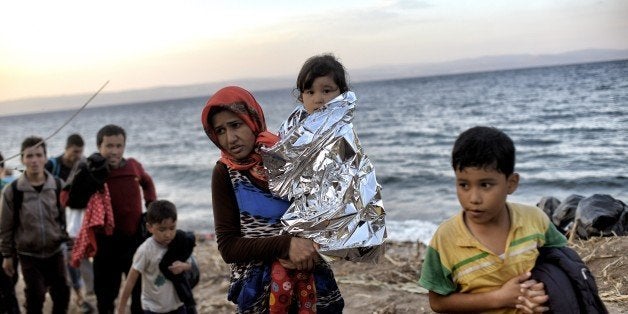 Every day, thousands of refugees and migrants set off for Europe: This year alone, some 562,797 people have arrived in Europe by sea. To escape war, poverty and terror, they take immense risks, knowing they might not survive the perilous journey.
One of the main risks is the dangerous and costly trip across the Mediterranean Sea. UNHCR estimates that 3,080 people have drowned or disappeared attempting to cross the Mediterranean this year. Smugglers charge the already impoverished families thousands of dollars to help them get to Europe.
The question arises: Why can't refugees just fly there? So far, only passengers with valid visas have been allowed to board planes to Europe. Airline companies are subject to penalty fees -- up to 3,000 euros ($3,390) per person-- if they allow passengers into European countries without valid visas, due to "carrier liability," an EU directive. The fee doesn't apply if the passenger qualifies as a refugee, but with no way to verify that in advance, airlines are forced to turn people away.
This arrangement didn't sit right with Swedish entrepreneurs Susanne Najafi and Emad Zand. They couldn't help but wonder why we insist on putting refugees through the risk of drowning if they will end up here anyway. Making it possible for refugees to fly directly to Scandinavia, they reasoned, could help people avoids dangerous land and sea routes.
Najafi and Zand thus founded Refugee Air. "As entrepreneurs we find solutions, and if we can fly people to the moon, why shouldn't we be able to fly refugees safely to Europe?" Najafi said in a press release. The initiative is an effort to get more refugees on planes by helping airlines to verify their status.
"If the passenger has a legitimate right to seek asylum, you're also allowed to transport them," Zand told Sveriges radio station.
Employees at the airports in Jordan or Turkey can't determine in just a few minutes whether a passenger standing before them is a refugee who has the right to seek asylum in Europe. That's why Najafi and Zand want to work with human rights organizations to create passenger lists, which they will then give to airlines.
If, upon arrival in Europe, it turns out the individual doesn't have the right to seek asylum, Refugee Air will pick up the cost of the return flight. This is meant to increase the airlines' incentive to participate in the project, since airlines otherwise must cover the return flights in addition to paying the carrier liability penalty. The initiative has received funding from private and corporate entities, which could be used in case of deportations.
The founders are currently negotiating with Scandinavian Airlines and Norwegian about a possible collaboration. They are trying to persuade both airlines that they won't hold liability if they participate. It's still unclear how the EU will respond to the project.
Refugee Air is scheduled to launch soon: Der Spiegel reports that the first plane of refugees will land in Sweden before the first snowfall in Stockholm.
The desire for the safe arrival of refugees is frequently expressed in Germany. Jusos (Young Socialists) leader Johanna Uekermann recently told HuffPost Germany: "Why should people who have a clear right to seek asylum with us --Syrians, for example-- travel illegally to Europe with smugglers? We have to make arrival easier on these people."
The initiative is still a work in progress, but it's a step in the right direction. Flying to Europe is a far safer option, especially for families with children. And even if only 100 people are spared a life-threatening journey, that's already a success.
This post first appeared on HuffPost Germany and was translated into English. It has been edited for clarity.
REAL LIFE. REAL NEWS. REAL VOICES.
Help us tell more of the stories that matter from voices that too often remain unheard.