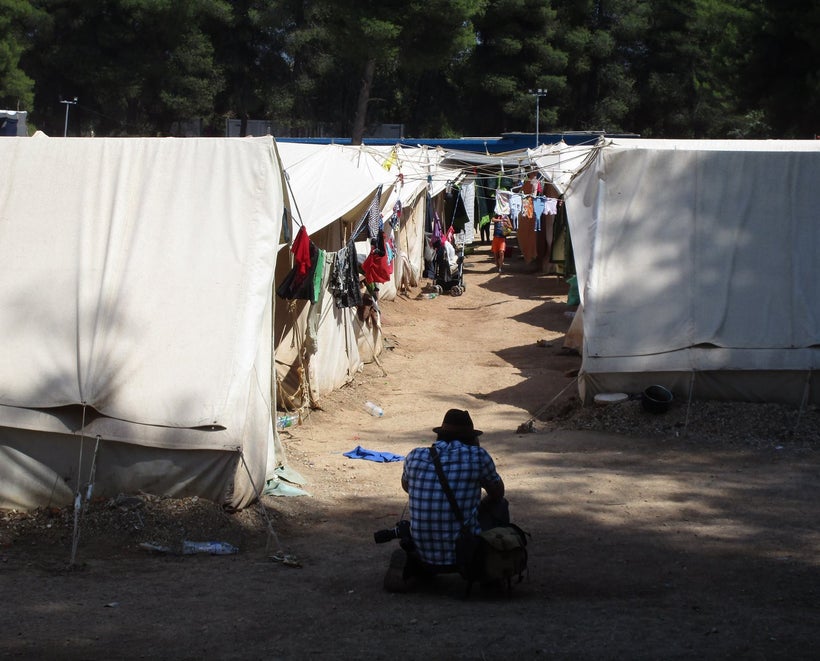 Disaster tourism isn't my thing. When an opportunity came in July to tag along with Operation Refugee Child, an NGO started in 2015 by a small group of California mothers, I thought long and hard about whether I should go to Greece and help distribute backpacks. Snapping pictures of families who are living in a precarious situation, facing challenges that would flatten me if I was in their shoes, didn't seem appropriate. I wouldn't want strangers, even those with smiles and kind words, coming into "my space" and taking pictures of me to remember an adventure.
I chose to go to the camps nevertheless, and I snapped pictures, and I smiled. The experience changed me forever.
We loaded up our rented van in Piraeus with many large bags full of backpacks shipped over from the United States. They were color-coded, red for the boys, blue for the girls, each containing gender-appropriate toys, books and other things.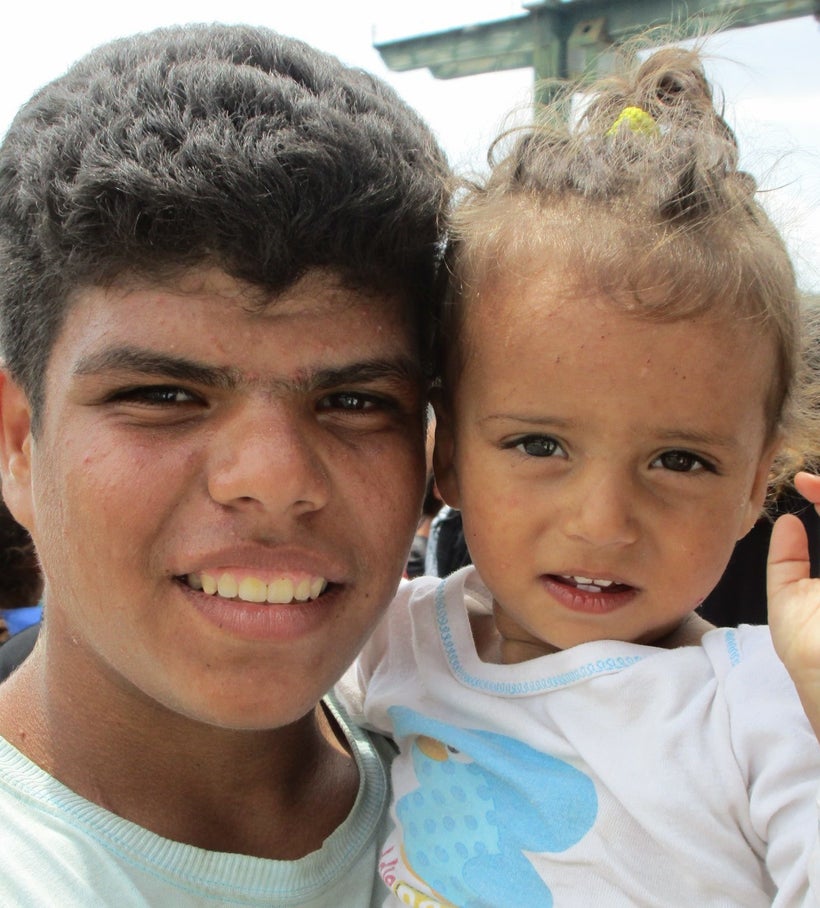 UNHCR, the U.N. agency responsible for monitoring and assisting the refugees, says we are "witnessing the highest levels of displacement on record." More than 20 million refugees worldwide are on the move, many coming from Syria, Afghanistan and Somalia. Over half of them are under the age of 18. About 10 million are stateless, having been denied nationality and access to basic rights such as education, healthcare, jobs and freedom of movement.
We used our GPS to find five camps set up near Athens, each very different from one another. One was located in a large industrial zone with hundreds of large shipping containers converted into living compartments, set up on acres and acres of concrete. There were about 3,200 refugees in this camp, with no landscaping or shade to provide any respite from the hot summer sun.
I noticed many adults and children with serious skin rashes and wondered about the camp's cleanliness. Near the large open warehouse, there were piles of garbage (discarded plates, food containers and scraps) with a storm of flies buzzing only a few feet from the people standing in the food distribution line. A refugee told me there were problems with snakes in this camp.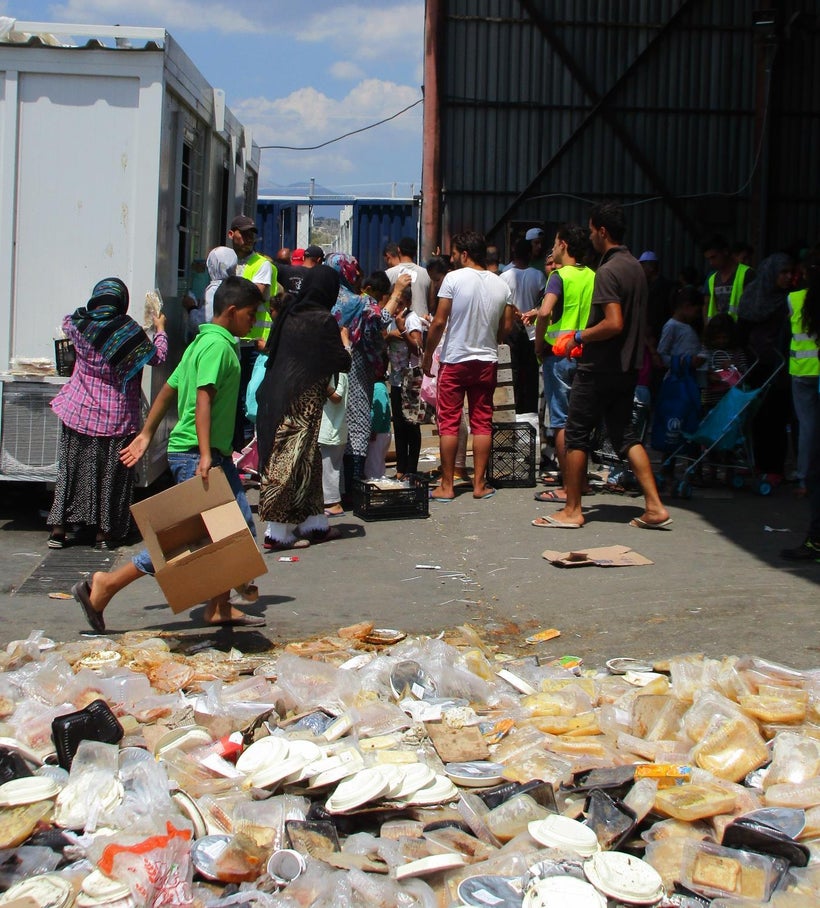 I met a man in his fifties from Afghanistan. He wore a long gray galabiyya and told me in fluent English that he had been a translator for the Americans. He and I watched as the crowd grew near the back of the van. As more refugees learned about our presence, things became more chaotic and out of control. Soon we were overwhelmed with adults and children desperately searching for something, anything from the van. They were climbing into the van, and pulling at volunteers who were distributing the backpacks.
Panic set in and a volunteer began honking the horn to alert our driver, a professional photographer shooting somewhere in the camp, that it was time to leave. I wish there had been time to learn more from that Afghan translator. After months of waiting in limbo, has he been able to move on with his family to a new home? The volunteers and I left the camp feeling we had escaped a riot, one which we had unintentionally created with our presence.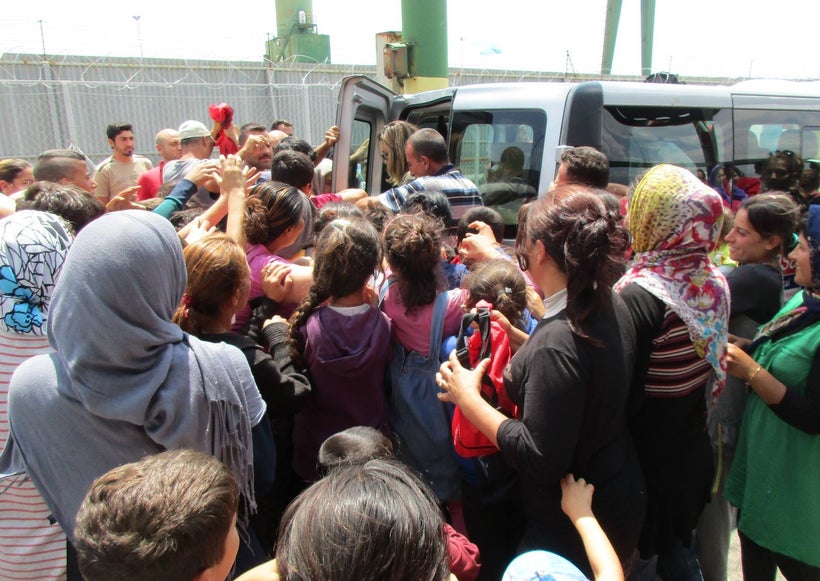 The next refugee camp was a very different experience. Lisa, an American working with DoYourPart.org, was in charge and clearly knew her business and her mission in life. She took us into the medical clinic set up in a trailer which doubled as her office. The camp just opened in March this year and is growing slowly. There are about 230 refugees, with more expected, and they are working very hard to keep it small. "This is like my family," she told us. She feels like the matriarch and wants everyone in the camp to have dignity and do for themselves.
Although Lisa is the manager of the camp, working with private donors from the U.S., she stressed that Colonel WhatsHisName from the Greek government was in charge. They hold weekly meetings on Tuesday to coordinate with all of the NGOs, the officials of the Greek government and UNHCR.
Lisa referred to the refugees as "residents" and told us that the residents hold weekly meetings to discuss issues. They recently held elections in the camp and selected representatives to serve on the residents' council. "Democracy under a dictatorship" is the way Lisa described it. They are "living by doing." They have a kitchen manager, a warehouse manager, and other residents who are in charge. "They live here, they don't just exist here," Lisa said. The residents cook for themselves; they have teachers and a school.
There's a big need for cooking oil, but "stop with the condom supplies," Lisa told us. She has enough condoms to last a year. Frankly, the men don't want to use them, but the women are open to using birth control, so they're exploring the option of using Depo-Provera shots.
They don't have the ethnic tensions in this camp that we might find in other camps, Lisa said, because they aren't mixing ethnicities. At this camp, they're primarily Iraqis and Afghans, although the Syrians appear to be the priority for the Greek government. She walked us over to a large metal warehouse and introduced us to two residents (refugees) who helped us with the distribution of the backpacks. Everything went smoothly, and the children were happy.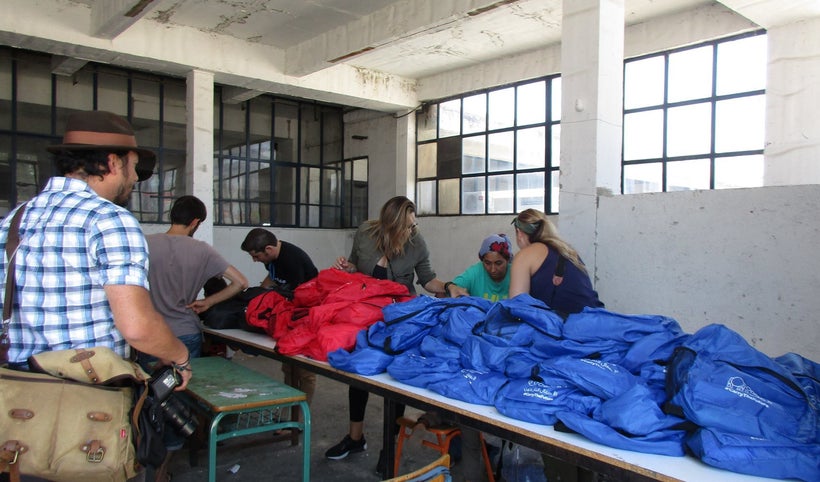 The next camp was located in an area with green trees and shade, a much more hospitable environment than the previous camps we'd visited. About 700 Syrians were living in tents, and as we arrived, so did a large tractor-trailer rig carrying portable showers and toilets.
We decided not to distribute the backpacks because we didn't think we had enough for every child. We walked around and talked with some of the refugees who didn't appear as desperate as the refugees in the first camp. I met a young volunteer from New Zealand teaching refugees English and saw signs indicating UNHCR, the Red Cross, and Doctors Without Borders were working here. There were also green directional signs in English and Arabic pointing out where to find the WC/showers, a child-friendly space, the Big Tent, the Red Cross Clinic, the Learning Centre, the Mosque, and the female-friendly space.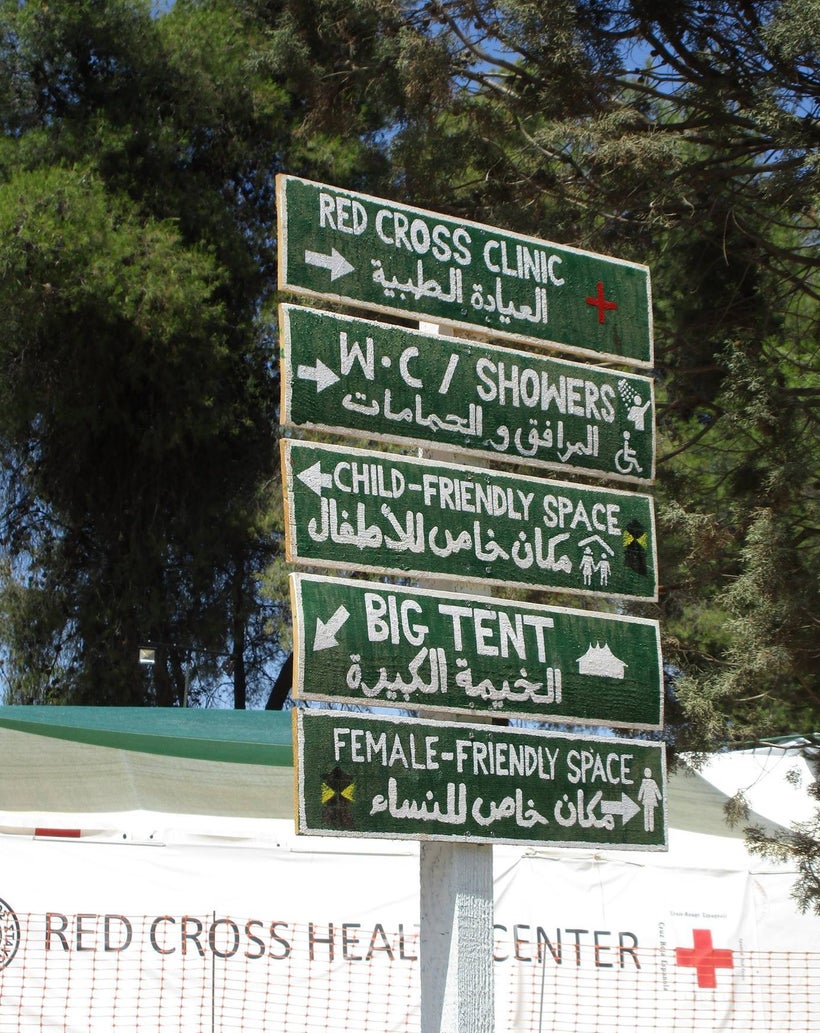 We were led to a tent where a newborn (45 days old) was lying on a dirty blanket on the ground next to a small fan to keep him cool. The new mother didn't say a word, but she didn't have to. Clearly, she was tired and exasperated by her husband's initiative to bring strangers into their cluttered space. Privacy and dignity are the two most important ingredients for coping with the tension and turmoil of their traumatic circumstances, but both are in very short supply.
A U.N. worker from Serbia told us about another camp in dire need of basic supplies, so we hopped back into the van and drove off to find it. On the way, we stopped at a small one-room village store to purchase more supplies. The camp was difficult to find, hidden in the woods in buildings that looked like a retreat center or old resort. The beauty and the shade ranked this camp as one of the best we'd visited, but we quickly learned about the corruption. One of the refugees came up to the van as soon as we'd parked and told us that they would never see the supplies if we handed them over to the Greeks in charge of the camp. We had seen several Greeks wearing official-looking vests sitting and smoking outside when we drove up. One of them told us to drop off our backpacks and supplies, and they would "sell" them. Did we hear that right or was something lost in the translation? We quickly decided not to leave the supplies at this camp, but distributed the backpacks directly into the hands of some very happy children.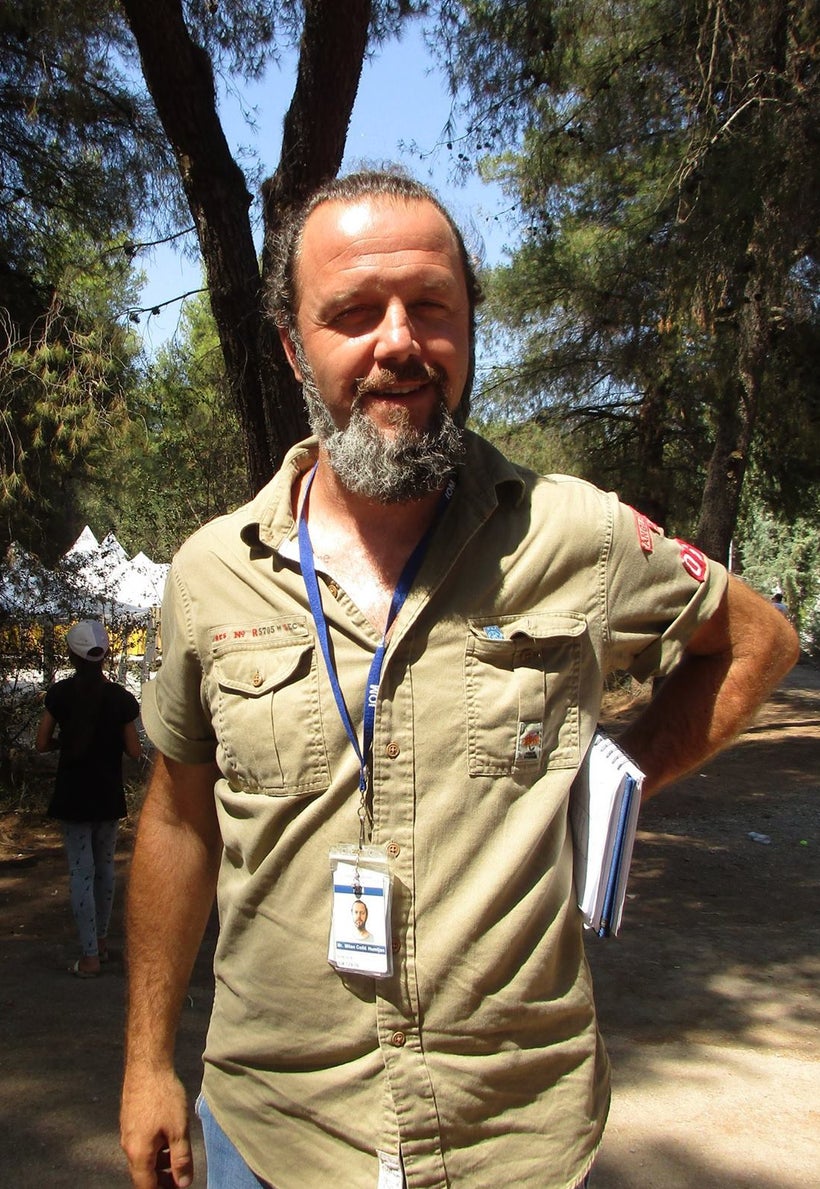 The next day I took a ferry from Piraeus to the Island of Lesvos where many refugees have been arriving from Turkey. In the town of Molivos on the island, an old man met me as I stepped off the bus. I declined his offer of a room, but bought him a beer and learned about how the seniors in Greece have seen their pensions slashed in recent years. He and his wife are trying to make up the difference by renting out a room, but the tourists aren't coming to Molivos now. There were cafes and restaurants with many empty tables at all hours of the afternoon and evening. The beautiful beaches were empty too.
I walked into a bookstore in Mytilene, the capital of Lesvos, where I met the owner, a young woman in her early thirties. We sat and talked for a good hour. Independent bookstores in Greece are suffering just as they are back in the U.S. Her bookstore is located just a block or two from the Port.
Last year, she said, there were thousands of refugees on the streets with no place to go. The Greek government was too slow to respond to the emergency conditions. There were no facilities or toilets set up, so the refugees were defecating, sleeping and living in the streets. She created a Facebook page and asked for donations of toys for the refugee children and soon had boxes and boxes of toys coming in from all over the world. She showed me pictures of the boxes. With the help of a few friends, they distributed the toys directly to the children. Young boys who would never be caught with a pink teddy bear at home, clutched their new teddy bears with joy, she said.
One rainy day last year, she saw a group of refugee women with a young child standing outside of her bookstore. They were all drenched. She felt bad and asked the young woman with the child to come into the store to get dry and change her child. When the refugee opened her coat, she had a newborn baby tucked inside. She had given birth the day before she stepped onto the boat to Lesvos. The man in charge almost didn't let her travel because he thought she might take up two spaces on the boat, but she survived the crossing with her newborn and young child. This young mother was lucky to be in one of the early waves of refugees to come to Lesvos because she has probably moved on north by now. Many refugees today are stuck in Greece due to the harsher travel restrictions imposed by the EU.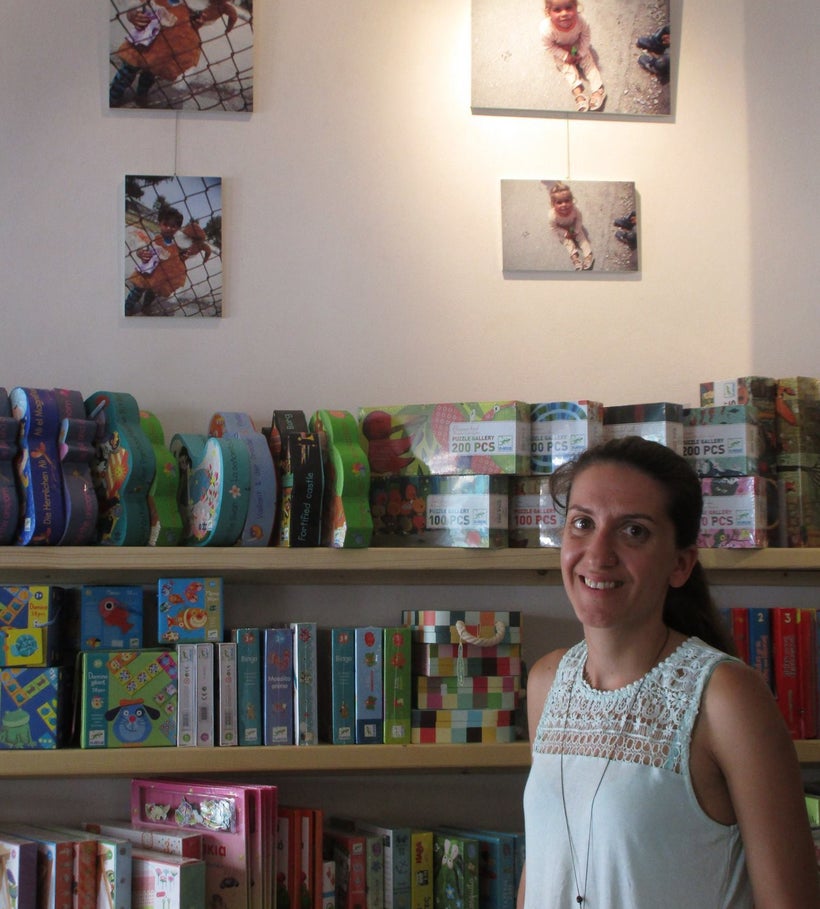 This young Greek entrepreneur has seen the refugee crisis unfolding for months at her doorstep, and so I asked her what the U.S. government and Americans could do to help. She paused and thought for a while before answering. "End the wars and stop meddling in the Middle East," she said. "The U.S. should focus on the root causes that are leading to this mass migration."
I spent the rest of the day walking around Mytilene and finally stepped into a local bar/café in a quiet residential neighborhood to escape the heat. Sitting with my new book and a beer, I noticed four young men in their twenties in the corner recharging their cell phones and drinking water. Young people everywhere in the world depend on their iPhones but I learned that this is especially true among the young refugees who stay connected with their families back home, and learn about the opportunities and difficulties that await them on their journey ahead.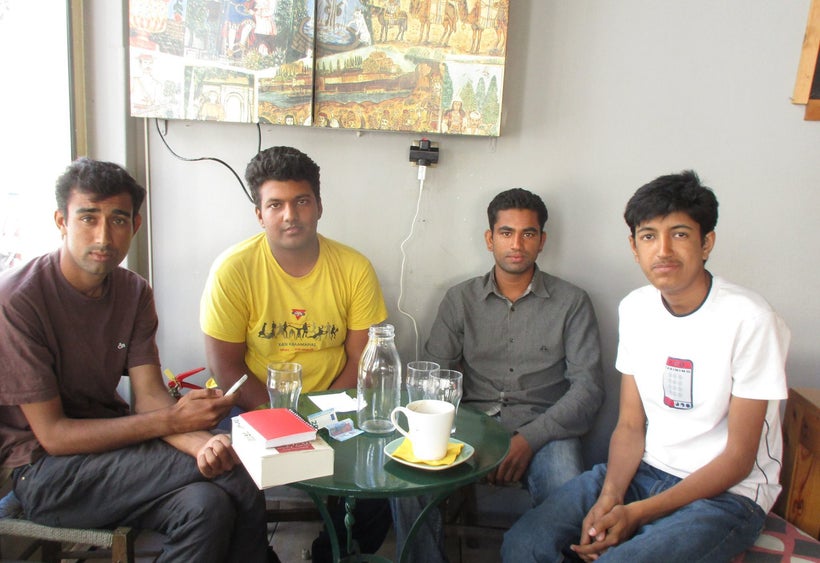 The waitress kept replenishing their water, and about an hour later, after the other customers had left, I walked over and asked if they spoke English. They all nodded, but one felt more comfortable speaking. I asked if they are refugees. "Yes, from Pakistan." Three of them were students back home and one was a window installer. They didn't know each other in Pakistan but met on Lesvos. They had each traveled alone, from Pakistan through Iran and Turkey to Lesvos, leaving their families behind.
One showed me pictures on his cell phone of many people squished into the trunk of a car, hiding in desperation to leave Pakistan. They had been on Lesvos Island for several months, waiting for "papers" so they could move on. They were living in the forest because the conditions at the Moria Camp were chaotic and there was so much fighting there. I had to board the ferry to return to Piraeus so we said our goodbyes and agreed to connect on Facebook.
For two hours, I watched security personnel at the Port checking every vehicle before it was allowed to enter the ferry. They looked under each vehicle, climbed on top of the larger ones, and looked inside. They even required a driver of a fuel tanker to climb up on top and open the fuel compartment to look inside. They found 4 or 5 young men hiding in a truck and arrested them, loaded them into a security van, where they waited until the ferry departed. They were probably taken to detention facilities to await deportation.
Refugees deserve to live in dignity during their dangerous and tumultuous passage to a new life. I'll never forget the father hiding behind the bench with his family at the Port in Piraeus, or the woman washing another woman's long black hair in the city park, or the small group of young men running across the parking lot at the ferry terminal in Patras, drenched in sweat, their eyes scanning in all directions out of fear of detection. No one should have to face such indignities. They deserve safe passage, and they deserve decent accommodations until they reach their final destination.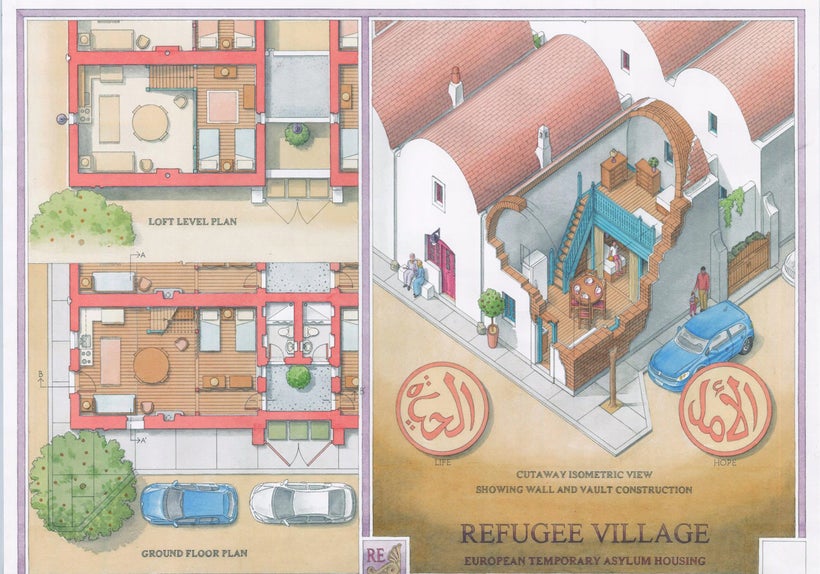 Professor Richard Economakis, from the University of Notre Dame, has drawn up plans, with the help of his graduate students, for the creation of temporary Refugee Villages to serve as processing centers for refugees seeking asylum in the EU. The buildings would be constructed of sun dried brick (adobe) which is cheap, easy to produce and quick to assemble. A team of international experts could train teams of workers in adobe construction, and supervise them during the construction. Eventually, Professor Economakis says, the buildings might be converted into ordinary family dwellings, academic villages, and resorts, once the refugee crisis has subsided.
On September 20, President Obama will be hosting a Leaders' Summit on Refugees to address the global refugee crisis. Reports indicate he'll ask the nations of the world to increase their funding to help the refugees by 30% -- from $10 billion in 2015 to $13 billion – as well as broadening the donor base by 10 new countries. He also wants to get a commitment to resettle twice the number of refugees, to increase the number of refugees in school by one million, and to increase the number of refugees granted the legal right to work by one million.
At the Leaders' Summit on Refugees, President Obama should add the Refugee Villages to his wish list and encourage nations and private investors to make a commitment to fund and build these villages. Living with dignity in conditions that are safe, clean and humane is the least our government can provide for these refugees who are fleeing their homes, in part, because of our country's actions in the Middle East. We should also heed the advice of that bookstore owner on Lesvos Island, and redirect our country from years of destructive intervention in the Middle East towards a focus on the critical humanitarian needs of the region.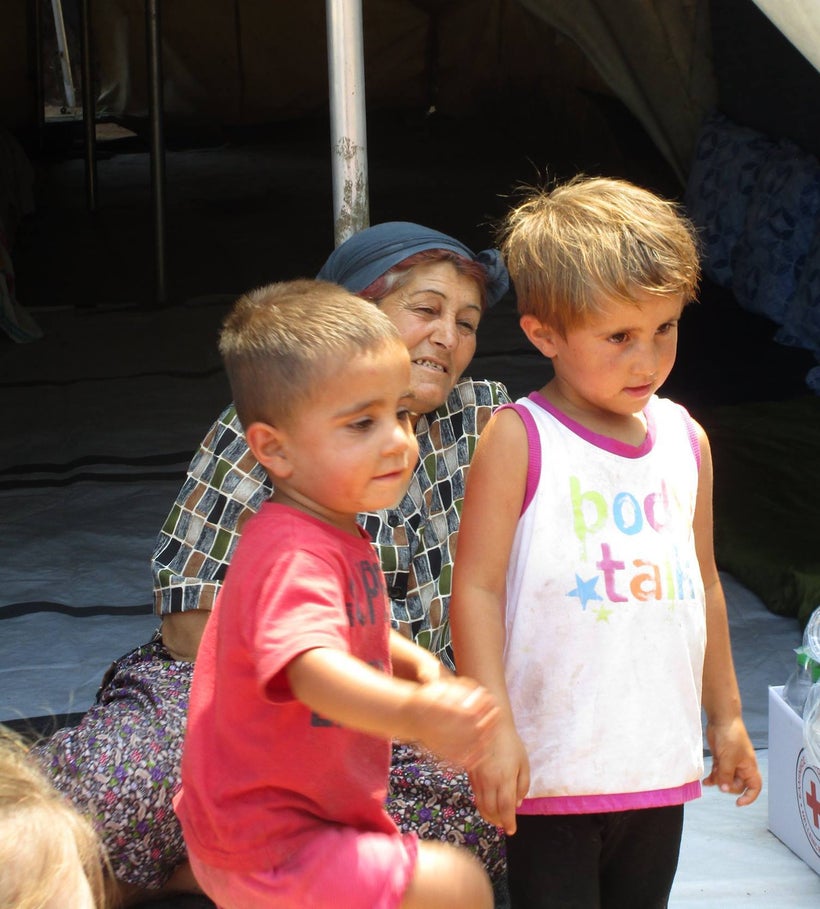 Calling all HuffPost superfans!
Sign up for membership to become a founding member and help shape HuffPost's next chapter
This post was published on the now-closed HuffPost Contributor platform. Contributors control their own work and posted freely to our site. If you need to flag this entry as abusive,
send us an email
.