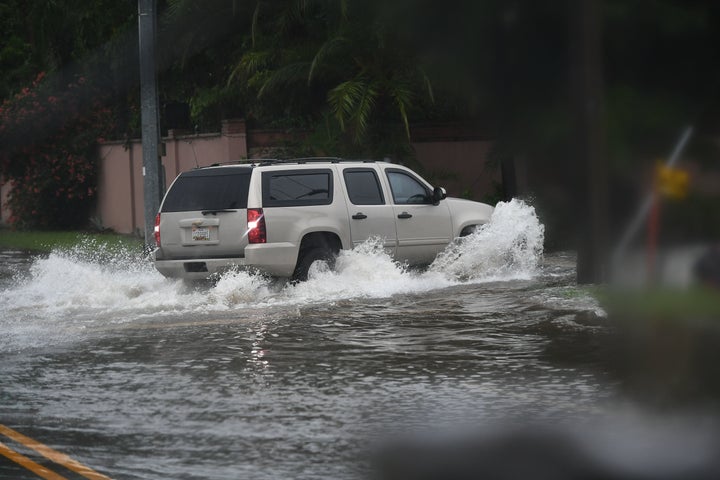 This story was produced and originally published by Grist and is reproduced here as part of the Climate Desk collaboration.
Torrential rains flooded south Texas on Wednesday morning, the latest danger in an escalating crisis for the hundreds of child migrants detained near the U.S.-Mexico border.
According to radar estimates, more than 10 inches of rain fell overnight as severe thunderstorms swept through the area. That was enough to cause widespread flooding, with water entering homes and flooding wide streets in Weslaco, a town between McAllen and Brownsville.
The town of Combes, site of one of the shelters, was included in severe thunderstorm warnings and flash flood emergencies issued by the local outpost of the National Weather Service. Local NWS guidelines say that a rainstorm of this magnitude over a 12-hour period has a less than a 1 percent chance of occurring in any given year under a stable climate. The bulk of the rainfall Wednesday morning came in just an hour or two, according to radar.
The climate, of course, is not stable. Wednesday's storm is the latest 100-year downpour in a state full of them in recent years. In Houston alone, there have been three 500-year rainstorms in the past three years. A warmer atmosphere holds more water vapor, and increases the ability of routine thunderstorms to become downpours.
Wednesday is also World Refugee Day, so it's worth mentioning that those who have crossed borders seeking a better life in the U.S. aren't the only ones dealing with displacement and more extreme weather at the same time. There's growing evidence that climate change is already leading to increased migration, and once migrants leave their homes, they are more vulnerable to the weather.
This is a global story. In April, for instance, heavy rains and flash flooding destroyed 750 homes and displaced thousands of people at a refugee camp in northern Kenya. And earlier this month, heavy monsoon rains hit the world's largest refugee camp in Bangladesh, washing away makeshift shelters.
These are the escalating climate consequences for people with little means to withstand them, perpetuating a cycle of injustice that now defines our warming era: Those who contributed the least to climate change stand to lose the most.
Organizations like the Red Cross are already working to make better use of weather forecasts for humanitarian purposes. But with climate change expected to produce a four-fold increase in the number of migrants worldwide over the next 30 years, they'll have their work cut out for them.
Calling all HuffPost superfans!
Sign up for membership to become a founding member and help shape HuffPost's next chapter