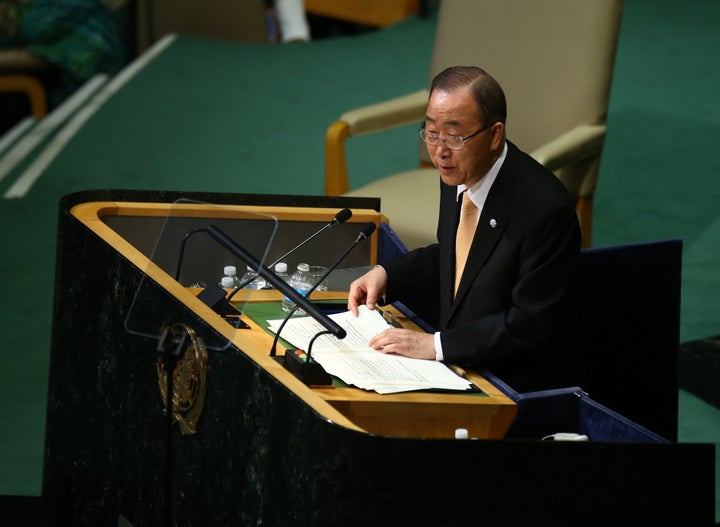 UNITED NATIONS ― The 71st session of the United Nations General Assembly kicked off Monday with the first-ever Summit on Large Movements of Migrants and Refugees.
Heads of state from around the world gathered to address the crisis that is marked by the 65 million people who are currently displaced around the world ― the most since World War II.
"Today's summit represents a breakthrough in our collective efforts to address the challenges of human mobility," U.N. Secretary-General Ban Ki-moon said in his opening remarks Monday. "Some flee war, others seek opportunity. Refugees and migrants are not to be seen as a burden, they offer great potential if only we unlock it."
The statistics are sobering.
Half of today's refugees have been displaced for four years or less and half for more than four years, World Bank President Jim Yong Kim noted Monday.
It's placing serious strain on the countries receiving them. An example: European Union countries, plus Norway and Switzerland, took in a record 1.3 million refugees in 2015, according to Pew Research Center data. The 2016 figures are lower, but people are still being rescued off the shores of Greece and Italy almost daily.
And more than half ― 3.7 million ― of the 6 million school-age children under its mandate have no school to go to, according to a UNHCR report released last week. Refugees are five times more likely to be out of school than the global average.
"Addressing forced displacement is a humanitarian challenge, but the difference now is that the New York Declaration marks political commitment of unprecedented force and resonance," the U.N. High Commissioner for Refugees Filippo Grandi said. "It fills a perennial gap in the international protection system."
Solutions are encapsulated within the New York Declaration, the text that member states have drafted listing their commitments. Some of these include: increasing support for hardest-hit countries; assisting despairing people in protected crises; education for children; improving search and rescue operations; boosting humanitarian funding and resettlement of refugees.
The first major announcement to come out of the summit was the inclusion of the International Organization for Migration, the leading inter-government organization dealing with migrants and refugees, into the U.N. framework.
"By being part of the U.N., we'll be able to share information and partner in a more effective way than we would have been had we stayed on the outside," IOM Director General William Lacy Swing said Monday. "I think the time had come."
The spotlight shone on Canada's prime minister, Justin Trudeau, whose welcoming stance on refugees is viewed by many as a model for other countries. He announced Monday that Canada will increase humanitarian assistance this fiscal year by 10 percent and reiterated the country's willingness to resettle people in need.
"We have a proud history of opening our arms ― and our borders ― to those most in need, and we look forward to welcoming many more migrants and refugees in the coming years," he said. "We will continue to lead with warm hearts and open minds."
States on the front lines of the refugee crisis, who have found themselves taking in unfathomable numbers of people on a daily basis, used the summit to share their disillusionment with the international community and demand more.
"The challenges we face today cannot be dealt with using old national and regional [structures]," said Greek Prime Minister Alexis Tsipras, whose country is currently housing about 57,000 refugees. Thousands were landing on Greece's shores every day last summer. "We must find a new effective way to cooperate on a global level." He emphasized more police and border activity.
Germany, another country on the front lines of the crisis — it took in 1 million refugees in 2015 — called on the U.N. to create country-specific refugee funds.
"We need a fairer global strategy for balancing the load," said the country's development minister, Gerd Müller.
On the sidelines of the summit, some participants expressed reservations about how much it could accomplish since the New York Declaration is nonbinding on member states.
Sana Mustafa, a Syrian who sought asylum in the U.S. in 2013 and has since become an activist on refugee issues, remained wary of the international community's ability to effect meaningful change. "It's just another summit," she said.
Many involved in the meeting did not mince words in relaying their frustration with international inaction.
"The United Nations still needs to strengthen its tools and find the money to deal with the humanitarian needs and other problems triggered by this unprecedented wave of migration," said Donald Tusk, president of the European Council, nodding to the arrival en masse of refugees and migrants across Europe, which grew so hectic in 2015 that several countries decided to build border fences. "There is a lot of catching up to do."
Some people are already looking to the Leaders' Summit on the Global Refugee Crisis that President Barak Obama will hold Tuesday in hopes more concrete solutions might arise out of those discussions.
"It's not going to be a panacea for the crisis, but it's an example of the U.S. leveraging its unrivaled leadership on humanitarian issues to mobilize commitments to other issues," U.S. ambassador to the U.N. Samantha Power said.
Related
Popular in the Community