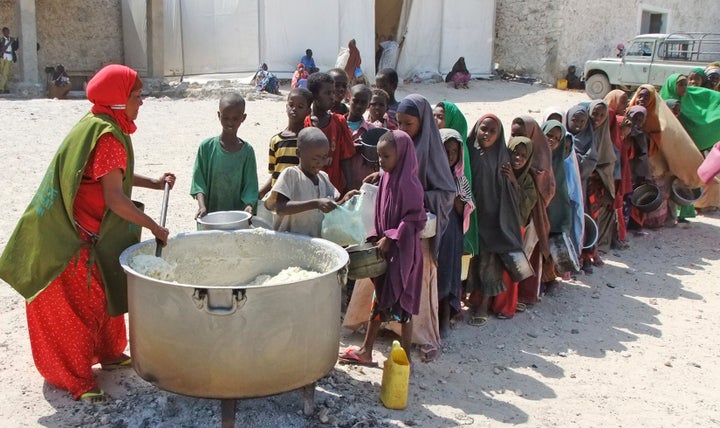 When the health clinic in a refugee camp is at the top of a hill and inaccessible for a woman who has lost her leg in a landmine accident, something is wrong. When the only people who can get to the front of the line during a food distribution following an earthquake are those who are strong and able-bodied, something is wrong. And when a child in a wheelchair can't get into a latrine because the door is just too narrow, something is wrong.
As the UN High Commissioner for Refugees described in stark terms in 2009, the reality for most displaced persons with disabilities is dire: "Too often invisible, too often overlooked, refugees with disabilities are among the most isolated, socially excluded and marginalized of all displaced populations."
But, as the world marks the International Day of Persons with Disabilities on December 3, it is gratifying to be able to share encouraging developments related to the well-being of the estimated 4 million refugees and internally displaced people who are living with disabilities today.
Over the last two years, the United Nations refugee agency (UNHCR), working with the Women's Refugee Commission and other partners, has developed new policies and tools designed to improve protection and services for displaced persons with disabilities. These new approaches will support the full inclusion of persons with disabilities in decision-making and program development. Training on the new guidance is now under way in several countries and will be expanded to additional refugee settings in the coming year.
This progress follows groundbreaking work undertaken by the Women's Refugee Commission in 2008. Our research found that refugees with disabilities are often not identified or counted in registration or data collection exercises. As a result, the specialized services they may need are not put in place. And refugees with disabilities are often unable to access mainstream services at schools, food distribution sites and health centers. Often, they cannot even use bathing facilities and latrines. Indeed, many refugees with disabilities are unable to leave their apartments or shelters, impacting not only their own lives and opportunities but also restricting the educational and economic opportunities of their primary care-givers -- most often their mothers.
The risks to the safety of women and children with disabilities are especially grave. They often experience sexual violence, domestic abuse and physical assault. In fact, according to a World Bank report, women and girls with disabilities are three times more likely to be the victims of gender-based violence such as rape, assault and physical abuse than those without disabilities. And mothers of children with disabilities are often blamed for their child's condition, and may suffer abuse from their husbands or other family members and be harassed, stigmatized and abandoned.
Armed with these findings, the Women's Refugee Commission outlined a series of recommendations for UNHCR and its partners in our report Disabilities among Refugees and Conflict Affected Populations. We also produced a resource kit that provides practical advice for field staff on how to better serve and include persons with disabilities in all aspects of program design and implementation. This was followed by the adoption in 2010 of a UNHCR Executive Committee Conclusion on Persons with Disabilities. The Conclusion serves as soft law for the refugee agency, its implementing partners and governments. It lays out a road map for protecting the rights of persons with disabilities and ensuring their access to services. As I mentioned above, training has now begun on implementing that road map.
All of this is reason for hope that tangible improvements will soon be made in the lives of refugees with disabilities. But there is still a great deal of work to do. Training is essential, but it is only a first step toward more effective programming. We will need a sustained commitment from UNHCR and its partners, as well as strong support from donors, to ensure that persons with disabilities are able to exercise their rights and access services in all humanitarian programs.
We should be guided at every turn by the UN High Commissioner for Refugees' reminder that "refugees with disabilities possess valuable skills, knowledge and experience, and they wish and deserve to be given the opportunities to use them."
Related
Popular in the Community