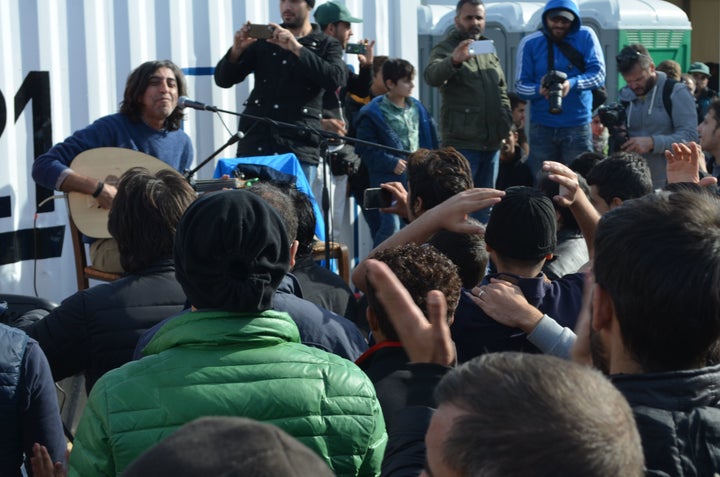 ATHENS --  A music concert for migrants and refugees staying at a transit camp near Greece's northern border with Macedonia this weekend turned into an emotional and uplifting experience for those in attendance. 
Traditional music groups from Thessaloniki performed, as well as acclaimed Syrian traditional musician Ziad Rajab, who has been living and working in Thessaloniki since 1988.
"When Ziad Rajab took the stage, it was pure magic: the people in the camp were so enthusiastic about his performance, that some Syrians from the audience who happened to be musicians joined him on stage and it was the most emotional thing one could witness," says Dimitris Zervoudakis, a well-known composer and musician from Thessaloniki and a founding member of the initiative.
According to rough estimates from local police, 14,000 people were staying in the Idomeni camp the night of the concert. Most of them passed in front of the stage at least once and listened to the music.
Thousands of migrants and refugees, who have fled countries like Syria, Afghanistan, Iran and Iraq, have stayed at the Idomeni camp. They pass through the camp on their way from the Greek islands tο Μacedonia, and then on to other parts of their route through Europe.
Conditions in the camp are harsh. Thousands of refugees sleep in tents or outside while waiting to board one of the busses that will transport them across the border.
Zervoudakis explains that the Initiative was launched by residents from the nearby city of Thessaloniki, some 80 kms away, who were moved by the presence of the refugees.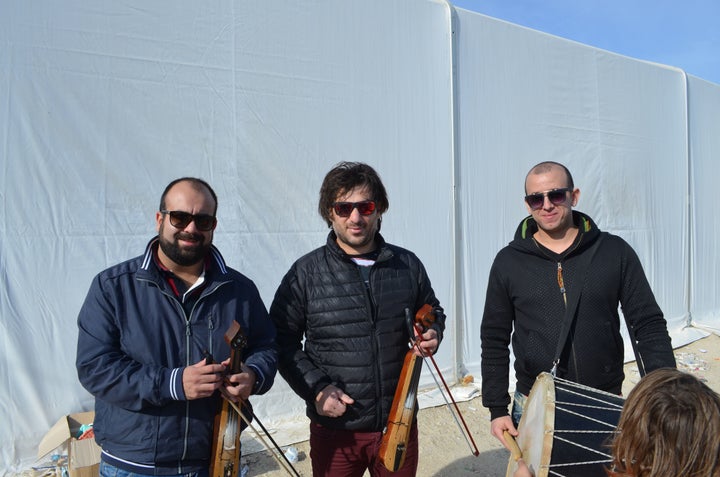 This was the second concert the group organized. The first one was held in the port of Thessaloniki in mid-October and aimed at collecting emergency supplies for the migrants and refugees at the border. Concert attendees collected between 80 and 100 tons of essential supplies that were ultimately shipped to Idomeni.
"These sort of actions fight racism and prejudice in practice, bringing people together," Zervoudakis says.
"That night, we saw the sharing of music and emotion among people, in the same way we see the sharing of material help," he says about the concert on the weekend. "It was an occasion where true solidarity transcended the charity we usually see."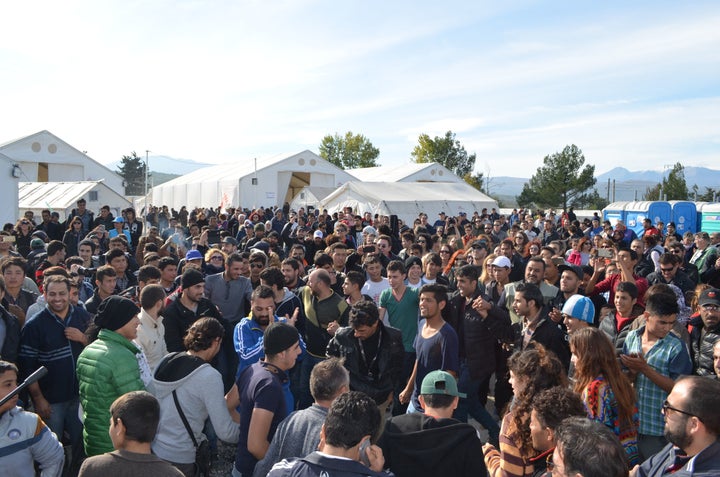 PHOTO GALLERY
Inspiring Reactions to The Migrant And Refugee Crisis
REAL LIFE. REAL NEWS. REAL VOICES.
Help us tell more of the stories that matter from voices that too often remain unheard.