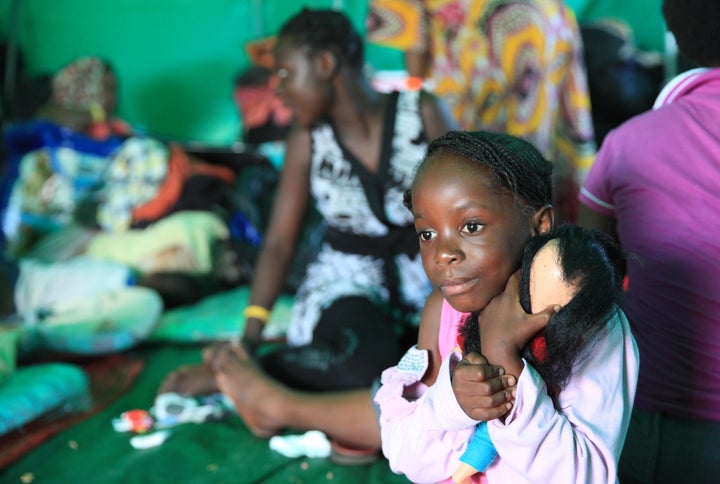 WASHINGTON -- As the U.S. prepares to admit more Syrian refugees, the Obama administration laid out plans on Tuesday to also significantly increase the number of Africans allowed to resettle here after being forced out of their homes. 
President Barack Obama announced figures on Tuesday for refugee resettlement in fiscal year 2016, which begins on Oct. 1. Each year, the administration sets a total figure -- this time, 85,000 people -- and a breakdown by region. Although the Syrian refugee crisis is dominating the news, the fiscal year 2016 announcement shows another major focus: Africa.
The ceiling for total refugee admissions was set at 70,000 in fiscal year 2015, with 17,000 spots allocated to people from Africa. In fiscal year 2016, the U.S. will admit as many as 25,000 refugees from Africa -- the largest increase for any region.
Refugee resettlement for people from Europe and Central Asia will also increase significantly, from 1,000 in fiscal year 2015 to 4,000 in fiscal year 2016. The ceiling for refugees from East Asia will remain the same, at 13,000.
The cap from the Near East/South Asia region, which includes Syria, went from 33,000 to 34,000 refugee spots. Obama wants 10,000 of those to go to Syrian refugees, according to the White House.
The only region to see a reduction was Latin America/Caribbean, which went from 4,000 spots to 3,000 in fiscal year 2016. The remaining 6,000 spaces for next fiscal year are unallocated, up from 2,000 unallocated in fiscal year 2015. 
State Department officials had previously indicated the president's interest in increasing resettlement of African refugees along with Syrians and others from the Middle East. The need certainly exists: There are about 430,000 refugees from the Democratic Republic of the Congo in neighboring countries, according to the United Nations High Commissioner for Refugees, along with 2.7 million people displaced inside the country. In Sudan, UNHCR estimates, there could be up to 460,000 refugees and asylum-seekers in the country by the end of the year.
Although any increase in refugee admissions is a good thing for advocates, groups have been critical of the administration's decision to increase the numbers only to 85,000 for the 2016 fiscal year. Secretary of State John Kerry said the U.S. will increase that figure to 100,000 for the following fiscal year -- the last Obama will set as president.
But most refugee advocacy groups, joined by some Democratic lawmakers, say the U.S. should admit 100,000 Syrians in the coming fiscal year, along with 100,000 people from other countries. Eleanor Acer, the director for refugee protection at Human Rights First, said in a Tuesday statement that the total figures were "embarrassingly low considering that we are facing the largest refugee crisis since World War II."
Calling all HuffPost superfans!
Sign up for membership to become a founding member and help shape HuffPost's next chapter