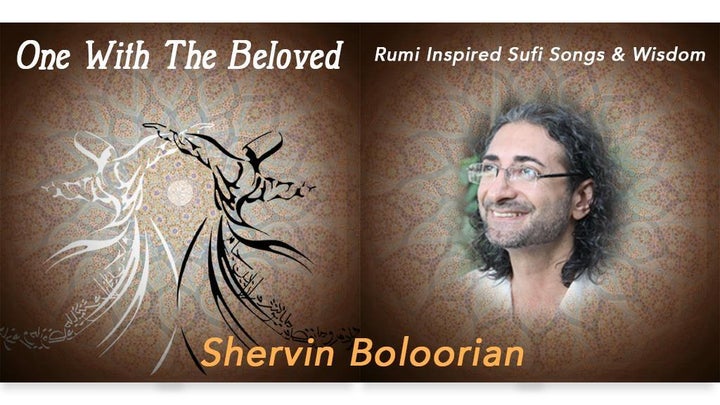 Iranian-born vocalist and sound therapist, Shervin Boloorian has launched a new cross-cultural music project to raise awareness about people and sacred cultures from the Middle East. Boloorian's forthcoming album "One with the Beloved" contains wisdom from world-revered Sufi Master, Rumi, all in original Persian and Arabic languages. The Sufi-inspired album is the beacon centrepiece of a Kickstarter campaign and live music tour which aims to bridge current divides between East and West through Music and Rumi's universal appeals.
Through "inspiring" Rumi texts in "One with the Beloved", Boloorian seeks to bring urgently needed attention to conciliatory messages of friendship, compassion, hope, and divine inspiration. Rumi is noted as the top selling poet author in the USA and is respected across the West; his works translate into 23 languages.
Boloorian comments "Rumi's voice cuts across faith, nationality and ideology; he brings us back to the human experience," reasons Boloorian, "Opportunities for relating are in high demand today." I felt strongly that a sacred music project with Rumi as the central inspiration could relay an alternative message to what we commonly hear about Iran, Islam and the Middle East to as many people as possible."
The album, primarily produced by Ric Peet from Candy Flip, breaks new ground with a unique concept, offering the world's first Sufi chant (Zikr) in a West African style accompanied by the Kora and additional meditation instruments delivering Western and Eastern flavoured melodies, percussion.
Boloorian's voice has placed amongst the most celebrated singers in Bali thanks to his sound healing sessions and debut album (Spirit Night). The new album features an eclectic variety of live instruments to accompany Boloorian's signature high tenor vocals which include: the Egyptian Ney Flute, Frame Drum, African Kora, Indian Bansuri, Dulcimer, Clarinet, Himalayan Meditation Bowls, Brass Chimes, Spanish Guitar and more.
Boloorian, who for a time advised US-Iran peace coalitions in Washington D.C, has continued to inspire a global audience through his work, recently harnessing his energy to mobilise the community in Bali to back this ambitious project; recently gaining endorsements for 'One with the Beloved' from over a dozen organisations and leaders.
The 'One with the Beloved' album is scheduled for general release this summer. Boloorian will also be touring many parts of Europe starting in August, with live presentations and interactive music workshops using the album as a platform to "shift attitudes through experiential engagement."
The tour will later move to Asia, Australia and the US with plans to include storytelling for children and community forums to compliment Boloorian's live music events.
Shervin Boloorian, Western-raised refugee based in Bali, is a certified sound therapist, vocalist, workshop presenter and recording artist. Providing his holistic sound therapy and multi-instrumental concerts to thousands of guests over the years and has led fundraising for local causes in Bali through an informal community service program known as the Bali Sound Healers Collective (BSHC). BSHC sound and music events involve local artists and have already successfully raised money for Bali water rights, Bamboo reforestation, youth AIDS awareness amongst other localised Bali causes. For more information on how to support Shervin in bringing Rumi's peace message to the world visit
Related
Popular in the Community