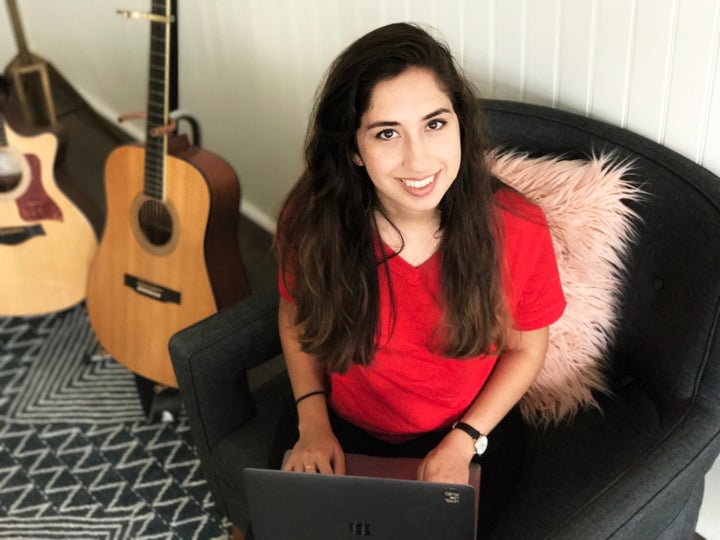 "I was born in the middle of nowhere."
That is how Sophia Mahfooz, the 25-year-old chief operating officer of Girls In Tech, describes the start of her life. Since 1992, she has masterfully moved from her beginnings in Afghanistan near Peshawar, Pakistan to a global position for a non-profit based in Silicon Valley where she can change the lives of young women around the world.
Mahfooz describes how her parents and brother escaped from the Taliban when their home in Afghanistan was bombed and her mother was pregnant with her. Born on the outskirts of Afghanistan near Pakistan, Mahfooz says her family stayed in Peshwar for seven years "to gain some form of stability" before moving to London.
As refugees, she says, her and her now two brothers, Rahfi and Omar, were not allowed to attend school. "My parents taught us to read and write and fellow refugees who were academics also taught us," she says. "It was a difficult, chaotic time."
Those intense challenges, Mahfooz says, offered her insight. "I realize someone whose family is displaced can take two decades to reach stability, the trauma is there. You have the feeling you don't have skills, the right accent or the language to survive." She adds, "I felt like I never had a childhood."
After her first year at University College London, Mahfooz says she entered a global pitch competition. "I had no clue what an entrepreneur was and I pitched an idea for a wearable medical device to track cardiovascular health," she explains.
Because England has a public health system, everyone is scheduled for appointments, but there is a wait for an appointment, she says. With her idea, OneCare, the wearable device would send data to a hospital so you would get your appointment shifted."
Still a teenager, Mahfooz was spending her summers working on getting the product made—in China, with the software created in London. Still, funding was difficult.
"I realized my age was playing against me as an 18 and 19 year old and my gender played against me," Mahfooz says. "People would say you should get a PhD or you should have a co-founder who is a professor—because they would not say to have a male co-founder, but I could read between the lines."
That is precisely the form of sexism and ageism that Penelope Gazin and Kate Dwyer found when seeking funding to launch their start-up, Witchsy. They fabricated a male partner in the business, according to John Paul Titlow writing in Fast Company.
"In many cases, the outside developers and graphic designers they enlisted to help often took a condescending tone over email. These collaborators, who were almost always male, were often short, slow to respond, and vaguely disrespectful in correspondence. That's when Gazin and Dwyer introduced a third cofounder: Keith Mann, an aptly named fictional character who could communicate with outsiders over email," Titlow writes.
"It was like night and day. It would take me days to get a response, but Keith could not only get a response and a status update, but also be asked if he wanted anything else or if there was anything else that Keith needed help with," Dwyer tells Fast Company.
Mahfooz was "extremely dejected," she says at her inability to move her idea forward. "I didn't have the right mentorship. I am an ex-refugee kid trying to build something out of nothing. So I came to the harsh decision that I didn't have the support system."
Still, she wanted to try other ideas. In her final year at the university, she entered the Mega Brainstorm Challenge, a Belgium-based university challenge, where 10 students at each university would be chosen to compete with other European universities.
With her team, she created a memory foam to be used in sports equipment. "I remember being 10 years old and playing soccer with my brothers and wearing their shin pads and feeling that they did not fit. So this foam could be used to personalize footwear and pads for an athlete."
Their college representative for the contest listened to their idea and told her it was "silly and not big enough." Mahfooz adds, "But we went ahead and won first prize."
After that, Mahfooz says, "I started to realize I had a knack for the intersection of technology and creativity and policy and figuring out solutions."
In her final university year in 2015, Mahfooz entered the London Entrepreneur's Challenge, and was the only female undergraduate to win an award. It was enough for her to buy a one-way ticket to Silicon Valley.
"I wanted to go to America," she says, "But I was working extra hours to pay for my parents' mortgage as well as expenses for the home. But this was the golden ticket to find out what it means to be an entrepreneur. But I didn't want to go to San Francisco and be a nobody."
So she did a Google search and found Draper University, founded by Tim Draper, a start-up school for entrepreneurs. She got a scholarship, boarded the flight and started the six-week course, culminating in Survival Week for the 70 entrepreneurs.
"We were given $50 and told to get from San Mateo to the Golden Gate Bridge," Mahfooz says. Again, she was in the "middle of nowhere," but she knew how to maneuver that. The teams of five each had to build rafts, hike and feed themselves. Of course, Mahfooz was one of the winners.
She continued for six more months as a resident entrepreneur at Draper, then returned to London briefly when her work visa expired in 2015. In 2016 she returned to the U.S., working on another idea when people would also offer more discouragement because she was a young woman.
"Someone told me I would make a great 5th or 10th employee at a company. I was given so much advice that was belittling. I came to the realization that female entrepreneurs lack resources in funding and support."
She then met Adriana Gascoigne, who founded Girls In Tech in 2007, recently becoming the chief operations officer there.
Celebrating its 10th anniversary this month, "GIT aims to accelerate the growth of innovative women entering into the high-tech industry and building startups. We achieve this through the creation of proprietary, innovative programming and strategic global partnerships," according to the website.
Girls In Tech operates 60 chapters with 60,000 members in Asia, Australia, Europe, the Middle East, North America and South America, offering programs, events and initiatives to offer women "a platform for growth."
"We create programs that empower, educate and engage: young women, Mahfooz says. What she offers to young woman is simple and perhaps counter-intuitive.
And to further her mission of helping female entyrepreneurs get their ideas off the ground, Mahfooz is spearheading the Girls in Tech's AMPLIFY Women's Pitch Competition in San Francisco on October 18, a "startup competition for entrepreneurs, investors, engineers, and designers that explores up and coming trends in innovation, technology, and most importantly, showcases the best and brightest female tech entrepreneurs from the region," according to the site.
"Female entrepreneurs will pitch their early-stage technology startup onstage to a panel of seasoned technorati and investors to be judged based on the innovativeness and viability of the product or service. Winners will receive a cash prize along with additional resources such as office space, laptops or equipment to move their startup forward."
For this and for all other challenges in a career, Mahfooz has specific advice for success. "Use what has been your disadvantage—perhaps as an immigrant or a refugee – and start your life from scratch with this as a launch pad. You will be extremely resilient and creative."
"Not following the status quo" on her path from the middle of nowhere has brought Mahfooz to somewhere that only existed in her dreams, and somewhere she can help so many others do the same.
Popular in the Community