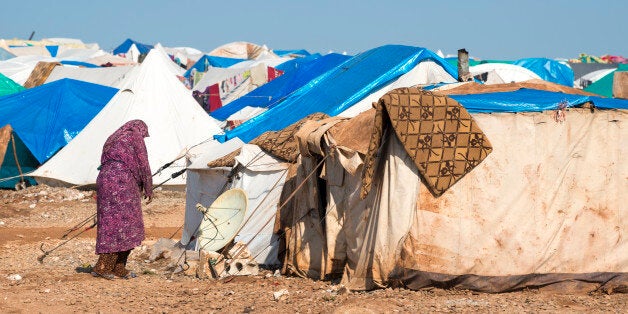 A garden of sunflowers thriving in the desert landscape at the Zaatari Refugee Camp was not the greeting we anticipated, when we began walking on foot through one of the largest refugee camps in the host country of Jordan. It was a sign. Planting gardens in civic space is an indicator of the germination of a public consciousness. As Syrian refugees sow their seeds, they are cultivating gardens that not only remind them of home but, also, sow seeds of creativity and hope.
In the harshest of environments, Syrian creativity is fostering abundant commerce in a camp of roughly 90,000 refugees. In a climate where roots take time to develop, climbing floral gardens, fragrant mint and even watermelons grow. Gardeners proudly share their corner gardens. Together, they are affirming life by living with great dignity.
After walking through the camp, meeting refugees, listening to different narratives, sharing both public and private spaces, playing with children, breaking bread together, we also paused to process all that was seen, felt and experienced. And we reached the conclusion that the heart of the camp is not defined by geography. Rather, it is a central characteristic of the Syrian people-- resilience.
There is Syrian pride and hospitality. For example, Om Rami welcomed us into her home in the camp. We were treated to refreshing cold water, hot tea and the popular delicacy of Makdus, or eggplant and tomatoes. There was warmth, broad smiles, laughter, tears, history, stories of survival and dreams of a future, singing and even dancing. There was a desire for justice expressed very clearly by our host -- "We want justice" was the mantra -- but never did revenge enter the dialogue.
Many refugees like Om Rami want to leave Zaatari. Contemplating a treacherous journey to Europe, she shared why she needs to flee with her children to Turkey on a boat.
"I tried, to survive, I tried to be resilient, but I need to think of my five children," she explained.
Om Rami is again planning to leave a place she can't call home, taking an enormous risk that could lead to death: "I wish the war will stop, I wish I can go back home to my home in Daraa, I am scared of death but [it] seems that I don't have another option. I don't want my children to grow in a refugee camp."
There are millions of images, and years of history to the Syrian crisis. Let us have vision, let us mirror the resilience of the refugees in Zaatari. Let our hearts move us to help the refugees, as our minds seek a just solution to the crisis. We all have a role to play. It starts with an international cry for an immediate ceasefire, or a safe zone for Om Rami -- so she can go back to her homeland in safety and plant her garden.
Article written by Pamela Ostovich and Hind Kabawat, who visited the Zaatari refugee camp together last month.
Support HuffPost
The Stakes Have Never Been Higher
Related
Popular in the Community