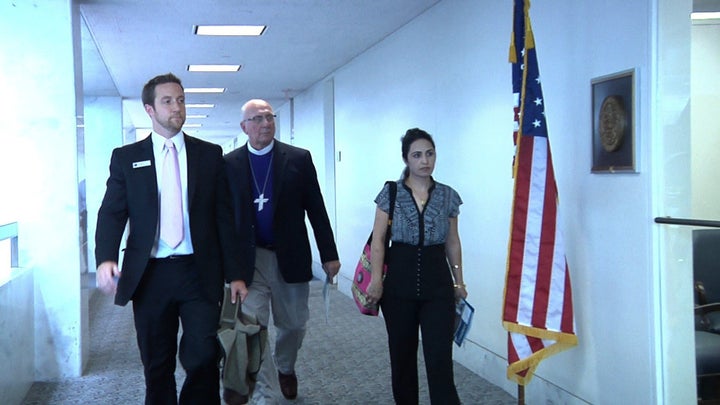 WASHINGTON -- After escaping violence and persecution in their native countries, 10 former refugees met with lawmakers on Capitol Hill on Wednesday to advocate for better aid for men and women who, like they did, come to the United States as refugees.
The group of former refugees met with members of congress to discuss the need for refugee resettlement reform, which has remained virtually unchanged for the past two decades, and for more funding to help men and women adjust to life in the United States.
The United States admits about 70,000 people per year -- the most of any nation -- and will spend about $729 million on domestic refugees in 2011, putting high costs on local churches and non-profits to help them resettle.
As Congress focuses on spending cuts, the group tried to push for more funding for refugee resettlement.
Their pitch, as part of an advocacy day by Lutheran Immigration and Refugee Service, was that refugees can contribute to the economy and community.
"Living in a camp I never thought I would have a chance in life," said Richmond Appleton, a 27-year-old Liberian who lives in Minnesota. "I realized after the camp that there was so much talent hidden in me. … We've been here and we've been good community members."
Appleton graduated from Augsberg College in 2010 and is working as a youth coordinator at the Will Steger Foundation, an environmental non-profit. He plans to go to San Francisco University in the fall to study education, and volunteers as a tutor.
As a child in Liberia, Appleton moved often to escape civil war. At the age of 15, he was held by rebel forces for nearly a month, away from his family and friends. He spent his final years in Africa in a refugee camp in Ghana before coming to the United States at the age of 19.
On Wednesday, Appleton met with Minnesota Democrats Rep. Keith Ellison and Sens. Amy Klobuchar and Al Franken. He said all three meetings went well and that the lawmakers were receptive to the idea of reform to the refugee resettlement system.
"It was one of those surprising moments because he was sitting there in his office waiting for us," Appleton said of Franken. "He had a lot of experience working with Liberians."
Another former refugee, Halima Ibrahimi, met with a representative from the White House, Domestic Policy Council member Felicia Escobar, and staffers for Sens. Chuck Schumer (D-N.Y.), Marco Rubio (R-Fla.) and Bill Nelson (D-Fla.). Ibrahimi, a refugee from Afghanistan, moved to the United States about a week after September 11, 2001.
She said coming to the United States allowed her to escape the Taliban, who killed her husband, and danger in Afghanistan. Refugee resettlement allowed her to make a life in the country even though she came with nothing, she said.
"They helped me a lot," Ibrahimi said. "I came here not speaking English, not having a job, with two small children. They helped me with food, medicine and to take my kids to school."
HuffPost talked to Ibrahimi about leaving Afghanistan and watching the conflict there from afar. Here is her story:

Popular in the Community