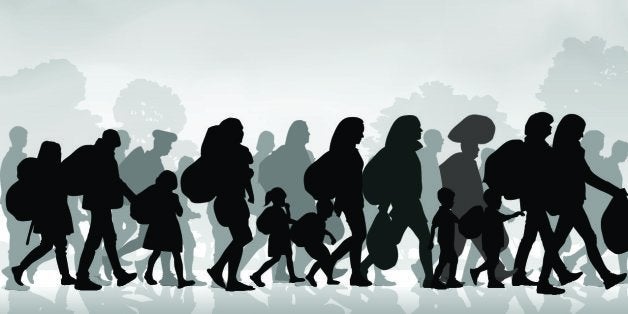 On Monday 19 September the first global summit to address large movements of refugees and migrants convened at the UN headquarters. In a twist of fate, the fact that this event took place in immigrant-built New York -- a city that was simultaneously dealing with the consequences of a recent terrorist attack -- underlined once again how migration and security threats are intertwined issues defining our times.
In 2015 out of 21.3 million refugees -- of which half are children -- only 300,000 received resettlement, and just ten countries hosted nearly two-thirds of refugees, with many camps offering inhumane living conditions. To manage the displacements the world sees today due to violence, persecution and climate change, the current international regime for refugees and the discretion left to nation-states regarding migration have proved dramatically insufficient. Consequently, this UN summit, the highest-level political meeting ever to address refugees and migrants in a joint manner, breaks ground as a first attempt at creating a comprehensive and systematic response to these challenges. And although summits often produce negotiated outcomes that reiterate broad principles, the New York Declaration for Refugees and Migrants does offer some elements of hope to build on.
First, the International Organization for Migration (IOM) is recognized as a UN agency, and will be working alongside the Office of the United Nations High Commissioner for Refugees (UNHCR) in fulfilling the organization's central role in the co-ordination of collective action on these matters.
Second, foundations have been laid for two global compacts: a general one, providing safe, orderly and regular migration; and one aimed at a more equitable sharing of the responsibility of hosting and supporting refugees. Both initiatives for the development of international principles and approaches are set to be achieved in the next two years.
Another positive element is that the summit has served as an incentive for the greater involvement of actors that are key to implementation, namely civil society -- whose action can change the public attitude towards migration and increase accountability -- and the private sector. Private-public partnerships can create practical and sustainable solutions for inclusion, particularly at the local level.
Last but not least, at a time where border walls, forced repatriation, and racist and xenophobic politics are weakening established international rules in the public mind, the reinforcement of humanitarian rhetoric, the acknowledgement of the benefits of migration, and the restatement of existing norms -- such as the principle of non-refoulement, which prohibits sending people back to countries where they face danger -- are indeed valuable.
The New York Declaration now enters the crucial phase of implementation. Legal frameworks as well as the political will to save lives, protect rights and share responsibility on a global scale need to be transformed into operational outcomes. Policy makers must devise mechanisms that embrace diversity, combat exploitation and promote inclusion and self-reliance through education and work opportunities. Relocation plans, such as the one devised by the EU Commission last March, need to be revamped, offers of resettlement as well as financial assistance for organizations working on the ground should be substantially increased, and Member States pushed to deliver on their promises and commitments under international law. The pledges to take in 360,000 refugees made by fifty countries at the Leaders' Summit convened on September 20 by President Obama, is a positive step -- but the magnitude of today's crisis demands many more steps of an even larger scale.
It is high time the international community creates a rule-based system that takes into account geopolitical circumstances and provides a comprehensive response that starts with search and rescue and ends with integration in the local community. Given the demographic strains of the coming decades, it is essential for governments to realize that the incentive structure has to be tilted in favor of a full implementation of responsibility-sharing that turns migration into an opportunity for investment and growth.
The deployment of sustainable plans addressing mass displacements with participation of all relevant stakeholders will be the best antidote to rising populism. National politics should be capable of balancing countries' national interest in maintaining sovereignty and ensuring territorial safety against the human rights of migrants and the international protection owed to refugees. The spirited action of thousands of volunteers is already in stark contraposition to the reluctance of political leaders to help migrants and refugees, from the Greek and Italian coasts to railway stations in Germany or Sweden, and from the shelters found in Central America to the boats of NGOs or the desperate swims of simple citizens trying to save lives.
The time has come to provide operational ground for these important global plans to be fully materialized. It is not by scapegoating foreigners and giving in to fear that we build the future for our children.
---
This article appeared originally in Spain's El País.