Tom Morello, founding member of Rage Against the Machine, sells out stadiums with his brand of rap metal and alternative rock. But these days Morello has a different repertoire: Woodie Guthrie sing-a-longs with an acoustic guitar.
Musically, it's a different vibe from Rage's "Killing In the Name." But Morello's purpose shares a common theme with his earlier music which was always marked by political activism.
"There's never been a successful social justice movement that hasn't had a great soundtrack," said Morello, co-owner of Los Angeles based Firebrand Records.
Since Rage's first album in the early 90's Morello has positioned himself as a protest musician, actively speaking out against issues ranging from police brutality to the two-party system.
He's continued this tradition with the newly-formed Prophets of Rage who headlined the Anti-Inaugural Ball this January along with the reunited Audioslave, of which Morello is also a founding member. Morello believes artists can reflect society while at the same time transforming it.
This transformative brand of activism is why you can now catch him at intimate Los Angeles venues, like Hotel Cafe where he performed this February, leading the audience in chorus after chorus of "This Land Is Your Land."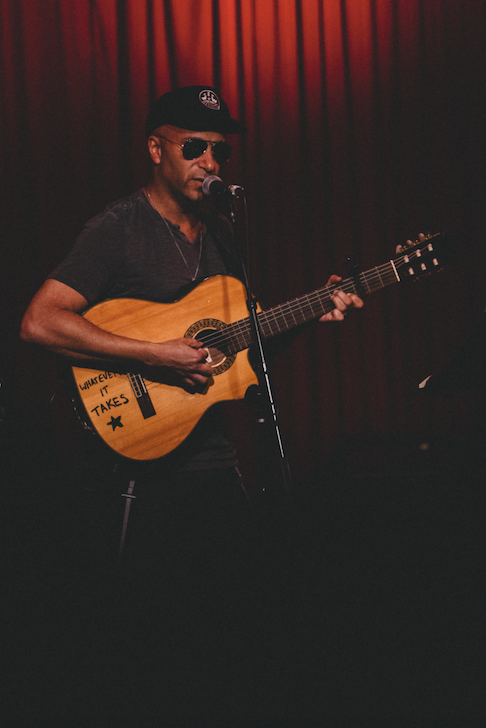 Morello hasn't stopped at performing. He and label co-owner Ryan Harvey started Firebrand to empower artists with a political message. They support artists worldwide who blur boundaries between culture, religion and musicianship.
Their non-traditional approach involves arranging shows and tours with such artists, like a traditional label would, while also connecting artists with like-minded NGOs, similar to a non-profit. They work formally with artists on their roster as well as informally with a global network of musicians.
In 2017, their work is taking on more importance than ever.
"You haven't just seen an uptick in artists voicing their opinions about the current political situation," said Morello who holds a degree in social studies from Harvard, "it's been a tsunami."
Harvey, who is headed to Greece this March for his second volunteer mission on the coast of Lesbos, is deeply involved in the activism community, finding voices that Firebrand can augment.
One such voice, a group informally connected to Firebrand, is Country for Syria. Comprised of Syrian refugees in Istanbul, Turkey as well as European and American expats, the band plays country music.
"We're seeing there are common emotional lyrical and political threads between old country lyrics and some of the songs written by Syrian refugees," said Harvey over the phone from United Talent Agency's immigration rally. "There are themes of war and displacement and yearning for something different."
The group started when members Owen Harris, 26, and Bashar Balleh, 24, ran out of music at a gig in Istanbul where they both live.
"The music that we practiced wasn't enough," said Harris.
A Floridian Jew, Harris went to college in North Carolina before moving to Istanbul.
"I just knew some easy country chords, and I gave the chords to Bashar," said Harris, "and he gave me chords to some easy Arabic songs, and we improvised the rest of the gig."
The Country for Syria sound was born.
"I found a way to claim country music in a way that I never felt I could as a Jewish person in the Southern U.S.," said Harris in a phone call from Istanbul. Country's traditionally Christian lyrics have become accessible and interpreted by the interfaith nature of the group.
"The messages in these songs are so universal, especially when I realized that some of the lyrics in Arabic songs and some of the themes in Turkey are the same themes and even some of the same cliches," said Harris comparing the Arabic influences to traditional country music. He added that the themes are "about loss, wandering, losing your land and being a stranger."
"It's country music mixed with Arabic music," said Balleh over the phone from Istanbul, "that's what's helping us spread our message."
Balleh is a full-time musician in Istanbul where he decided to settle permanently after two unsuccessful attempts to enter Europe through Greece.
On his first attempt smugglers launched him into the ocean at a point too far from Greece. "If the Greek Navy didn't interrupt us we would have taken 10 hours to get to Greece," he said.
His second attempt failed when he was stopped by gangsters. When he refused to be robbed they called the police.
"I couldn't take it anymore," he said. "I decided to come back to Istanbul and live my life."
That life would involve joining with Harris to promote unity through music.
"We were trying to make a mix of two very different things in people's eyes and ears," he said. "If the heart of the music is different it doesn't mean that the heart of the humans is different. The idea of the band is that we want everyone to know that nothing can separate us as humans."
The connection of people with differences is nothing new to Balleh. He met his wife, Kathryn Balleh, 25, a Catholic from Boise, Idaho, at a Country for Syria show on the seaside in Turkey.
"We found ourselves holding hands at one point in the night," said Kathryn Balleh. She had noticed him at an earlier show, but only got the chance to talk to him that night.
The couple became inseparable.
Holding hands progressed to a New Year's engagement and a wedding ceremony in Istanbul just a few weeks later.
"We wanted to get married before Trump was inaugurated," she said.
Though Country for Syria has previously toured the States, Trump's executive order on immigration has complicated matters.
Harvey, who in addition to co-owning Firebrand Records is also a musician on the label, played a show with the band during their American tour. He plans to visit Country for Syria after his upcoming work in Lesbos and perform with them in Istanbul.
"There's a reason that the drummer was so central in the American revolution," said Harvey, thinking of Firebrand's belief that political movements always have a soundtrack.
"We're able to both educate with the words we say and the way we do our craft," he said.
Sometimes, that education is as simple as a personal story.
"Right now, this is the only place that Bashar and I can be together," said Kathryn Balleh over the phone from Turkey.
Which is why Morello's passionate about his work at Firebrand — not just developing artists but throwing showcases where he and others can get political through song.
"You try to create a little bit of the world you'd like to live in in a venue on a night like that," said Morello.
What world do Morello and those connected to Firebrand want to create?
Sometimes the soundtrack says it all.
"This land was made for you and me."
Popular in the Community