ATHENS ― Two horses helped Alan Mohammad flee Syria.
One carried him and his sister Gyan through the rugged mountains of Iraq over into Turkey. The other carried their wheelchairs.
Both Alan, 30, and Gyan, 28, are teachers who were born with muscular dystrophy. Attacks by the so-called Islamic State destroyed their home two years ago, and they fled northern Syria by land and sea, with their family's help. Amnesty International has now released a video about these two tenacious siblings and their onerous journey.
After traveling through the mountains with the horses in 2014, the family lived in Iraq for a year and a half until ISIS forced them to flee again. In March, Mohammad and his mother, brother and two younger sisters, paid a smuggler $750 per person to get on a inflatable boat to the Greek island of Chios. The raft was so overcrowded, packed with anxious parents transporting crying babies and children, that the Mohammad family was forced to leave the two precious wheelchairs behind.
"For 'normal people' it is very difficult," Alan Mohammad said. "But for disabled people it is like a miracle to cross the borders."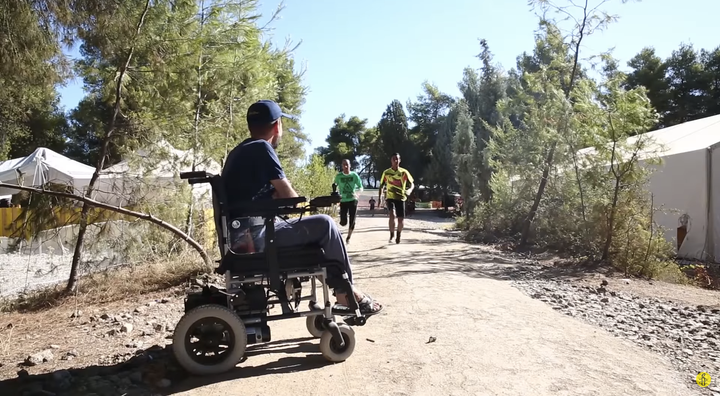 Now stranded in Greece after the borders to Europe were closed, the family is living in a makeshift refugee camp in Ritsona, about 50 miles outside Athens. Their end goal is to make it to Germany, where their father and another sister are now living.
"It's a difficult life for a healthy person, so you can imagine what it's like for a [disabled] person, and I have two, not just one," said Mohammad's mother, Amsha Hussein Mohammad. "And their disability is not just any kind of disability. They cannot do anything. All of their bodies are disabled. They can't get themselves a glass of water. They can't even wipe their own tears."
But despite the arduous journey, despite the closed borders and the camp's dire conditions, Mohammad has hope. He's passing the days teaching English to the camp's children in a classroom set up inside a tent.
"I decide to help the kids here because I found them losing a lot of time by playing, out between the trees, and they aren't doing any important things here, just playing without learning," he said. "So I decided to teach them English."
Calling all HuffPost superfans!
Sign up for membership to become a founding member and help shape HuffPost's next chapter