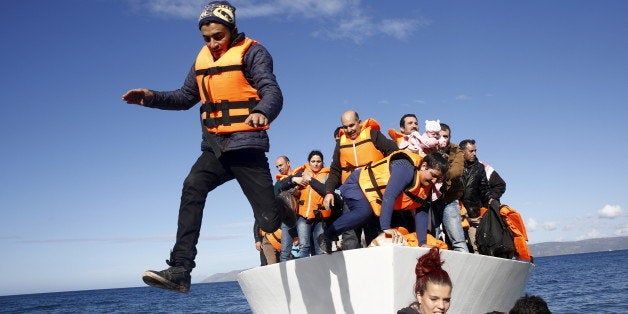 Or at least they don't need more apps.
That much is evident from the implosion of the "I Sea" app, which has sent waves through the "refugee tech" cottage industry.
It turned out that the prize-winning app, which claimed to let users help save migrants crossing the Mediterranean by broadcasting real-time satellite footage of the ocean, was a sham. It didn't scan in real-time, but rather used a static image of the ocean. After the revelation last week, it was pulled from the app store.
I Sea is not an anomaly but the most visible symptom of "app creep" in the humanitarian crisis du jour, that of Syrian refugees migrating to Europe.
Is there an app for that?
Ever since the Syrian refugee crisis crested to public attention, it has become a favorite subject of well-intentioned "hackers" and "disruptors." For every vector of the monstrous crisis -- housing, first aid, food, education -- we were told, "There's an app for that."
The apps, entrepreneurs, and startups certainly filled some gaps created by governments and large nonprofits, which can be slow to act because of their size. But after the initial enthusiasm for these "miracle apps," many peter out, both because the particulars of refugee aid are so tough, but also, perhaps, because the media appeal has waned.
The "Refoodgee" app to connect Germany refugees with food has fewer than 500 downloads and hasn't been updated since October, when it was written up in news outlets. A spokesperson for the ClinicFinder app, which connects refugees to medical services, told HuffPost that it received over 9000 unique page views, but he had no idea how many people have successfully used it to obtain medical care. Many groups must also recalibrate their methods because the reality of working with refugees diverges from what they expect at the outset. A Canadian web app called Services Advisor spent two years trying to directly help refugees in Jordan, but has had to temporarily shift its focus from refugees themselves to intermediary NGOs. It has already been a long journey.
"We put roughly $75,000 in volunteer hours towards the app before the UNHCR gave us $3000 in initial funding," Renee Black, a founder of PeaceGeeks, which created Services Advisor, told HuffPost. These are the odds that even well-designed apps face on the ground.
The apps that have stuck it out face tough circumstances. One website that was widely heralded as "AirBnB for Refugees" faced growing pains after its glowing reception last fall. Refugees Welcome matches refugees with spare rooms or sublets in European countries.
"The demand is far, far higher than the supply," Sophie Mirow, project manager of RW Germany, told HuffPost in April. In Hamburg, for instance, there were just ten room listings for over 1000 refugees seeking accommodation.
It's a sharp turn from last fall, when it was reported that Refugees Welcome was "overwhelmed" with offers from people who wanted to house refugees. Mirow said they saw a "sharp decrease" in rooms offered over the past six months, perhaps as initial enthusiasm over the refugee crisis has waned. Plus, although their website states they will help "all refugees irrespective of their residence status," i.e. whether or not they have a residence permit, the majority of refugees they have been able to help are the ones with official permits, said Mirow. It has been harder than they initially expected to figure out how to accommodate refugees without residence permits -- who are perhaps the ones most in need of a place to stay.
Silicon Syria
The problem of refugee tech is exemplified in the hackathon series called TechFugees. The first hackathon took place in Sydney last November. But so far, not a single idea from the event has been enacted. A TechFugees representative said several "mentoring relationships" formed during the weekend.
TechFugees does have one visible byproduct, though: more hackathons. It has replicated in New York, London and Melbourne in recent months. Across the board, even the best hackathon ideas remain in development.
"Deploying stuff on the ground is very hard because there's multiple agencies involved and there's almost certainly no internet access," Mike Butcher, a TechFugees founder, told Londonist.
Well, sure it's hard. That's why it's a crisis.
Refugee app creep reflects the Silicon-ificiation of the whole world, where every problem is a profit opportunity, words are robbed of meaning (RIP "disrupt;" "mobile;" "interface") and phones are more reliable actors than humans.
The I Sea debacle throws this into sharp relief, but we almost can't blame them. It was developed, tellingly, by an ad agency, Singapore-based called Grey Group, for a Maltese nonprofit that surely thought a buzzy app would raise its profile. And if even one person donated money based on that, wouldn't it have been worth it? Tech entrepreneurs create app creep, but the media enables it.
Here's a modest proposal: we don't need more flashy refugee apps. Why not, instead, work on capacity-building for organizations that are already on the ground? The Red Cross, Oxfam, Amnesty International, and so many others. Or contribute tech knowledge towards state-led efforts, like Germany's popular app for incoming refugees.
Excess goodwill towards the refugee crisis is hardly a bad thing. But turning the refugee trail into an arena for fame and unfulfilled glory -- making Syria and the Greek islands stand in for Mountain View and Palo Alto -- is a fool's errand.
CORRECTION: A previous version of this article said ClinicFinder was unaware how many users downloaded the app. In fact, it is a web app that can only be accessed online, not downloaded, and the article has been updated to note how many how many times the site has been accessed.

Related
Popular in the Community