A wide range of mainly Muslim immigrants learned that their hopes of finding safety in the United States or reuniting with family here were suddenly in serious jeopardy ― if not dashed entirely. Syrian families approved for resettlement in the U.S. were stuck in limbo at the last minute. Iraqis who risked their lives interpreting for the U.S. military during the war were detained upon their arrival in American airports.
And longtime American residents faced possible indefinite separation from family members. The Trump administration indicated that 500,000 American green card holders from these countries ― Iran, Iraq, Libya, Somalia, Sudan, Syria and Yemen ― would be approved for re-entry only on a case-by-case basis. Dozens of green card holders were detained upon arrival in the U.S. on Saturday.
On Saturday, a federal court ruling temporarily halted parts of the travel bans, preventing the U.S. government from deporting refugees who had already been cleared by immigration authorities. And Homeland Security Secretary John Kelly issued a statement late Sunday suggesting that possession of a green card would virtually guarantee an individual's admission barring any major evidence the person threatens "public safety."
But confusion persisted as to how the executive order will be enforced, particularly given federal authorities' refusal to abide by another federal ruling mandating access to attorneys for green card holders detained over the weekend at Washington Dulles International Airport.
Below are the stories of just a few of the people whose lives were rocked this weekend by the signing of the executive order.
An Iraqi interpreter who served the U.S. for 10 years
Hamid Khalid Darweesh, a former Iraqi interpreter for the U.S. Army, and Sameer Abdulkhaleq Alshawi, an Iraqi refugee, were detained upon arrival at New York's John F. Kennedy International Airport on Friday night.
Darweesh, who was released Saturday afternoon, said at a press conference that he had endured hours of questioning during his overnight detention.
But he nonetheless emphasized his excitement at arriving in the U.S., which he called the "greatest country in the world."
Earlier on Saturday, Mark Doss, an attorney with the International Refugee Assistance Project who is representing Darweesh and Alshawi, told CNN that he had been unable to communicate with his clients during their detention.
Alshawi was coming to reunite with his wife, a former U.S. government contractor, and his children, who already live in the United States. He remains in detention along with 10 other immigrants being held at the airport, according to Murad Adawdeh of the New York City Immigration Coalition.
"They're treating them like they have no rights," Adawdeh said.
While Afghanistan is not on the list of proscribed countries, an Afghan interpreter was detained at San Francisco International Airport on Friday while his wife and children were allowed through, according to Matt Zeller, founder of No One Left Behind, a nonprofit that helps Afghan and Iraqi combat interpreters resettle safely in the United States.
A Sudanese green card holder who devotes her life to human rights advocacy
Azaz Elshami, a Sudanese citizen in her mid-30s, has been a permanent U.S. resident since 2012, when she was picked in a State Department lottery. Prior to that, she worked at the U.S. Embassy in Saudi Arabia, where she had an American security clearance.
Elshami, who now earns a living as a nonviolent-communication consultant, was on vacation visiting friends in Ethiopia when Trump issued his executive order barring immigration from Sudan.
Although she is a green card holder, Elshami told HuffPost on Saturday that she is not willing to take her chances at an American airport without a lawyer's help. She worries that if the United States turns her away, she will ultimately be sent back to Sudan, where her work advocating for human rights would put her life in danger.
"This is the irony: I don't approve of my country's government. I have not visited Sudan since 1997. And yet I am living with the consequences of this government," she told The Huffington Post.
Elshami's Ethiopian tourist visa will soon run out, at which point her options will dwindle. She plans to go to a country that accepts Sudanese citizens without a visa and begin the process there of securing U.S. approval for her re-entry. Meanwhile, her aging mother, who recently survived a heart attack and relies on Elshami's assistance, is living in the United States.
"This is not the America that I know. I will refuse to hold this as the image of the America that I know," she said.
An Iraqi family who waited 4 years for visas
Meathaq, 45, and Mahmoud, 49, of Baghdad just arrived in Knoxville, Tennessee, in August with their 5-year-old son and 15-year-old daughter. But they have twin 18-year-old daughters still living in Iraq.
Thanks to Mahmoud's work as a translator for the U.S. Army, they were able to get special immigrant visas. The process for approving those visas took four years, beginning when they first applied in 2012. In the interim period, Iraq's deteriorating security situation began to endanger them. Mahmoud was seriously wounded by a car bombing in 2014.
By the time their visas were approved, their daughters were over 18, which meant the U.S. government required additional processing before it would green-light their admission. Now the twins are stuck in Baghdad, and their parents fear the family will not be able to reunite. (Meathaq and Mahmoud withheld their last names out of concern for their older daughters' safety.)
"I am crying all the time, especially after the new law from President Trump," Meathaq told HuffPost. "I miss them and the situation in Iraq is so bad and I don't know what to do to help."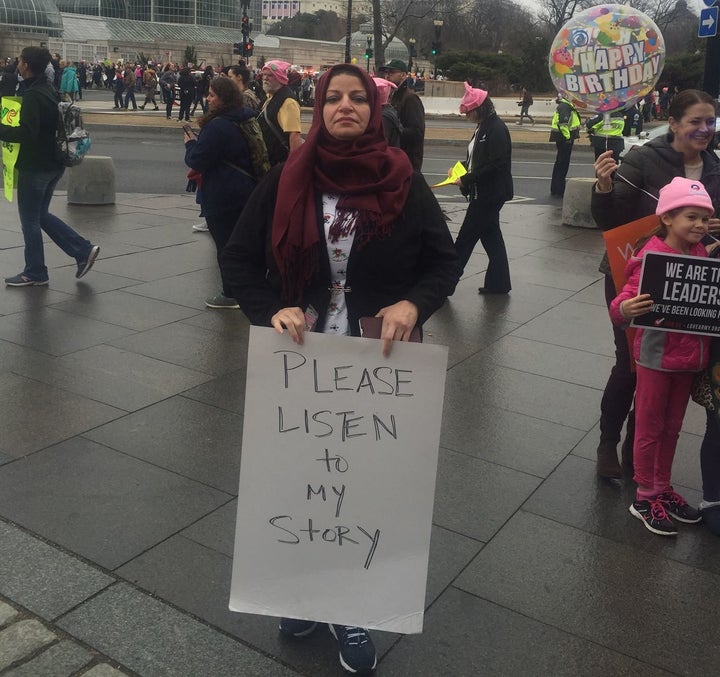 Syrian refugees who have been stalled in Turkey for years
Um Mohammed, a 30-year-old Syrian mother of two, has lived in New Jersey with her husband and children since the summer of 2015.
The family of refugees spent months working to get Um Mohammed's parents and two siblings cleared for entry into the U.S. from Turkey. Their admission was finally approved and travel arrangements were booked, but the news proved too good to be true.
On Saturday, four days before Um Mohammed's family members were due to arrive for the long-awaited reunification, they had to cancel their flights as a result of the Trump administration's refugee ban.
"It's over for all of us," Um Mohammed told HuffPost later that day.
An Iraqi who was flying to the U.S. to visit his son
Mohammed Al Rawi, who risked his life working for the Los Angeles Times bureau in Baghdad, moved to Long Beach, California, in 2010. His father was leaving Qatar to fly to Los Angeles to visit him Friday night when a U.S. official stopped the 69-year-old man and informed him that Trump had "canceled all visas," Al Rawi wrote on Facebook.
U.S. officials then detained Al Rawi's father in an unknown location and confiscated his passport, making it impossible for Al Rawi to book him a hotel in Qatar to sleep for the night, he wrote. His father's phone died, so he has not been able to get in touch.
A Syrian student who fears getting kicked out
Nashwan Abdullah, 25, of Damascus, Syria, is on track to finish his master's degree in music performance at Indiana University of Pennsylvania in May. Now that Trump has banned immigration from Syria, Abdullah is not sure if he'll be able to stay. He had been hoping to apply for a 12-month work visa available to foreign students, but does not know whether this is possible any longer.
Abdullah is sure, however, that he will not return to Syria. He does not want to be drafted into the Syrian military or deal with the danger and scarcity of basic necessities in the Syrian capital.
"Of course I am afraid to go back. It's a war zone. It's an unsafe, bad situation," he told HuffPost.
There is one glimmer of hope for Abdullah: He is Catholic, so he is not sure if the ban is "going to include me or not."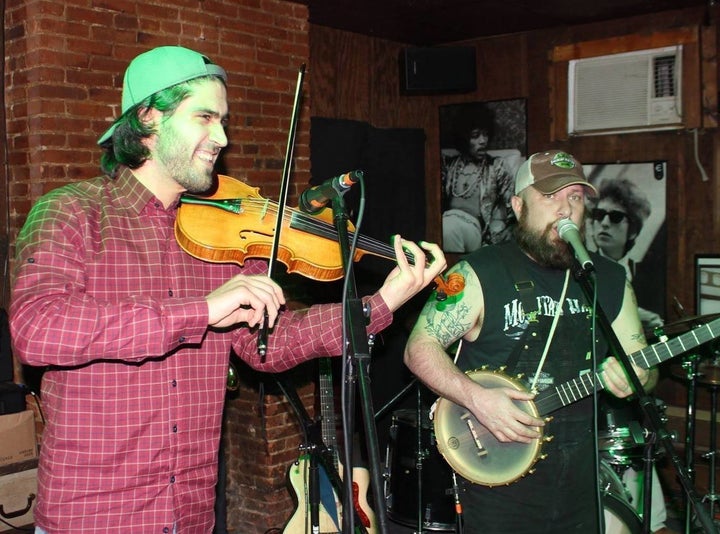 A Syrian visa holder who came to visit her sick mother
Border officials at Chicago O'Hare International Airport detained 60-year-old Syrian national Sahar Algonaimi for five hours on Saturday. Algonaimi had traveled to the U.S. from Saudi Arabia to visit her sick mother in the hospital. Instead, she was forced to board a flight to the United Arab Emirates on her way back home.
Algonaimi holds a U.S. visa and had planned to stay in the country for a week.
Her sister, Nour Ulayyet, a U.S. citizen who now lives in India, pleaded with border officials to no avail to let Algonaimi see her mother.
"I needed someone to be with me here," Ulayyet tearfully told HuffPost from the hospital. "How am I going to teach my kids and tell them that this is a free country? How can we tell my kids that we have to take care of each other?"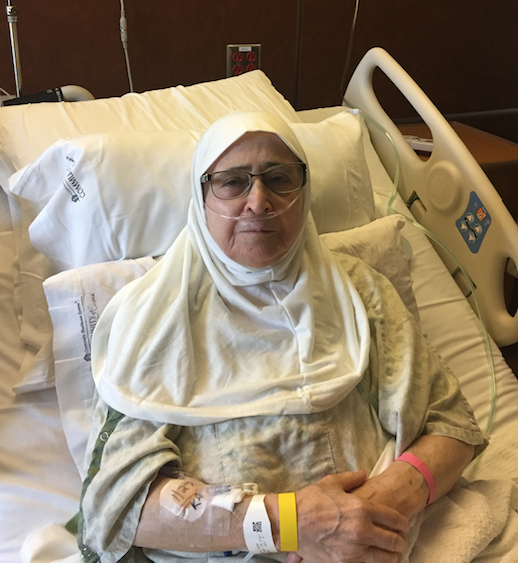 A Libyan student who doesn't know whether she will be able to finish her studies
Montana State University student Rania Chafint has lived in the United States since civil war broke out in her home city of Benghazi, Libya, in 2014. After her university there was bombed, she moved to Montana on a student visa to study international relations with minors in history and writing.
Chafint, who's a citizen of Greece and Libya, is now afraid to leave the U.S. in case she is denied readmission, bringing a sudden end to her plans to visit family and clouding her future.
"I fear that I'll have to leave to Libya before I graduate, that my friends and family won't be able to visit, and that my friends who have applied for asylum won't have their applications processed," Chafint told HuffPost. "I'm afraid for my safety here in light of all the hate crimes that have been happening across the United States."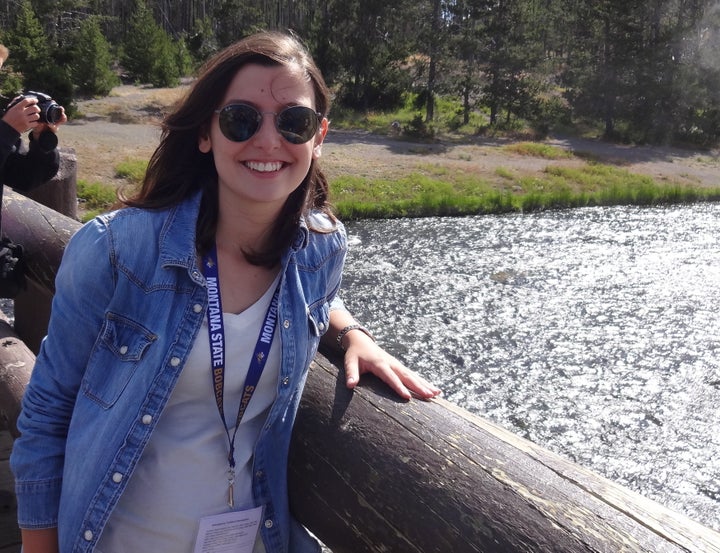 Like so many others, Chafint was completely shocked when the executive order went into effect.
"President Trump is holding millions of people accountable for the actions of the few," she said. "I have already gone through very stringent procedures to get my student visa. A better strategy to fight terrorism would be to support students from the banned countries to finish their studies so they could go back and create real change."
A Libyan physician whose plans to earn a doctorate are in jeopardy
A woman from Tripoli, Libya, came to the United States with her husband and two young children in 2012, after her husband won a scholarship in a master's program. (She asked that her name and some personal information not be used for fear that it could hurt her chances of staying in the U.S.)
They have since had a third child, who is a U.S. citizen. The woman, trained as a physician in Libya, will complete her own master's in biology at a university in Pennsylvania this summer.
She is now applying for her doctorate, but after the president's executive order, she does not know whether she will be able to stay when her student visa expires in August. She is one of many highly educated foreign nationals whose presence in the U.S. is threatened by Trump's ban, prompting some to warn against an impending brain drain.
"When the government decides you are not welcome here, it is hard. It will be difficult to get a job or get my children into school," the woman said.
And with armed conflict still raging, she worries that returning to Libya would put her children at risk.
Amid uncertainty about her future, however, the help and support of her fellow students has been a source of comfort, she said.
"There is something called government and the other thing is called people," the woman concluded.
An Iraqi immigrant who left America to visit her sick mother
When Trump's executive order was announced, Roslyn Sinha was on a plane en route to Dubai to visit her critically ill mother, who has recently suffered several strokes. The 30-year-old television producer and presenter holds an Iraqi passport due to her parents' heritage, although she has never been to Iraq or any of the other six targeted nations.
Sinha was born and raised in the United Arab Emirates. She moved to the U.S. last year and is waiting for her green card to be delivered. She and her husband Neil, an American native, were married in August and live in his home in Hurst, Texas.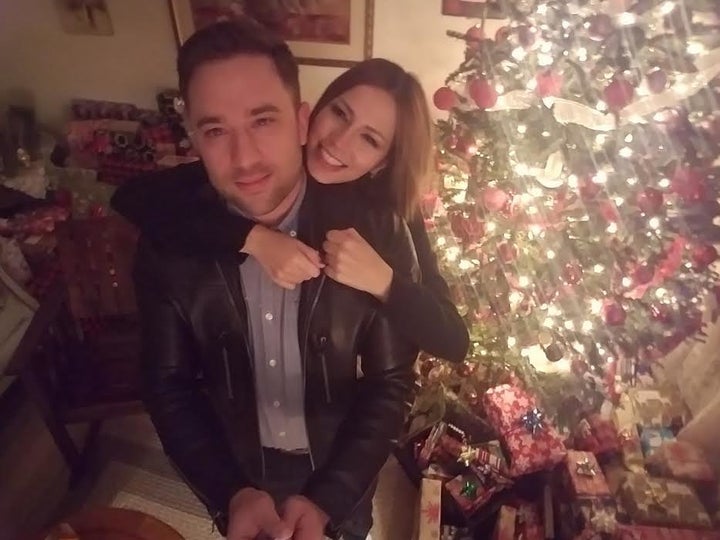 "This was supposed to be a trip so I can spend time with [my mother], but now I'm distracted with this issue," Sinha told HuffPost from Dubai on Tuesday. "The situation is chaotic and confusing."
Sinha has a job waiting for her in Fort Worth, but she's unsure when she'll be able to return to the U.S.
"I have a job and Social Security card to pay taxes like any hard-working American," she said. "My case is the proof that this is not a fight on illegals. It's an inhumane order that was not planned properly. It's a hasty action that has no regards for [what] could happen to us."
A German-Iranian green card holder
German-Iranian citizen Omid Scheybani, 30, lives in California with his brother. Scheybani is currently pursuing a degree at the Stanford Graduate School of Business and previously worked for Google.
While they are green card holders, the brothers are afraid to leave the U.S. and visit their parents in Germany, who also hold Iranian citizenship. Scheybani said he has already canceled plans to go to Mexico and Colombia.
"Honestly, I'm at loss for words," Scheybani told HuffPost. His biggest fear is that "this will become the new normal, and that we won't be able to create sufficient opposition to reverse this incredibly hurtful and divisive executive order."
An Iranian green card holder who was turned away at the Tehran airport
"My mom was supposed to be here with us tonight," Parisa Rashidi told HuffPost on Sunday. Rashidi explained that her 65-year-old Iranian mother, Leyli, who has an American green card, was "stripped of her constitutional rights" and turned away at the airport on Saturday when attempting to return to the U.S. after a short trip to Iran.
"We as Iranian-Americans already have been through many hardships, but I am afraid this can be the beginning of something even more ominous like a war," said Rashidi. "I was born during the eight-year Iran-Iraq war, and I still have nightmares that haunted my childhood. I just hope Trump's Cabinet does not move forward with their next move."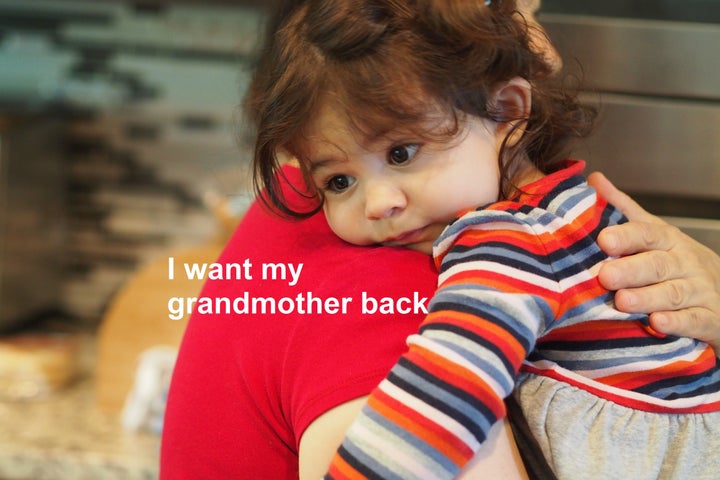 Rashidi, an American-Iranian citizen, said she feels completely helpless.
"I feel like a second-class citizen who is not even allowed to see family members simply because of her birthplace," she said. "I hope Trump voters realize how their votes are tearing apart families."
Elise Foley and Sebastian Murdock contributed reporting.
Have you or someone you know been affected by President Trump's executive order banning refugees and immigrants from certain countries? If so, please email one of the authors: daniel.marans@huffingtonpost.com, jesselyn.cook@huffingtonpost.com and christopher.mathias@huffingtonpost.com.
Sign up for the HuffPost Must Reads newsletter. Each Sunday, we will bring you the best original reporting, long form writing and breaking news from The Huffington Post and around the web, plus behind-the-scenes looks at how it's all made. Click here to sign up!
Before You Go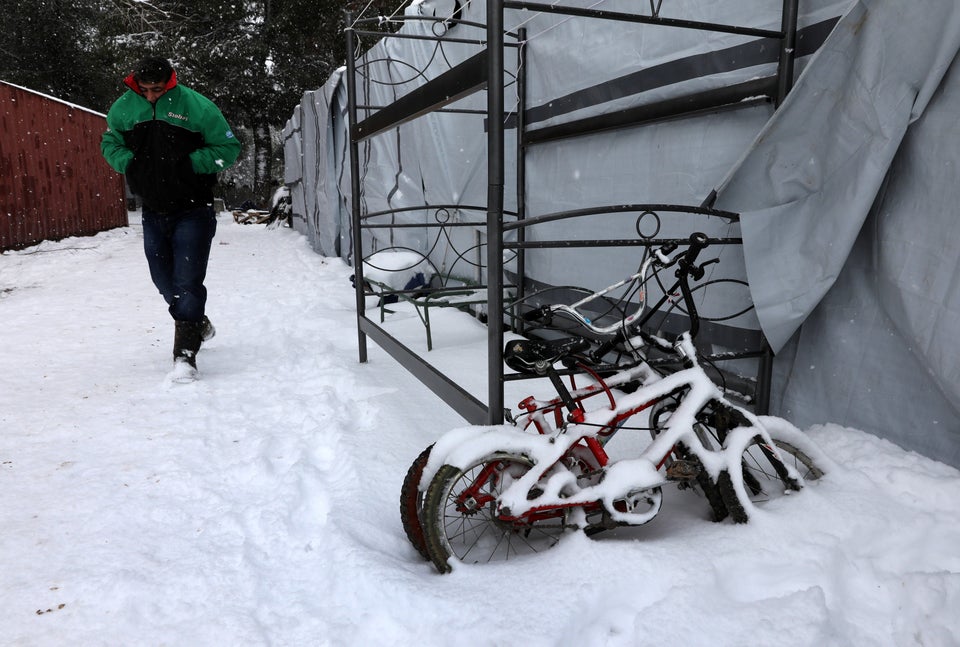 Heavy Snow Worsens Conditions For Refugees Stuck In Greece & Serbia
Popular in the Community